Stuart Forster reports from the Quinta de Sant'ana wine estate at Gradil, Portugal.
Englishman James Frost is convinced he has found the perfect job; cultivating grapes to make quality wines on the Quinta de Sant'ana estate, which he runs with his wife Ann, 35km from Lisbon in Portugal.
James keeps himself busy in the vineyard while Ann lets self-catering cottages on the estate. Despite being a relative newcomer to wine production, Quinta Sant'ana's 2009 Riesling was named as one of 50 Great Portuguese Wines by wine critic Tom Cannavan.
Frost works with the Portuguese winemaker Antonio Maçanita, who has experience of working on estates in California's Napa Valley, the Bordeaux region of France and at the d'Arenberg vineyard in South Australia.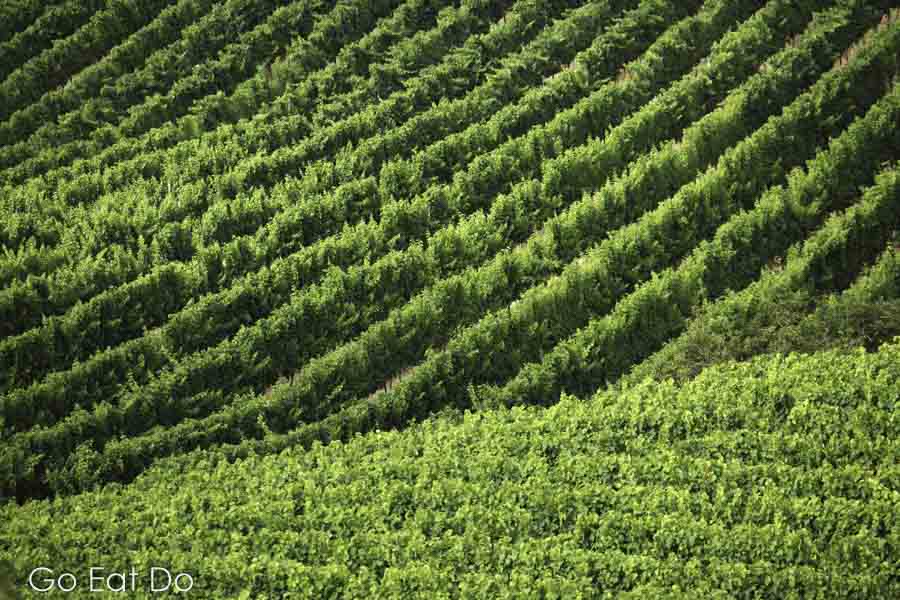 An Englishman in a vineyard
"We planted the first vineyard without Antonio in 1999 and we started producing wine with Antonio in 2004. Antonio set up a project that we've gone along with all the way; it has a lot to do with the climate, the market and the soils. We have a cool climate here. We put in the Pinot Noir, Sauvignon Blanc and the Alvarinho. It's extremely good for producing really good, crisp, acidic white wines and for fresh red wines with real character; something different to what many people are used to in Portugal," says Frost, sporting a healthy tan from his work on the estate.
"Initially, Antonio was our mentor in all of this. But now he has less to do with the day to day running of things because we have learned how to do it. Antonio came with the know-how of what to do to make top wines, both in the vineyard and in the winery. Now we know, especially in the vineyard. He really doesn't need to step into the vineyard apart from when we are going to pick the grapes, when we taste the grapes and decide to harvest," adds Frost.
An estate in the Mafra Hills
The Quinta de Sant'ana sits in the Mafra Hills, 12km from the Atlantic coast. The area's micro-climate influences the character of the estate's wines. Summer nights can cool to 16°C though afternoon temperatures often rise to 32°C.
It's not unusual for mornings to be cloudy yet the region still clocks as many as 2,750 hours of annual sunshine. The rains here fall mainly from November to February.
The vines are grown over just ten hectares, on an undulating hillside that stands at an altitude of between 100m and 130m above sea level.
Science and wine production
To gain a better understanding of the estate, Maçanita analysed the land using infrared photography. The process confirmed the presence of sub-soils including loamy clay, sandy loam and limestone. The analysis helped Maçanita and Frost formulate a zoning plan on where to plant the vines.
The steeper southern slopes of the estate are the warmest and are used to grow the red varietals, which include Tourigo Nacional, Aragonez and Merlot grapes. The lower, cooler inclines are used to grow the white varietals, including Pinot Noir, Riesling, Sauvignon Blanc, Verdelho and Alvarinho grapes.
"We produce ten wines. I would like to concentrate on what we have. That's a lot for a small producer like us," says Frost, who employs yield reduction methods and precision leaf pulling among methods to maximise quality.
The quality of Portuguese wine
But what about general perceptions as to the quality of Portuguese wine?
"I think it is improving, but it has been a difficult message for the Portuguese to put across," answers Frost. "The wines are undoubtedly fantastic but you're up against an attitude, from a British perspective, where France rules still and then you've got New World wines that are good and very reasonably priced. So it isn't easy for Portugal to get in there. And, of course, there is the association with Mateus Rosé and with the Algarve. Most people don't know what real Portugal is about. It's a perception problem but that is improving."
Visitors have an opportunity to experience a part of 'real Portugal' at the Quinta de Sant'ana, whose chapel dates back to 1630. The estate adjoins the Tapada de Mafra, the 1187-hectare estate that was once a hunting ground of the kings of Portugal. Gradil, the local village, has cobbled streets, a parish church plus a couple of cafes and restaurants.
Ann, the daughter of Baron von Fuerstenberg, spent her first seven years growing up on the estate, which closed for four years during the period of political uncertainty following Portugal's Carnation Revolution of 1974. She met James in Germany and the couple now has seven children.
Accommodation at the Quinta de Sant'ana
The Quinta de Sant'ana offers accommodation in traditionally decorated cottages plus rooms in Adega, a converted wine distillery. Wi-Fi access is available in the Lemon Garden cottage and the Marreco house, a four-bedroom villa and a recent addition to the estate.
Visitors "can expect to have an authentic Portuguese environment but to be hosted by people who can understand them. People can have a pretty country environment and for families it is ideal. I think that's something very important for us, as we have so many children of our own and they are very happy here. If visitors want children to experience space, animals, a trampoline, sandpit, swings and a pool, then we've got it all," says Ann.
Experiencing Portuguese food and wine
"People come to stay in our houses because they are keen on wine. Some are wine lovers or involved in the wine business. We always give people a free wine tasting. It's a nice experience for us, to get them to feel welcome and understand our project," she explains.
In the meantime, James swirls a glass of his Sauvignon Blanc. He nods, clearly satisfied with the chemistry in the glass and his work out in the vineyard.
Further information
Find out more about the estate and how to book accommodation via the Quinta de Sant'ana website.
Discover more about travel and tourism in Portugal on the Visit Portugal website.
Stuart Forster, the author of this post, is an award-winning freelance travel writer. He lived for two years in Lisbon. Stuart is available for editorial commissions and copywriting projects.
Thanks for visiting Go Eat Do and reading this post about the Quinta de Sant'ana wine estate at Gradil, Portugal. Here's a look at things to do and see in nearby Lisbon.
If you enjoyed this post why not sign up for the free Go Eat Do newsletter? It's a hassle-free way of getting links to posts on a monthly basis.
'Like' the Go Eat Do Facebook page to see more photos and content.
A version of this post was originally published on 18 July 2013.