Stuart Forster reports on what to expect at the Museu da Carris transport museum in Lisbon, Portugal.
Lisbon's Museu da Carris – the Carris Museum, dedicated to public transport – is all too often overlooked by visitors to the Portuguese capital due its location in Alcantara, roughly halfway between the city centre and the Belem district.
Ironically, given the subject matter on show here, many people rumble past the entrance of this transport museum inside of the number 15 tram, making their way to the better-known tourist sites in Belem or returning to the city following a day out.
Transport museums have a reputation for drawing enthusiasts who know their subject matter, enjoy seeing vehicles no longer in service and appreciate opportunities to clamber aboard.
Lisbon's public transport museum
For anyone seeking that, this place doesn't disappoint. The museum is located on a surprisingly large site under Lisbon's 25 of April suspension bridge, next to the tram storage sheds and the servicing depot to which Lisbon's trams return when they finish their shifts.
My first impression of the Carris Museum, which opened in 1999, was lukewarm. Its ticket office is located in a room hosting a stuffy recreation of an old transport office and a medical treatment station; hardly the kind of shop window display that will tempt ditherers unsure as to whether a transport museum really represents a good way of spending an hour or two.
The second room provides an overview of public transport in Lisbon since the Omnibus Carriage Company ran services between 1835 and 1865.
The significance of documentation and photos is explained using English and Portuguese legends, helping visitors to understand the development of Lisbon's public transport system subsequently.
The story of Carris
There's quite a bit to read around the museum. I learned that the Carris company, which still operates services across Lisbon, was founded back in 1872. Since then various models of trams, including the open-sided Americanos and wooden-bodied Electricos, have run on the city's streets. The first double-decker bus entered service in June 1947; today such buses are used exclusively for tourism.
This is more than just a museum about trams and buses. Lisbon also has funiculars and the Carmo Elevator, today better known as the Santa Justa Elevator, for getting up and down the hills in the city centre.
Just as I thought I'd seen everything in the museum and was about to leave with an okay but by no means great impression of the place, a uniformed man approached me.
"Please wait here, Sir. The tram to take you to the second part of the museum will be arriving in a moment," he said.
Riding on a tram
A well-maintained early twentieth-century tram with soft seating duly halted and took me and one other visitor to the well-hidden second part of the museum, a couple of minutes journey time away on the far side of the site.
Various models of tram and bus are now stored in what was once a maintenance shed. This is also the location of the museum shop, displays of machinery as well as printing-related artefacts. Transport enthusiasts, this is where you'll get your whiff of grease and oil, and the chance to climb aboard a number of exhibits.
In time we were picked up and driven by tram back to the main building and dropped at the door of the room where temporary exhibitions are shown. By this point, I was won over and impressed by the museum, due to its charm, value and ability to surprise.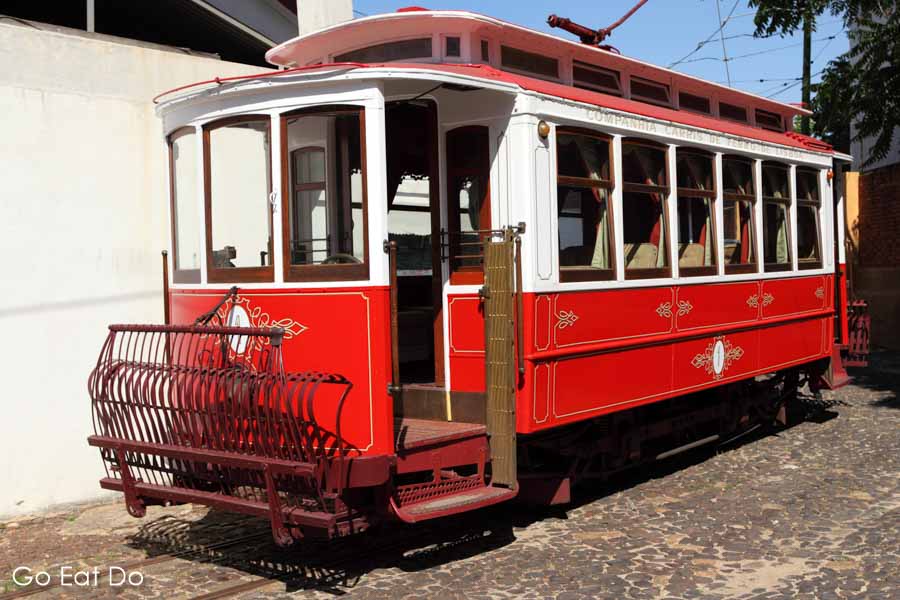 Getting to the Carris Museum in Lisbon
Keen to visit Lisbon's Carris Museum. The map below shows its location:
Google map showing the location of the Carris Museum (Museu da Carris) in Lisbon, Portugal.
Further information
The Carris Museum is at Rua 1 de Maio 101, 1300-472 Lisbon. See the museum's website for details regarding opening times and prices.
Find out more about the Portuguese capital's attractions on the Visit Lisbon website.
Thanks for visiting Go Eat Do and reading this post about the Museu da Carris public transport museum in Lisbon, Portugal. You can find many more posts about attractions in Lisbon on this site, including this post about things to do during 48 hours in Lisbon.
If you enjoyed this post why not sign up for the free Go Eat Do newsletter? It's a hassle-free way of getting links to posts on a monthly basis.
'Like' the Go Eat Do Facebook page to see more photos and content.