Stuart Forster interviews chef Sandy Ingber of New York's Grand Central Oyster Bar.
Disclosure: Some of the links below and banners are affiliate links, meaning, at no additional cost to you, I will earn a commission if you click through and make a purchase.
"It's a great place to work. Our employees are proud of the food they serve…if you want fresh fish come to the Oyster Bar in New York," says Executive Chef Sandy Ingber as we chat in the long-established restaurant on the lower level of Grand Central Terminal.
He has worked at the Grand Central Oyster Bar since 1990. Along with Mohammed Lawal and Janet Poccia, Sandy is one of three partners in the popular restaurant that was established back in 1913—the same time that the iconic railway terminal opened.
NYC Grand Central Terminal
The restaurant has changed markedly since 1990 when Sandy started working at the Oyster Bar. A fire in 1997 prompted major renovations. They included replacing about 75 per cent of the Guastavino tiles that give the arched ceiling of the Oyster Bar its distinctive character.
Those changes coincided with a wider revamp of Grand Central Terminal.
"Until 1997 Grand Central was really down in the dumps. There was a lot of homeless sleeping in the halls and on the ramps. There was urine everywhere. It was just a dirty, filthy place," says Sandy of the now impressive building.
"Jacqui Onassis came and saved the day. She pushed for this renovation. When they re-opened, we re-opened also…we doubled our business overnight. It's been bonkers ever since," recalls the chef.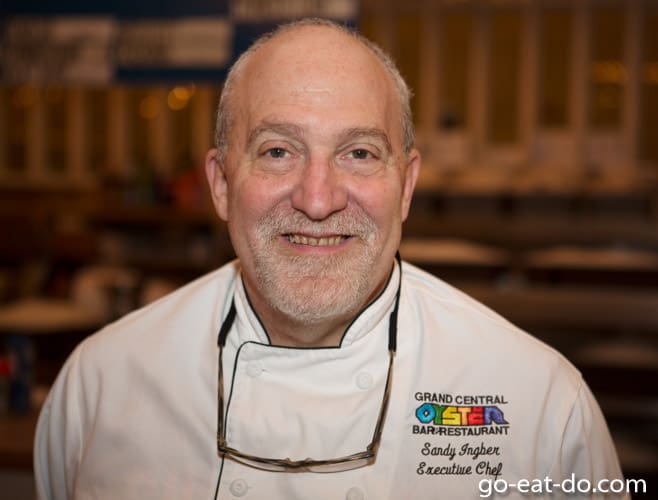 New York's Grand Central Oyster Bar
"We're a world-famous seafood restaurant. We're known as having the freshest seafood. We're not the fanciest but we're the freshest. That's really our motto…from the time we opened we were the most famous oyster bar in America," answers Sandy, who trained under the supervision of George Mortfogen.
Sandy's day starts at two in the morning when he goes to Fulton Fish Market to buy the fish and seafood that's sold in the restaurant. He usually finishes between two and three in the afternoon.
A New York tradition
"When the first settlers came here they found mountains of empty oyster shells. This whole area—all of New York Harbor into New Jersey, the canals, Long Island Sound—was just packed with oysters. It appealed to the Dutch. It was one of the draws for Europeans to come here," says Sandy, looking into the eyes of one of the Europeans for whom that still rings true.
"There was always oyster carts trying to sell oysters. Even to this day the number one oyster for recognition in America is the Bluepoint, and that comes from Long Island Sound," he adds, revealing the Oyster Bar has its own bed.
The influence of Jerome Brody
Sandy points to the framed portrait of Jerome Brody, who became the owner of the Oyster Bar in 1973. He explains how the former owner had the foresight to purchase plot GCOB1972 when he took over the restaurant. Norm Bloom now cultivates that bed.
"From 1913 to when Mr Brody bought the restaurant…it was basically a raw bar and served Continental seafood. It wasn't a world-famous American seafood restaurant, as it is now. The restaurant had been closed for a couple of months. Through the 60s train terminals were winding down as cars and airplanes were becoming big. Grand Central had turned into a dump," says Sandy with candour.
"In 1973 the ceiling was completely black. There was tacky purple stuff on the columns. But he had this vision, to open a world-famous seafood restaurant…he renovated this whole place then went out and sourced oysters up in Maine, and lobster from a guy called Bill Atwood," he adds.
"It wasn't the fanciest at that time. It was real straightforward American seafood. But Mr and Mrs Brody had travelled all over the Tri-State area to try to find fresh fish. All they could find was frozen; they were so disappointed. That was one of their reasons for opening this restaurant, so that they could offer—in this beautiful, oceanic part of New York state—fresh fish."
Oysters in summer
Oysters are served throughout the year, not just in those months with an 'R' in their name.
"We call it the 'R' month myth. There's a time when oysters spawn. They're not dangerous to eat, they're just not palatable. They're bloated up and fat, or they are dry," explains Sandy.
"Through most of the 90s, I had problems sourcing oysters in the summertime. Sometimes we only had two or three oysters on our menu. Nowadays I could put 40 oysters if I chose, and none of them would be spawning. Summer is our slow time, so we cut it down to about 20 varieties," he says before explaining how air freight has brought about that change.
"Oysters are brought in by air freight within around 24 hours of coming out of the water. They never have a chance to heat up…they are trucked to the Oyster Bar in a temperature-controlled truck, cold," he adds.
There have been changes in production over recent years too.
"The amount of varieties of oysters that are available now is tremendous—300 to 400 in this country alone. They don't all spawn at the same time. That's one of the reasons I can keep 20 oysters on my menu. I can source oysters all the time. We also have available southern hemisphere oysters, where it's winter," he tells me.
Oysters raw or cooked
The Oyster Bar also serves cooked oysters.
"One of our signature dishes is oyster stew. It's one of our original dishes. We have little steam jacketed kettles, they create a fast heat. The oyster stew is a mild cream soup with clam juice, butter and oysters. Then we add half-and-half and serve that," says the chef passionately.
"Oyster pan roast has celery salt, sweet chilli sauce, half-and-half, butter and clam juice. We serve it over toast," says Sandy.
I glance at the Oyster Bar's U-shaped counters and know where I'll be having lunch.
Map of Grand Central Terminal
Map showing the location of the Grand Central Oyster Bar at Grand Central Terminal in New York City:
Zoom into the Google Map to view the streets around the Grand Central Oyster Bar in more detail.
Books about New York and Oysters
Planning a trip to New York City or interested in finding out more about oysters? You may find the following
Oyster: A Gastronomic History by Drew Smith:
The Big Oyster: A Molluscular History of New York
by Mark Kurlansky:
Lonely Planet
Experience New York City
:
The Historical Atlas of New York City: A Visual Celebration of 400 Years of New York City's History
by Dr Eric Homberger:
Hotels near Grand Central Terminal
Search for hotels in New York City near Grand Central Terminal using HRS:


Further information
See the Grand Central Oyster Bar and Restaurant (Lower Level, Grand Central Terminal, New York City; tel. 212-490-6650) website for opening times, menus and to read about the establishment's specials.
Find out more about New York City via the NYCGo website. The Visit The USA website has information about New York and other destinations across the country.
Stuart Forster, the author of this post, is an award-winning travel and food writer. He enjoys eating oysters and spending time in New York City.
Photos illustrating this post are by Why Eye Photography.
If you enjoyed this post why not sign up for the free Go Eat Do newsletter? It's a hassle-free way of getting links to posts on a monthly basis.
'Like' the Go Eat Do Facebook page to see more photos and content.
A version of this post was initially published on Go Eat Do on 30 May 2016.