Stuart Forster heads to Germany and visits the country's fastest growing city to look at the rise of RB Leipzig football club.
Disclosure: Some of the links below and banners are affiliate links, meaning, at no additional cost to you, I will earn a commission if you click through and make a purchase.
Saxony's most populous urban hub has the dynamic vibe of a place on the up and Leipzig's football club is helping give the German city wings.
RasenBallsport Leipzig finished the 2020-21 Bundesliga season as runners-up to Bayern Munich. That meant the club again qualified for the UEFA Champions League after losing to Liverpool in the Round of 16 in the 2020-21 edition of Europe's top international club competition..
The origins of RasenBallsport Leipzig
Roll back the clock top the early spring of 2009 and the club, in its current form, did not exist. Its previous incarnation, SSV Markranstädt, was playing fixtures in the fifth tier of German football against regional rivals such as FC Gera 03 and VFC Plauen.
The club's rapid rise towards the pinnacle of German football has made it unpopular among supporters of rival teams. Jealousy? There may be an element. But many fans from elsewhere in Germany voice resentment at the idea of a club becoming a marketing tool, a vehicle for advertising.
Red Bull Arena Leipzig
Translated literally, the first part of the club's name, RasenBallsport, means 'lawn ball sport'. That's frequently shortened to RB in association with Leipzig's top football club.
Two familiar looking charging, red-coloured beasts adorn the RB Leipzig club badge. The club's nickname is Die Roten Bullen, which translates to 'The Red Bulls'. The team plays home games at the 47,067-capacity Red Bull Arena. Grab yourself an energy drink and take a moment if you haven't already guessed which company has, effectively, controlled the club since 2009.
Rival football fans in Germany may not like RasenBallsport Leipzig but the club's sporting success over the past few years speaks for itself. RB Leipzig have enjoyed four promotions and two cup wins (admittedly, this was in the Saxony Cup, a regional competition for lower league clubs). The club was the runner-up in the DFB Pokal, Germany's principal cup competition, in both 2018-19 and 2020-21.
Leipzig during bygone times
It's been a long time since a Leipzig team enjoyed success. Chemie Leipzig won the DDR-Oberliga, East Germany's top division, in 1964. During that era the Leipzig had a reputation for being a grim shell of its former self. Allied bombs destroyed around 50 per cent of the city centre during World War Two. Many surviving buildings looked drab and uninviting during the Cold War and immediately afterwards. Prior to the war, Leipzig was a more populous city than Frankfurt am Main.
Germany's fastest growing city
In recent years Leipzig has been the fastest growing major city in Germany. Many young people are migrating to the city. Leipzig University has more than 29,000 students. After Heidelberg it is the oldest university in Germany. The institution's main building, at Augustusplatz, was opened in 2012.
The striking, church-like façade stands a couple of kilometres from the all-seater Red Bull Arena. The average attendance in that ground during the 2018-19 Bundesliga campaign, which saw Leipzig finish third was well over 38,331.
Investment following Germany's reunification has been integral to transforming the city that was last home to the football champions of the united nation in 1913. Perhaps RasenBallsport Leipzig can emulate that in coming seasons?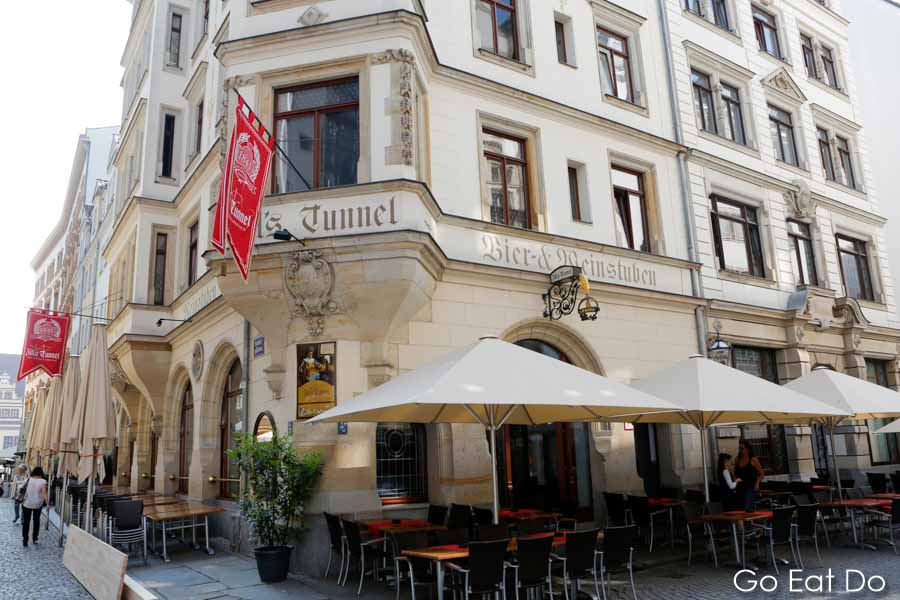 Map of the Red Bull Arena Leipzig
Zoom in and out of the map below to see the location of the Red Bull Arena Leipzig:
Google Map showing the Red Bull Arena in Leipzig, Germany.
Travel to Leipzig, Germany
Leipzig/Halle Airport is 22 kilometres (13.7 miles) north-west of Leipzig city centre. The S5 and S5X run between the airport and city centre. InterCity trains also connect the city centre (Leipzig Hauptbahnhof) and airport.
Leipzig has good rail connections with other German cities.
Hotels in Leipzig, Germany
Search for rooms and hotels in Leipzig via Booking.com:
Books about Leipzig, Germany and German Football
Interested in visiting Leipzig? You may enjoy these books about Leipzig, Germany and German football:
The Creation of RB Leipzig. Authentic Identity or Self-Deception? by Martin Wenzl:
Discovering German Football
by John Alder:
Leipzig! One Thousand Years of German History. Bach, Luther, Faust: The City of Books and Music:
The Shortest History of Germany
by John Hawes:
Further information
Find out more about the city of Leipzig by visiting the Leipzig Tourism website.
To purchase tickets for RasenBallsport Leipzig home games, visit the online ticket shop on Die Roten Bullen website.
For more about the surrounding region, see the Cultural Heart of Germany and Germany Travel websites.
Enjoy this article about Leipzig and the rise of the city's football club? If you're in the city and fancy a beer, check out the brewery at the Bayerischer Bahnhof.
Photos illustrating this post are by Why Eye Photography which specialises in food, portraiture and travel photography, and is available for commissions.
Stuart Forster, the author of this post, speaks fluent German and is an award-winning travel writer. He can be commissioned to write features from destinations in Germany and German-speaking nations.
If you enjoyed this post why not sign up for the free Go Eat Do newsletter? It's a hassle-free way of getting links to posts on a monthly basis.
'Like' the Go Eat Do Facebook page to see more photos and content.
A version of this post was first published on Go Eat Do on 16 June 2018.