Stuart Forster visits Lilbosch Abbey to find out about Livar pork from Limburg, the Netherlands.
Disclosure: Stuart travelled to Livar as a guest of Visit Holland and Visit Limburg and retained full editorial control of this post. Neither Visit Holland nor Visit Limburg reviewed or approved this article.
Primarily, it's Trappist beer that I associate with monasteries in Belgium and Holland. But today, at the narrowest point in the Netherlands, I'm visiting the farm at Lilbosch Abbey to learn about Livar pork.
Located near Echt, the Trappist monastery's farm plays a key role in the production of premium meat sold under the Livar brand.
"It's less than five kilometres from Belgium to Germany," says Frans de Rond, one of the founders of Livar, sweeping his arm from right to left while looking out at the lush countryside surrounding the Cistercian abbey. Foliage rustles on what is proving a blustery but sunny day in the Dutch province of Limburg, in the south of the Netherlands.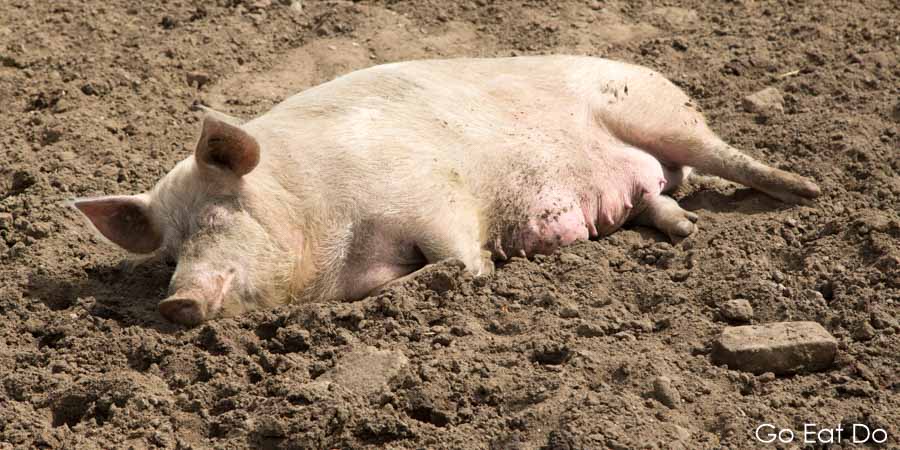 Lilbosch Abbey in Limburg
Frans explains how the landscape we're viewing has changed significantly over the past century and a quarter. He tells me it was swampland 125 years ago. Monks drained the area and, by doing so, created productive farmland.
I hear how the monks residing at Lilbosch Abbey do not eat meat. Yet the prospect of being involved in locally based, ethical meat production was a factor in the abbot taking the decision to become involved in Livar. Frans and his business partners began cooperating with the abbey in 1999. Their objective was to create what he terms a 'Grand Cru' meat product.
Farming in the Netherlands
"We had a hard life. Social life was very hard. Making money was not easy," says Frans de Rond about life as a pig farmer in Limburg in the late 1990s.
Along with fellow farmers, Frans began seeking an alternative to producing low-cost meat for sale in supermarkets. "We went to talk with a lot of people about how we could do it better in the future. We talked with owners of restaurants, chefs, butchers and consumers. In the discussions there was one common line — get out of the circle of producing at cost price and in an anonymous way," says Frans.
He recalls how inspiration came during a visit to a fine-dining restaurant. The establishment's chef said that people didn't want pork in a quality restaurant. Yet Frans opened the menu and saw that prosciutto and pata negra were both available. It became apparent to Frans that the farmers should strive towards making a special product that made consumers happy.
Pigs bred for flavour
"We looked for a pig to make tasty meat…fat is the base of quality and of taste," explains Frans. The meat from the Livar pigs is notable for the marbling of its fat, a factor that gives good depth of flavour. The farmers selected Old Landrace, Duroc, British Saddleback and Swabian-Hall pigs because "all four have fat, not too much — the base of the taste". They crossbred the animals to create the forefathers of the animals that today live on nine farms in Limburg.
The animals are fed with pellets made from barley, rye and wheat grown organically in fields on the Lilbosch Abbey farm. The grain is harvested each autumn then stored in silos on the estate. The feed helps provide Livar pork with flavour. "Try one. It's the daily bread for our pigs. But only one. It's very expensive," says Frank with a wry smile and a chuckle while holding pellets on the outstretched palm of his hand.
Animals with a free-range lifestyle
Another factor influencing the flavour of Livar's meat, suggests Frans, is the quality of life enjoyed by the pigs, which do not have their tails docked.
"People have to pay a lot for a mud bath but our pigs can have it free," jokes the man who has become known as Mister Livar. The pigs enjoy wallowing in mud as they are unable to sweat. They disperse body heat by breathing and contact with cool surfaces. This explains why they spend time in mud on warm days.
When the temperature is above 25°C the pigs tend not to go outside, explains Frans. "Now they have a siesta," he says, pointing to an enormous sow sprawling in a pen. Livar pigs are free to move between their sties, which have straw bedding, or outdoors in pens and fields. Their free-range lifestyle is one of the reasons why Livar has been awarded three stars for animal welfare — the maximum possible.
The origins of Livar
In 1999, when Livar was in the process of becoming established, just one pig was slaughtered every fortnight. "The taste of the meat was very good. People wanted it. We grew. We copied this concept on other farms in our region, Limburg. Now, besides the monastery farm we have eight farms in the region," explains Frans.
Breeding, via artificial insemination, takes place on four of those farms. Nonetheless, the presence of a boar is required to make sows receptive. Frenske — a huge, hairy, drooling male with dark patches around both eyes — fulfils that role at Lilbosch, which has 35 breeding sows. They bear two litters a year, resulting in between 700 and 800 piglets.
Every week, approximately 200 Livar pigs are now taken to a slaughterhouse in Venlo, which is located less than an hour's drive from all of the farms. That may sound like a lot of animals but it's a tiny fraction of the 300,000 pigs sent to slaughter each week in the Netherlands. In neighbouring Germany, the number is around a million.
Livar's animals are aged 11 to 12 months and weigh between 140 and 150 kilograms when they are slaughtered. That compares to an industry average of five to six months old. After skin and bone are removed, the carcasses weigh around 90 to 100 kilograms.
Products made from Livar meat
The animals are used from nose to tail. Their ears are processed into dog food. The trotters are exported to China. Their blood is mixed into black pudding.
About a third of each animal can be made into ham. Some of the ham is sent to Parma where it is dried to create Livar's Prosciutto de Monastere. Each Livarano sausage is made with 300 grams of meat and weighs 160 grams after drying: "We say it is 150 per cent meat. It is important to cut it very thin. It is better to take two or three slices than one thicker piece. You get more flavour," explains Frans during a tasting.
I learn that pork should be cooked with its fat to maximise its flavour. "You must have meat with fat on it. If you don't like to eat fat you have to leave it on and cook it with the fat, then cut it off as you go to eat it and leave it on the plate," suggests Frans, who adds that he normally serves Livar pork with white wine during tastings and asks if I'd like a glass. I agree and he begins to pour.
Further Information
Find out more about the company on the Livar website. The Lilbosch Abbey website is available only in Dutch and German.
Echt is in the Zuid-Limburg (South Limburg) region of the Netherlands.
Photographs illustrating this story are by Why Eye Photography, a company based in northeast England. Commission a shoot by calling 07947 587136 or making contact via the Why Eye Photography website.
Stuart Forster, the author of this post, is an award-winning journalist and was named Digital Influencer of the Year at the 2018 Holland Press Awards. He is based in the northeast of England and available for magazine, newspaper and online commissions. Please make contact via this website if you want to sponsor a post on Go Eat Do.
If you enjoyed this post why not sign up for the free Go Eat Do newsletter? It's a hassle-free way of getting links to posts on a monthly basis.
'Like' the Go Eat Do Facebook page to see more photos and content.