Bandos Maldives resort is a 10-minute speed boat journey from Velana International Airport, which for international air travellers is the principal point of arrival into the Maldives.
The resort was my base during the first World Travel Writers' Conference, whose keynote sessions and panel discussions were held in the Bandos Maldives' air-conditioned conference suite.
Arrival at Bandos Maldives
During the welcome and orientation briefing I was served a refreshing coconut. Afterwards those of us who'd just arrived were invited to hop aboard an electric buggy to be shown to our rooms. I was allocated a standard room a few paces back from the north-east shore of the compact island, which is just over 400 metres in diameter.
Aerial photos show Bandos Island as being almost circular with a lush green core ringed by a white, sandy beach and set in blue water. It would have been easy to walk across the island but, handily, the driver used the journey to point out the location of the swimming pool, mosque, gym and dive centre.
The island was one of the first to open as a resort, back in 1972, when the Maldives began promoting tourism. The nation's one island, one resort policy has been a factor in the Maldives gaining a reputation as an exclusive holiday destination. As I discovered during my stay, it's possible to participate in a range of activities and you don't necessarily need to be planning a honeymoon to justify a trip to the Maldives.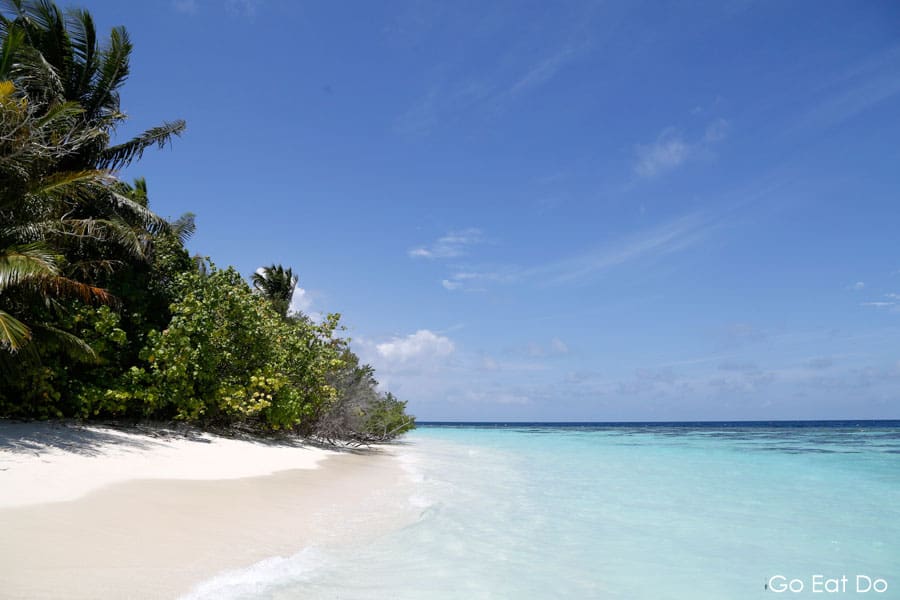 Accommodation on the island
My air-conditioned room featured wooden flooring, a thatched ceiling and king-size bed. Handily, the room had a desk at which I could work and a safe, in which I could lock my equipment while spending time in the ocean. Though the veranda had a couple of chairs I preferred taking a couple of dozen steps extra, so that I could sit on the beach and read.
Within easy strolling distance of my room I found padded loungers on the sand, beneath palm trees angling over the water. Hammocks were slung in shade between palms. One of the hammocks proved the ideal place to read literature relating to the conference while listening to the soothing sound of rustling of palm fronds and the rhythmic lapping of waves on the beach.
Food and drink at Bandos
The majority of the meals I took at Bandos Maldives were within the open-sided Galley Restaurant. Buffet meals provided Continental and Indian style food options for breakfast, lunch and dinner. I enjoyed starting my days on the island by tucking into mild Maldivian curry and mashuni (tuna sambal) served with roshi, a type of soft flatbread.
The resort has a range of dining options including pool and beach bars. As its name suggests, Koon Thai serves cuisine from Thailand. Indian and Italian dishes count among the options at the Sea Breeze Café, whose overwater decking proved a great place to watch blacktip reef sharks swimming among shoals of fish. Some of the sharks are up to two metres in length and the presence of the non-aggressive creatures is a factor in drawing scuba divers to the Bandos reef.
I also grabbed a burger at Huvan, the overwater bar-restaurant that is a hit with people who enjoy sundowner cocktails while watching the sun set over the Indian Ocean.
Diving and snorkelling off Bandos Island
Bandos Resort has a PADI-accredited scuba diving school. The state-of-the-art facilities include decompression and hyperbaric chambers.
I joined a dive on the house reef, which resulted in a multitude of sightings, including scorpion fish, blacktip reef shark and hawksbill turtle. I later got back in the water to snorkel, enabling me to see many more colourful reef fish.
Bloggers Allison Green and Aleah Taboclaon also went diving from a boat with the team from Dive Bandos, enabling them to see manta rays circling in the waters.
Wellness treatments at Orchid Spa
On arrival at Orchid Spa, the resort's wellness centre, I filled out a health questionnaire and discussed potential treatments.
My work entails long hours in front of a keyboard, resulting in shoulder tension. The team suggested a signature massage could help smooth out knots in my back.
That was duly carried out in a cottage where soft music and a gentle scent helped create a relaxing atmosphere for me to enjoy the masseuse's work.
Sporting facilities at Bandos Maldives
Walking back towards my room took me past the gardens and greenhouses where fruit and vegetables are grown on Bandos Island.
The stroll also gave me a chance to admire the synthetic football pitch where the staff team were participating in what appeared to be an intensive training session.
With a volleyball court, tennis courts, indoor badminton facilities and a gym, the island gives people who are looking to get or stay in shape options. After swimming in the sea and pool I enjoyed a couple of rounds in the steam room.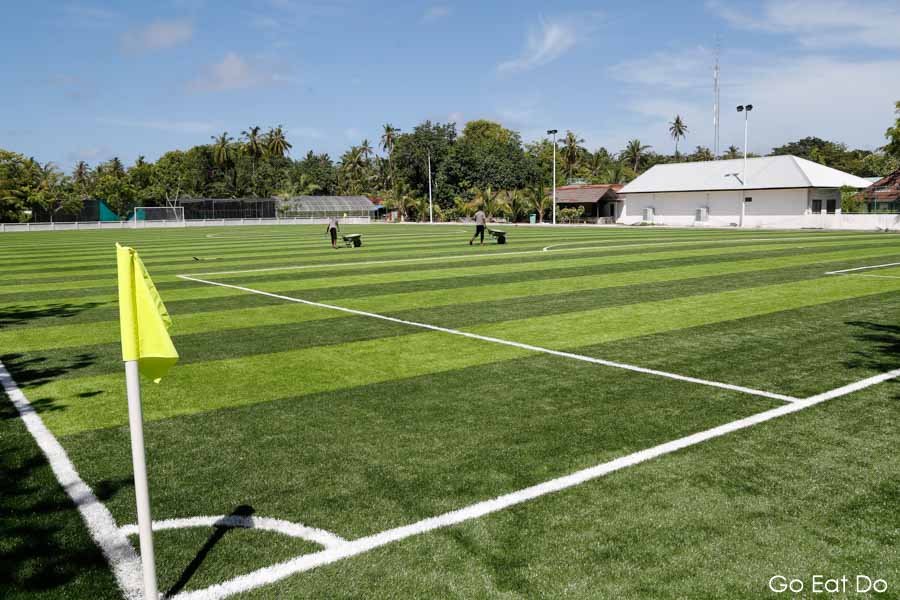 Excursions from the island
I participated in a fishing trip, a sunset boat cruise and a tour of neighbouring islands during my time at Bandos Maldives. The availability of activities and excursions dispelled my preconception that a visit to the Maldives has to entail flopping on a beach and doing little else. That said, after walking barefoot in the soft sand, I can appreciate why some people can spend so long on Maldivian beaches.
Would I like to return to the Maldives? Definitely. I'd love to do more diving in the Indian Ocean and returned home with positive impressions of the Bandos Maldives.
Getting to the Maldives
Stuart flew to the Maldives' Male International Airport with Qatar Airways from London's Heathrow Airport, via the airline's hub at Doha.
Further information
See the Bandos Maldives website for more information about the resort on Bandos Island, including offers and to book a stay. Jacuzzi pool villas and overwater villas are also available on the island.
The Visit Maldives website provides an overview of things to do and see on the islands in the Indian Ocean.
Photos illustrating this post are by Stuart Forster.
If you enjoyed this post why not sign up for the free Go Eat Do newsletter? It's a hassle-free way of getting links to posts on a monthly basis.
'Like' the Go Eat Do Facebook page to see more photos and content.
Declaration: Stuart travelled to the Maldives to attend the World Travel Writers' Conference organised by Maldives TV.