Thinking of exploring Egypt's Coloured Canyon and the Red Sea? Stuart Forster reports on activities in the South Sinai region.
Don't believe everything you hear about deserts being wastelands devoid of beauty. Take a trip into Egypt's Sinai Desert, for a walk along the Coloured Canyon, and you'll see they can be sublime places.
Disclosure: Stuart Forster, the author of this post, travelled to Sharm el Sheikh as a guest of the Savoy Sharm el Sheikh, which did not review or approve this article.
I've joined a small group of tourists on a day trip from my Red Sea resort and have a local Bedouin, Hamid Selmi, as my guide. Dressed in a neatly pressed, ankle-length white galabeya robe, covering all but his hands, and wearing a shamagh on his head, leaving only the top part of his face on show, Hamid is traditionally dressed and prepared for a walk under the Sinai's belting winter sunshine. He speaks only a few faltering words of English so beckons me to follow him as he walks across the dust-like golden sand and onto the bedrock marking the beginning of the short trek along Egypt's Coloured Canyon.
Walking in the Sinai Desert
If it hadn't been for Hamid I'm not sure whether we would even have reached this remote, unmarked spot. As soon as our four-wheel drive vehicle turned off the highway and onto the dunes, he came into his own, providing instructions as to the route we had to follow as we bumped and snaked across the desert without so much as track marks from other vehicles.
You don't need to be a geologist to appreciate the beauty and structure of the Coloured Canyon, which has been formed by centuries of erosion. Nature's sculptors – water, wind and sand – have slowly carved a spectacular channel through exposed layers of limestone and sandstone that long ago lay at the bottom of the Red Sea's pre-historic ancestor.  The reddish stone has been worn smooth in places, elsewhere swathes of purple or orange rock are exposed. The imagination of whoever named this place clearly wasn't overworked.
Guided by a Bedouin
With a length of 800 metres, roughly half a mile, the Coloured Canyon is short but spectacular. Yet walking it takes well over an hour, because we keep pausing to enjoy scenic details and snap photos. Hamid points out variations in the rich hues and curious rock formations, some of which look like grotesque sculptures. At one spot the erosion has created shapes that fancifully remind me of a herd of elephants. During the course of our brief walk, we drop from a height of 770 metres to 570 metres above today's sea level.
I'm glad that I'm carrying only a camera because in places we have to walk in single file then squeeze through gaps in the ravine's steep walls, which can rise to a height of 40 metres. Now and again we scramble down a drop in the rocks. Every time we need to do so Hamid patiently shows the easiest way to clamber down. Anyone with basic fitness can enjoy this route. At the same time, I'm impressed because his galabeya remains spotless while my trousers are speckled filthy with dust.
At the end of the canyon the landscape flattens out and a gnarled tree twists out of the sand, exhibiting remarkable hardiness to survive in this harsh but beautiful landscape.
Exploring Egypt's Coloured Canyon and Red Sea
You can also experience a number of other activities while staying at a Red Sea resort.
Some people love the rhythmic rocking and elevated view from the back of a camel as they plod across the rock, grit and sand of the Sinai Desert. Others find just mounting and getting comfortable on the ship of the desert's padded saddle to be an adventure.
Whether or not you take the hump may well depend on the temperament of the dromedary you're allocated. Each camel is an individual, with its own character, known by name to the Bedouin drivers, who stay close by throughout rides.
Camel and quad bike rides
Be prepared to hang on to the saddle when your guide orders the camel to sit or stand as the movement feels prodigious. If you enjoy camel riding it's possible to join a safari lasting several days, camping in the desert.
It's a good idea to head to one of the region's bazaars, in order to pick up a shamagh (the cloth used as headdresses in Arabian countries) before hiring a quad bike. Unless you're out at the front of your group, you may well be grateful for the protection from dust and sand provided by the traditional headgear, which can also be worn around the neck and over the nose and mouth.
This arid wilderness is the perfect playground for quad bikers, as with only a handful of Bedouin and their camels tramping across the landscape very few people are present to be disturbed by the throbbing rev of engines. The bikes are stable and easy to ride, even without prior experience, and their range makes them good for exploring the rugged terrain, which rises into steep granite mountains.
Quad bike safaris from Sharm El Sheikh often include a break at a Bedouin settlement and the chance to sip a glass of tea, take photos and buy souvenirs.
Diving in the Red Sea
Red Sea dive sites are rightly renowned for their quality and a number are also ideal for snorkelling. Visibility is usually excellent and the deep blue water is relatively warm, meaning you may need only a light 3mm neoprene wetsuit while scuba diving here. The vivid corals and colourful shoals of fish reward bringing an underwater camera to capture scenes showing marine wildlife; it's so abundant in places such as the incongruously named Sharks Bay that you can start your dive by wading our from the shore.
The region has several PADI-registered scuba diving centres catering to a broad range of abilities, from newcomers looking to learn while on holiday to advanced divers keen to experience the highly regarded sites around Ras Mohammed National Park, in the Straits of Tiran and around wrecks such as the SS Thistlegorm.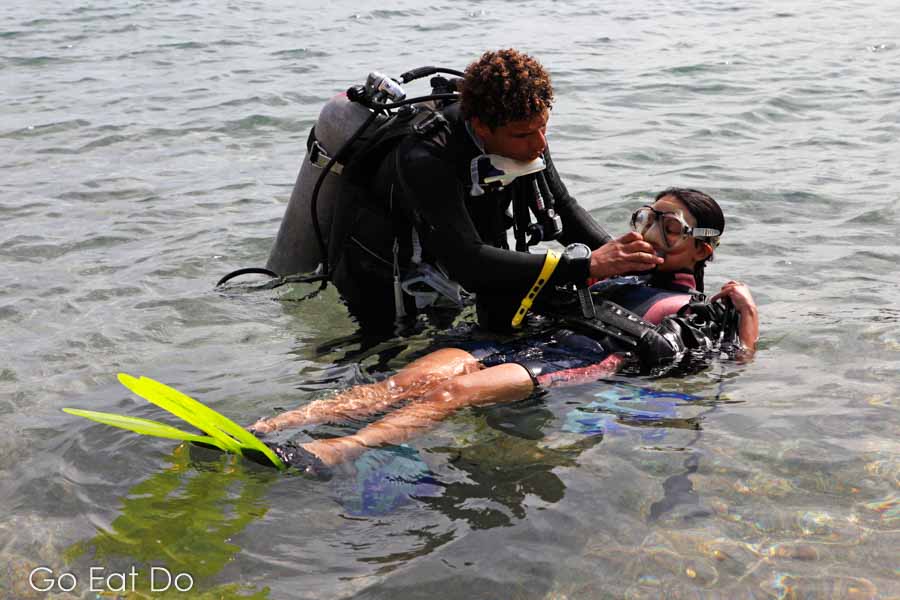 Further information
Learn more about the South Sinai region and resorts of the Red Sea on the Egypt Travel website.
Stuart stayed at the Royal Savoy resort hotel in Sharm El Sheikh.
Enjoy this article about exploring Egypt's Coloured Canyon and the Red Sea? Take a look at this post about scuba diving at Sharm el Sheikh.
Photos illustrating this post are by Why Eye Photography which is available for travel photography commissions worldwide.
If you enjoyed this post why not sign up for the free Go Eat Do newsletter? It's a hassle-free way of getting links to posts on a monthly basis.
'Like' the Go Eat Do Facebook page to see more photos and content.