Stuart Forster visits Manitoba, Canada, and outlines 15 things to do in Winnipeg in winter.
Disclosure: Some of the links below and banners are affiliate links, meaning, at no additional cost to you, I will earn a commission if you click through and make a purchase.
Winnipeg, the provincial capital of Manitoba, has lots to offer travellers visiting in wintertime. Cultural and sporting attractions, as well as seasonal festivals, count among the reasons to visit Winnipeg in winter. If you're looking for a winter getaway that will fill you with a sense of delight and wonder, look no further than Winnipeg.
Tourism attractions in Winnipeg
Winnipeg is a city of culture and adventure, and there's no better time to experience it than in winter. When the temperatures dip, the city comes alive with the spirit of winter. The snow-covered streets and frost-covered trees create a scene of serene beauty and enchantment that will take your breath away. Winnipeg is known for its vibrant nightlife, diverse cultural attractions, and endless outdoor activities, and winter is the perfect time to experience it all.
Tourism attractions in Winnipeg include the Canadian Museum for Human Rights, the Manitoba Museum and Winnipeg Art Gallery. If you enjoy sports, why not book to watch the Winnipeg Jets in action? Canada's Royal Winnipeg Ballet is an option if you prefer the performing arts.
There's much for foodies to enjoy, including the RAW: almond food festival. International chefs serve their creations in a pop-up restaurant on the frozen waterway at The Forks, the confluence of the Red and Assiniboine Rivers. The three-week event was founded as a collaboration between architect Joe Kalturnyk and chef Mandel Hitzer.
Into wildlife? You may be tempted to visit Manitoba and head north to Churchill, particularly in October or November, to view polar bears waiting for the water of the Hudson Bay to freeze. From late February into March polar bear cubs emerge from dens in Wapusk National Park. Why not add a city break in Winnipeg onto the trip?
Sure, it's cold outside during a Winnipeg winter but dress appropriately and you'll be fine. As the British fell walker Alfred Wainwright wrote, "there's no such thing as bad weather, only unsuitable clothing," so wrap up warm and make the most of seasonal attractions in Winnipeg.
Visiting the Canadian Museum for Human Rights counts among the key things to do in Winnipeg in winter and other times of year.
1 – Visit the Canadian Museum for Human Rights
The Canadian Museum for Human Rights occupies an eye-catching building designed by the architect Antoine Predock. The museum's glass tower provides fine views over the city.
Set aside at least half a day to listen to stories, watch videos and interact with the informative exhibits. Visiting can be edifying and emotional. As the name of this museum suggests, you'll be confronted by human rights abuses, genocide and conflict. Gender, race and religion are just some of the many reasons why humans make each other suffer.
Touring the museum, from its dark lower level to the tower of light, is an opportunity to appreciate the symbolism of the building's design.
A visit on winter afternoon means you're well placed to explore the Arctic Glacier Winter Park, also at The Forks, in the early evening. Thousands of lights illuminate trees and canopies over walkways. On weekends you can see snow-sculpting and horse-drawn rides.
2 – Ride a sledge at Assiniboine Park
If you're looking for fun things to do in Winnipeg during winter, head to the ever-popular Assiniboine Park.
Try out activities such as cross-country skiing and sledding at the toboggan hill. The frozen Riley Family Duck Pond, at the centre of the park, becomes an ice rink in the wintertime.
Stroll through the winter landscape of the Leo Mol Sculpture Garden which blooms into colour during the summer season.
The Journey to Churchill at Assiniboine Park Zoo conveys the challenges of conservation and environmental issues facing the tundra and arctic regions. Expect to see polar bears and other animals from the Canadian north.
3 – Party at the Festival du Voyageur
During February, the predominantly francophone St Boniface district of Winnipeg hosts the Festival du Voyageur, western Canada's biggest winter festival. The event commemorates the historic significance of fur trading, for which The Forks and the Hudson's Bay Company's Fort Garry were key locations. The original Fort Gibraltar, the Festival du Voyager's venue, was built by the Montreal-based North West Company at The Forks.
Expect live music, snow sculptures and family-friendly activities. Jigging competitions test dancing skills. Fiddling contests provide a platform for talented string musicians.
The Festival du Voyageur also celebrates indigenous heritage and cuisine. The Ishkode Indigenous Cuisine Pop-up showcases Métis dishes.
Louis Riel Day, held on the third Monday of February, commemorates the legacy of the founder of Manitoba. A complex character, Riel was executed in 1885 after being found guilty of treason. He is buried in the churchyard of the St Boniface Cathedral.
4 – See the bison herd at FortWhyte Alive
Bison once roamed in their millions across the prairies of North America. Canada's only urban herd is at FortWhyte Alive, on Winnipeg's southwest edge.
Clay was once mined from the land, a site formerly dominated by a cement factory. Since 1983 the has been utilised for environmental education.
Visiting also means an opportunity to step inside a turf hut, of the kind built by early European settlers. The turf is an impressively effective insulator.
Interpreters explain how First Nations peoples and early settlers lived from the land and water. You can try ice fishing out on the lake.
Hiking and snowshoeing also count among the winter activities at FortWhyte Alive
5 – View street art in Winnipeg
You'll find murals on walls dotted across the city.
One of the highlights is Back Alley Arctic, near Vimy Ridge Park, in the Wolseley district. Kal Barteski has created depictions of animals, including walrus and polar bears, on the lane between Canora and Ethelbert Street.
6 – Learn about indigenous heritage
Travel can be educational as well as fun. While in Winnipeg, why not take time to learn about the indigenous peoples of Manitoba?
Canada was established in 1867 and Manitoba became a part of it in 1870. Yet long before Europeans settled in what we today know as Winnipeg, the land was inhabited.
This explains why you may see signs referencing Treaty Number One when visiting attractions. They mention that Winnipeg is on the original lands of Anishinaabe, Ininiwak, Anishininiwak, Dakota, and Dene peoples, as well as the homeland of the Métis Nation.
The Forks, at the confluence of the Red and Assiniboine Rivers, has been a meeting place of peoples for more than 6,000 years.
The impressive Thunderbird House is one of the places where elders and indigenous knowledge keepers meet.
First Nations elders share insights at tipis at the Arctic Glacier Winter Park between 1.30 pm and 3.30 pm each Sunday.
7 – Visit Qaumajuq and the Winnipeg Art Gallery
The Winnipeg Art Gallery is also known by its WAG acronym. Only a fraction of the WAG's broad collection of approximately 30,000 artworks is on public display.
Landscapes by the Group of Seven feature as part of the WAG's collection of Canadian art.
The angular modern building stands on Memorial Boulevard.
Qaumajuq, which connects to the WAG, displays works from the world's largest public collection of Inuit modern and contemporary art. Designed by architect Michael Maltzan, Qaumajuq opened in March 2021.
8 – Watch an ice hockey game
Canadians refer to ice hockey simply as hockey. Attending a game is an opportunity to better understand Canada's sporting passions while having an entertaining afternoon or evening.
Canada Life Centre, in the heart of Winnipeg, is the home venue for two professional teams. The Winnipeg Jets play in the elite National Hockey League (NHL). The Manitoba Moose play in the American Hockey league, the NHL's principal development league. Consequently, tickets for Moose games cost a fraction of those for Jets matches.
9 – Go ice skating in Winnipeg
If watching hockey inspires you to take to the ice, head to Winnipeg's Arctic Glacier Winter Park at The Forks. Pull on a pair of skates and glide onto the ice at the Canopy Skating Park, a covered rink.
Depending on the ice conditions, you may be able to skate on the frozen surfaces of the Red and Assiniboine Rivers while following the River Trail. The skating trail also runs on land at The Forks. Rental skates are available.
10 – View warming huts designed by international architects
Each year, international architects are invited to participate in Winnipeg's Warming Huts competition. Winning entries are assembled by the River Trail. The 2020 winners were by architects based in Calgary, Strasbourg, Tokyo and Winnipeg.
The huts are works of both art and architecture. They are judged on factors such as their design, ease of construction and creativity.
11 – Unwind at Thermea by Nordik Spa-Nature
Thanks to the seasonal weather, finding a place to chill in Winnipeg in winter isn't difficult. However, chilling at Thermea by Nordik Spa-Nature has a whole different meaning — it's a chic spa with saunas and steam rooms around four outdoor pools of varying temperatures.
The saunas are in wooden cabins. At two-hour intervals a saunameister enters the Finnish-style sauna to perform an aufguss, a ritual wafting of a towel that raises the temperature and infuses the air with the aroma of essential oils.
You can grab the salt and exfoliate, cocoon yourself in sleeping bag-like hammocks and relax on heated benches while listening to classical music.
Into wellness treatments? Set aside an hour for a massage. Duo massages are an option for couples.
There's also the option of pulling on your robe to grab a drink or bite to eat in the onsite restaurant.
12 – Take in a show in Winnipeg
Traditionally, Canada's Royal Winnipeg Ballet winter season includes a series of performances of Tchaikovsky's Nutcracker around Christmastime.
If you're into classical music, book tickets to a concert by the Winnipeg Symphony Orchestra. Many of the orchestra's performances are at Winnipeg's Centennial Concert Hall.
Prefer theatre? Check out the shows at the Prairie Theatre Exchange and Royal Manitoba Theatre Centre.
13 – Shopping in Winnipeg
Beyond shops in the downtown area, Winnipeg has several malls if you're into shopping. CF Polo Park is the largest.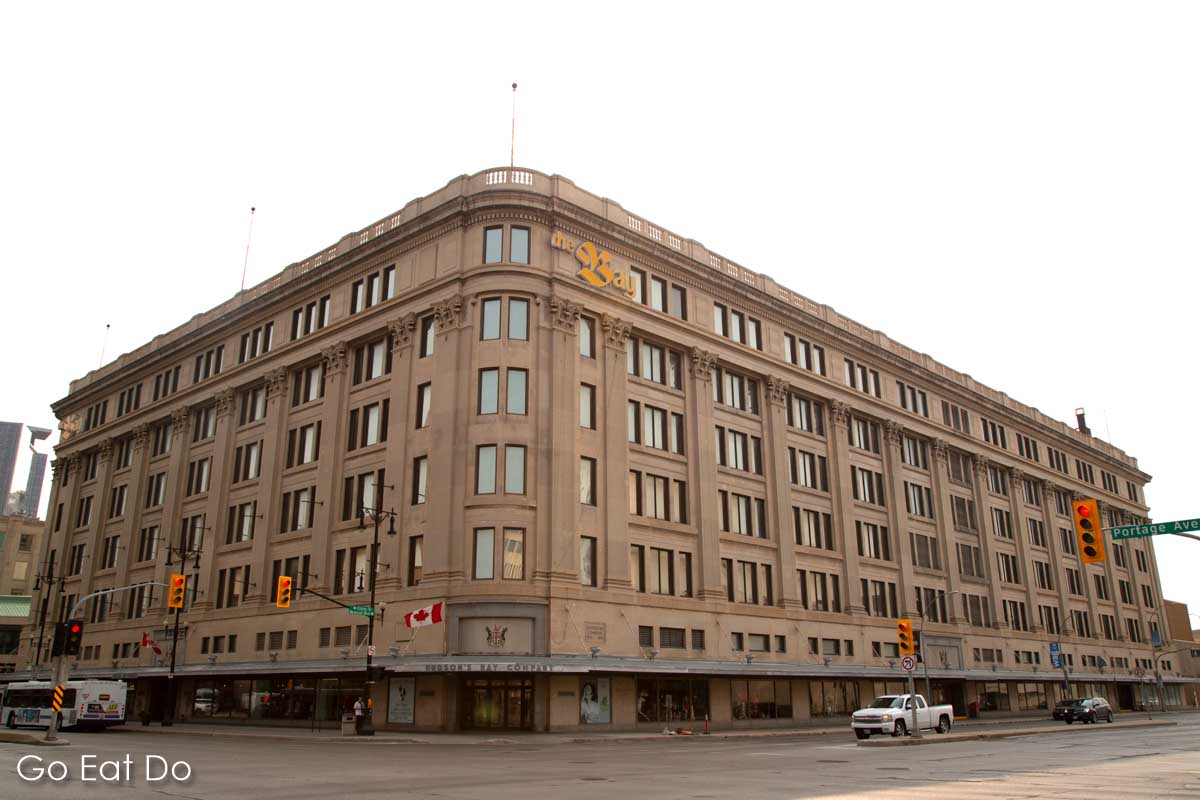 If you enjoy browsing branded fashion and sporting goods, prioritise a trip to the Outlet Collection Winnipeg, which has more than 100 stores. Stores selling discounted goods from brands such as Under Armour, Tommy Hilfiger and Michael Kors operate at the mall.
14 – Pop into the Manitoba Museum
Whatever time of year you visit, the Manitoba Museum counts among the top places to visit in Winnipeg.
It has exhibitions on Manitoba's natural history and human settlement of the land, as well as a planetarium and science section.
15 – Lose yourself in a snow maze
Exhausted your list of Winnipeg things to do? St Adolphe, a 30-minute drive south of Winnipeg, is home to the world's biggest snow maze.
Snow Maze at A Maze in Corn is open from January into March between Thursday and Sunday. Expect to see snow sculptures and fire pits while following the labyrinth of passageways formed by packed snow.
The walls of the snow maze are two metres (6 feet 6 inches) high, meaning it's suitable for most adults as well as youngsters.
Map of Winnipeg
The city is pretty easy to get around. Zoom in on the map below to find attractions in Winnipeg:
Google Map showing Winnipeg, Manitoba
Travel to Winnipeg
There are no direct flights from UK airports to Winnipeg in the winter. Flights with one connection are available.
WestJet operates flights between London Gatwick and Toronto and has connections to Winnipeg.
Air Canada operates flights from London Heathrow to Montreal, Ottawa and Toronto. It's then possible to fly to Winnipeg from each of those Canadian airports.
Winnipeg has direct flights from several airports in the USA. They include Chicago, Denver and Minneapolis, which operate daily flights to Manitoba's provincial capital.
Hotels in Winnipeg
The Inn at the Forks is a modern, four-star hotel with a spa. As this 116-room hotel's name suggests, it's at The Forks, meaning it's well-placed for visiting the nearby market and the Canadian Museum for Human Rights.
If you stay at the Inn at the Forks and have a preference for rooms with views, ask for a bedroom on a higher floor facing the museum. Foodies may well enjoy staying here as it means not having to head back outside, after a day of sightseeing, to have dinner at the Smith Restaurant.
The Fairmont Winnipeg hotel is at Lombard Place in the historic Exchange District. The 340-room property is well-placed for exploring the city's downtown and visiting The Forks.
The hotel's Velvet Glove restaurant serves prairie favourites such as perogies and buttermilk fried chicken. Vegan options also feature on the menu.
If you like staying centrally, consider the Fort Garry Hotel. The four-star, 246-room property opened in 1913 in a grand building that's widely regarded as one of Canada's finest Chateau-style hotels. It takes its name from the Hudson's Bay Company trading post that stood at the confluence of the Assiniboine and Red Rivers. Like to relax after a day of sightseeing? There's a spa on the tenth floor.
Find hotels in Winnipeg via Booking.com:

Where to eat in Winnipeg
Winnipeg is home to some outstanding restaurants.
Clementine is a standout choice for breakfast or brunch. The informal café is hidden away down a set of stairs in the Exchange District and has the feel of an insider tip on where to dine in Winnipeg.
Dishes such as the Turkish eggs, featuring hummus, and braised bacon benedict make it worth an early pitstop. Try a side too. The thick-sliced maple bacon and fried potatoes served with chickpea mayo make this a place worthy of more than one visit. You could always go über Canadian by ordering a Caesar, the clamato-based cocktail that's essentially a pimped Bloody Mary.
Also in the Exchange District, Deer and Almond is a notable restaurant to visit for zinging flavours and beautifully presented tapas-style small plates. Mandel Hitzer is recognised among Manitoba's most creative chefs and co-founded RAW: almond, the pop-up food festival which brings together top chefs from across Canada and beyond. The chefs serve their dishes in a temporary restaurant on the frozen river.
Eating out in Winnipeg
Scott Bagshaw is renowned as another of Manitoba's top chefs. Enoteca serves Mediterranean-style dishes while the focus at Maque is Asian-inspired small plates. You can also experience the sharing plate concept at Passero in The Forks Market where Italian-style dishes dominate the menu. I was impressed by both the beef tartare, served with sourdough bread, and the gnocchi. Sitting by the bar meant a prime seat for observing the chefs at work in Passero's open kitchen.
Head to Feast Café Bistro to try dishes inspired by Canada's indigenous cuisines. Chef and owner Christa Bruneau-Guenther is a member of the Peguis First Nation. Her dishes include the likes of fire-roasted buffalo lasagne and maple cedar salmon.
Smith Restaurant, at the Inn at the Forks, serves seasonal dishes made with Canadian ingredients. The menu features small plates, including arctic char, and comfort food such as buttermilk fried chicken.
Where to drink in Winnipeg
Winnipeg has an impressive array of craft breweries. I enjoyed sampling local brews at The Common within The Forks Market. The Commons serves 20 different draught beers, of which five are local. It also serves wines by the glass, making it a good bet if you're with someone who doesn't like beer.
For cocktails stop by the Forth (117 McDermot Ave). The long list of signature cocktails includes delectable creations such as the brandy-based Lady Washington and Troubled Paradise, made with spiced bourbon.
Six (sort of) fascinating Winnipeg-related facts
Did you know?
The name of the city is derived from words from the Cree language. 'Win' means 'muddy' and 'nippee' is the Cree term for water.
Winnipeg was incorporated as a city back in 1873 when its population was just 1,869. In 2020 the city's population is estimated at around 762,000.
The city is 3,463 kilometres from Halifax, 2,372 kilometres from Vancouver and 2,659 kilometres from New York.
The British capital, London, is more northerly than Winnipeg. London's latitude is 51.50°N while Manitoba's provincial capital is at 49.89°N.
The actress Anna Paquin was born in Winnipeg. Paquin has played roles in films such as The Piano, X-Men: The Last Stand and The Irishman.
Winnipeg International Airport bears the name of James Armstrong Richardson (1922-2004), a businessperson and politician who served as a minister in Pierre Trudeau's government.
Squirrel these gems away to impress people you met while travelling or to roll out during pub quizzes.
Winter weather in Winnipeg
If you plan to visit Winnipeg in winter be prepared for snow and sub-zero temperatures. From December to February the city experiences average daytime temperatures of well below zero.
January is typically Winnipeg's coldest month. According to one of the websites I viewed, the average high temperature of -11°C (13°F) and an average low of -20°C (-4°F).
Snowfall is common from mid-October until late April. The city's average annual snowfall is 110.6 centimetres (43.5 inches).
Some Canadians affectionately refer to Winnipeg as 'Winterpeg' because of the cold seasonal weather.
An eTA to enter Canada
Most UK passport holders flying to Canada for business or leisure purposes require an Electronic Travel Authorization (eTA). Some people need visas to enter the country.
Apply for your eTA via the official Government of Canada website before booking travel. Any site charging more than CAD$7 to process an eTA application is not the official Government of Canada website.
Don't leave the application until shortly before just prior to travel as the approval process sometimes requires supporting documentation and can take several days. Once approved, eTAs are valid for up to five years.
Further information
Discover more things to do in Winnipeg in winter on the Tourism Winnipeg and Travel Manitoba websites.
Looking for things to do in Canada in winter? Take a look at the Destination Canada website, which includes ideas about what to do in Winnipeg.
Thank you for visiting Go Eat Do and reading this post about 15 things to do in Winnipeg in winter. You can find several posts about Canada here on Go Eat Do. If you're thinking about visiting Winnipeg you may also want to consider heading to Churchill, the town known as 'the polar bear capital of the world'. A polar bear safari in Manitoba, Canada may also interest you.
Stuart Forster, the author of this post, is an award-winning travel writer who has visited Canada multiple times. He was presented with the 2017 British Annual Canada Travel Award for Best Online Content. Stuart is available for commissions and can be contacted via this website.
Photos are by Why Eye Photography unless otherwise stated. Thank you to Travel Manitoba for the use of images, where stated.
If you enjoyed this post why not sign up for the free Go Eat Do newsletter? It's a hassle-free way of getting links to posts on a monthly basis.
'Like' the Go Eat Do Facebook page to see more photos and content.
A version of this post was originally published on Go Eat Do on 11 July 2020.