Stuart Forster outlines things to do in Nova Scotia's provincial capital in this guide to 48 hours in Halifax.
Disclosure: This post was paid for by Tourism Nova Scotia.
Some of the links and banners below are affiliate links, meaning, at no additional cost to you, I will earn a commission if you click through and make a purchase.
Halifax has lots to do and see, so it's worth planning at least a couple of days to explore Nova Scotia's most populous city. It makes a pleasant place to stroll, offering plenty of places of interest along with numerous bars and restaurants.
Here's an outline of how to make the most of 48 hours in Halifax.
Day 1 – Morning – Explore the waterfront
The city grew and prospered because Halifax Harbour is one of the world's largest and deepest natural harbours. Historically, remaining ice-free in winter made Halifax strategically important as Great Britain vied for power and influence in North America. Many of Halifax's key points of interest can still be seen on or near the waterfront.
Gain a sense of place by crossing the harbour from Halifax Ferry Terminal. Ferries run to the Alderney Gate Ferry Terminal and Woodside Ferry Terminal. A ferry ride offers an inexpensive opportunity to appreciate the Halifax skyline.
Into history? You may prefer a guided tour of Georges Island to a trip on the ferry. Boats depart from Cable Wharf. The island is the location of Fort Charlotte and a lighthouse dating from 1917.
Halifax has one of the world's longest urban boardwalks. Renovated and illuminated at night, the wooden boardwalk makes a lovely place to stroll at any time of day.
Segway Nova Scotia offers guided city tours as well as a 45-minute introduction to the waterfront. The tours start with training on how to control a Segway. Within a few minutes I found it fun to be zipping along the boardwalk between listening to lighthearted insights into Haligonian history and heritage.
Day 1 – Afternoon – Look out over the city
In a region renowned for outstanding seafood, why pass up an opportunity to enjoy lunch by the waterfront? The Bicycle Thief and Sea Smoke Restaurant and Bar count among dining options overlooking the harbour.
Don't worry if you order a slice of red velvet cake or traditional butter tart for dessert. The calories will give you the energy to climb the hill to Halifax Citadel National Historic Site.
Established back in 1749, the star-shaped fortress overlooks the city. The garrison helped discourage incursions by French and, later, US forces.
Reenactors don period costumes to convey aspects of garrison life. During a self-guided tour, I found reenactors dressed in the uniform of the 78th Highlanders passionate and knowledgeable about the citadel's history.
You can have a banging time. Since 1857 a gun has been fired at the citadel to mark noon. Dressed in historic Royal Artillery uniforms, reenactors charge and fire a 12-pounder.
Day 1 – Evening – Enjoy a beer
Even on weeknights, Halifax is a good place to head out for a beer or two. It's tremendous on a weekend. It's traditional for Nova Scotians to say 'sociable' rather than 'cheers' when raising a glass.
During summertime, Alexander Keith's Brewery offers tours until 7.30 pm from Monday to Saturday. Established in 1820, this establishment is nearly two centuries older than some of the Halifax craft breweries mentioned elsewhere in this guide.
For an informal bite to eat, head to burger specialist Darrell's Restaurant. Peanut butter burgers count among the menu's offerings.
Alternatively, try a donair. This regional delicacy looks much like a doner kebab. However, donairs are made from beef and smothered in a sweetish sauce. They're ideal after a night out. Inevitably, there's much debate as to where serves the best donair in Halifax. Tony's Donair (2390 Robie Street) and King of Donair (6420 Quinpool Road) are two contenders.
Day 2 – Morning – Head to Pier 21
The Canadian Museum of Immigration at Pier 21 explains how more than one million people disembarked ships in Halifax to start lives in Canada. Informative, interactive and at times poignant, the museum displays artefacts while telling individual stories.
Afterwards, you'll be well placed for visiting Halifax Seaport Farmers' Market. Meander between food stalls to buy lunch. The market has operated at various locations since its establishment in 1750, meaning it lays claims to being North America's longest continually operating market.
Day 2 – Afternoon – Explore maritime heritage
A statue of Samuel Cunard stands outside of the farmer's market. With a hand on his hip, he is depicted next to an engine order telegraph, the device that signals the desired speed of a steamship. Cunard was born in Halifax and became a shipping magnate. His story is told in the impressive Maritime Museum of the Atlantic.
The museum conveys Nova Scotia's maritime heritage. That includes contextualising Halifax's role in the aftermath of the Titanic disaster and the vast explosion which detonated in the harbour on 6 December 1917.
You may also be able to squeeze in a visit to the Naval Museum of Halifax. The museum tells the story of the Royal Canadian Navy, which continues to have a sizable presence in Halifax.
Prefer art? From Thursday to Sunday you can visit the Art Gallery of Nova Scotia on Hollis Street.
If science is your passion, head to the Discovery Centre. The interactive exhibitions make it ideal for family days out. Similarly, the Museum of Natural History appeals to visitors of all ages.
Day Two – Evening – A seafood dinner
Take a pre-dinner stroll in Point Pleasant Park. Dotted with burial grounds, the heavily wooded parkland used to be the site of artillery batteries to defend the port. North America's oldest Martello tower is located within the park.
Shakespeare by the Sea performs at the Cambridge Battery and in the 87-seat Park Place Theatre.
The Five Fishermen serves locally landed seafood and steaks. The stylish restaurant is in a building that's reputedly haunted.
The Press Gang Restaurant and Oyster Bar (5218 Prince Street) is another chic dining option in one of Halifax's oldest stone buildings.
Recommendations for things to do in Halifax
Don't just take my word as to why it's worth planning at least a couple of days in Nova Scotia's provincial capital. Here are further suggestions from experts relating to attractions Halifax offers visitors:
"Halifax is a great place to stay, with interesting stuff to do and lots of lovely places within easy driving distance, but it's the evening when the place really comes alive. There are a great many eateries, from budget to fine dining, and a brilliant choice of bars, many of which feature live music," says Kathryn Glover, the Programme Director North America at Tropical Sky.
"The Lower Deck was probably my favourite. It's a friendly place with a really fun band, space to dance and a lot of lovely craft beers to try out. The Split Crow is the oldest tavern in Halifax and was also brilliant with a great atmosphere and proper loud music! I'm sure it varies from night to night, and my advice would be to try out a few different places to find the atmosphere, music, decibel-level, beer or crowd," adds Kathryn.
One of the world's largest harbours
"Situated on one of the world's largest natural harbours, Halifax has a true maritime heritage which continues today. Stroll the restored waterfront area and visit the Maritime Museum of the Atlantic; you'll find many artefacts and displays relating to the city's links to the Titanic disaster.
While the waterfront area is my favourite part of Halifax, there's more to see and do, such as wandering the Halifax Public Gardens, one of the finest surviving examples of a Victorian Garden. With its location in the heart of the city, it's an ideal place to pause and rest after a busy time sightseeing," says Denise Hunn, Director of Canada Tour Operations at Prestige Holidays.
Denise suggests spending at least three days in Halifax, to enjoy its attractions and friendly ambiance.
Nightlife and bars in Halifax
"Nova Scotia is a land of rugged coastline, fascinating wildlife and hearty food. Beyond its natural beauty and excellent cuisine, it has a buzzing nightlife scene," enthuses Joe Rimmer, Liverpool Echo's sports social media editor.
"For beer lovers, there are cool craft beer bars aplenty. I've had to do a little research to refresh my memory – a sign that I enjoyed myself a little too much during a night out in Halifax! The main attraction was Stillwell, a modern, hip bar with many local breweries on tap to tuck into. We spent a lot of time sampling the local delights – and paid for it again the next day. The memories outlasted the headache. A very good night was had by all," says Joe about a night out that we shared.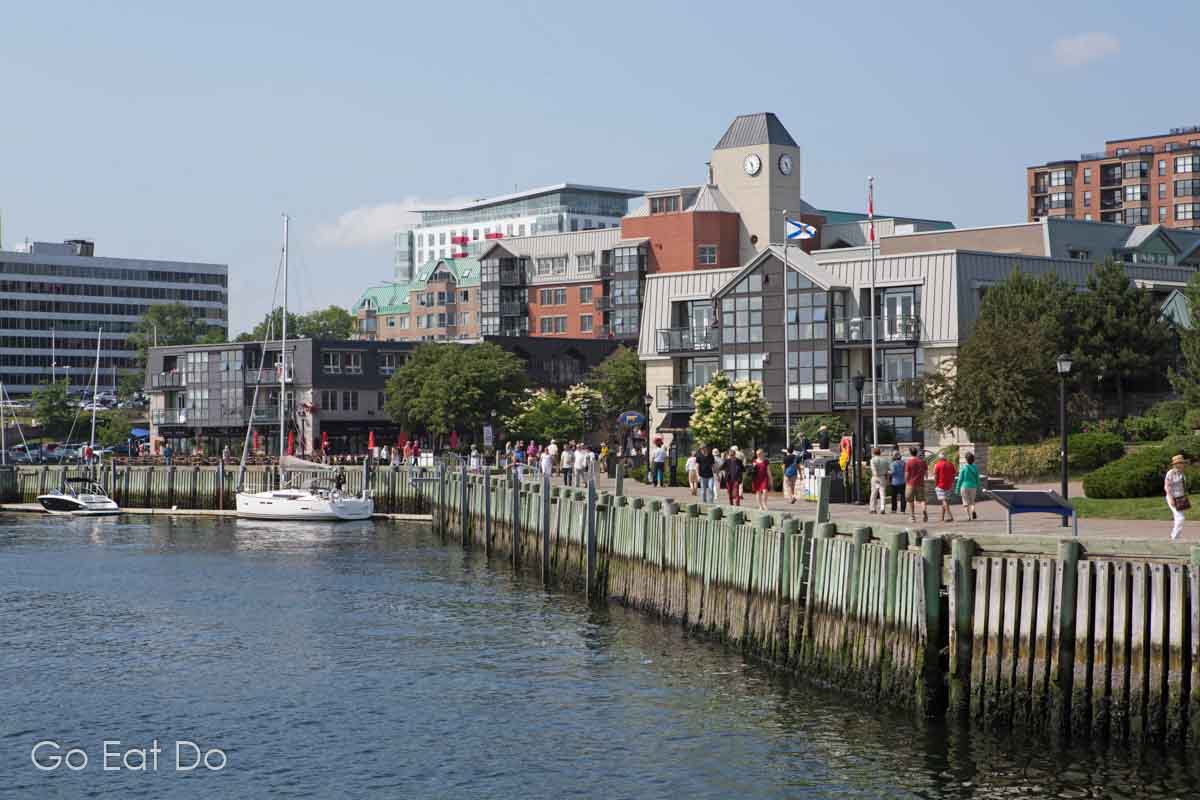 "Other local breweries in Halifax include the Good Robot Brewing Company, Propeller, Garrison and 2 Crows Brewing Co. They boast excellent spaces to sit and sample their delights, as well as shops where you can take them away with you. It's great to enjoy a paddle of different beers to sample with friends," he adds of the craft breweries' tasting flights.
"The bar staff were helpful and happily allowed patrons to sample their wares before tucking in – excellent if, like me, you have trouble making your mind up," says Joe, who recommends travellers pack paracetamol.
Another option is to buy a beer for consumption back at your hotel after a day of sightseeing. I bought a cold spruce beer from the Garrison Brewing Co. and drank it while steeping in the bath at my hotel. It proved an enjoyable way to unwind after a memorable day.
fascinating facts about Halifax
Were you aware of the following Halifax-related facts?
North America's oldest saltwater passenger ferry connects Halifax and Dartmouth. Of all the saltwater ferry services in the world, only the famous 'Ferry Cross the Mersey' between Liverpool and Birkenhead has operated for longer.
Between June and October, visitors are welcome to visit Sable Island National Park Reserve. The narrow island counts as part of the Halifax region despite being nearly 300 kilometres eastward in the Atlantic.
Humankind's most powerful non-nuclear explosion detonated in Halifax Harbour on 6 December 1917 after two munitions ships collided. The Halifax Explosion ripped apart buildings on both sides of the water, killing approximately 2,000 people and injuring many more.
The Christmas tree erected each year in Boston, Massachusetts, is a gift from Nova Scotia. It's a symbol of gratitude to Boston for providing rapid aid following the Halifax Explosion of 1917.
More Halifax facts…
Halifax's Fairview Lawn Cemetery holds more graves of Titanic victims than any other place on the planet. Remains of 121 people who died during the ship's sinking on 15 April 1912 are laid to rest in the cemetery. The city's Mount Olivet Cemetery holds 19 victims of the disaster. A further 10 are buried in Baron de Hirsch Jewish Cemetery.
Abraham Gesner, the first person to refine kerosene (paraffin), died in Halifax in 1864. A grey obelisk commemorates him in Camp Hill Cemetery, near Halifax Public Gardens. Gesner Street bears his name in the Fairview district of the city.
Dating from 1750, Halifax's oldest building is St Paul's Anglican Church. It's the oldest Anglican Church in North America. It's one of many places of worship designed by Scotsman James Gibb, the architect of St-Martin-in-the-Fields church at Trafalgar Square in London, England.
Places to stay in Halifax, Nova Scotia
Looking for ideas for accommodation in Halifax? Staying at a hotel, guest house or suite close in the downtown area puts you within walking distance of many of Halifax's principal attractions.
Built as one of Canada's upscale railway hotels, the Westin Nova Scotian has 310 rooms, including 10 suites. Ask for a harbour-facing view on one of the upper floors of this hotel and rise early for views of the sunrise over Georges Island. Located in the Halifax Seaport District, this hotel is ideally placed for strolling to attractions such as the Canadian Museum of Immigration at Pier 21 and Halifax Seaport Farmers' Market.
With 262 guestrooms, the Lord Nelson Hotel and Suites offers rooms overlooking Halifax Public Gardens.
Also with 262 rooms, the Sutton Place Hotel Halifax opened in the autumn of 2020 in the Nova Centre, the mixed-use space that's also home to the Halifax Convention Centre.
Located by the waterfront, the Halifax Marriott Harbourfront Hotel has 352 rooms and an indoor swimming pool.
Halifax's first five-star hotel, The Muir, will open in 2021. The 110-room property is part of the waterfront Queen's Marque development. Featuring a wellness centre and showcasing artworks from the region, The Muir will be part of Marriott International's Autograph Collection.
Search for hotels in Halifax via Booking.com:


Questions about Covid-19 and travel
Head to the Nova Scotia website to view frequently asked questions about the coronavirus (Covid-19).
You'll find answers to questions about regulations for self-isolation, restrictions on travel to Nova Scotia, where face masks must be worn and many more.
Canada's Electronic Travel Authorization (eTA)
Most United Kingdom passport holders flying to Canada for leisure or business require an Electronic Travel Authorization (eTA) to enter the country. Some people need visas. Once approved, eTAs are valid for up to five years.
Apply for your eTA via the official Government of Canada website prior to booking travel. Don't leave it until you're at the airport as the approval process sometimes requires supporting documentation and can take several days.
Be aware: Any site charging more than CAD$7 to process an ETA application is not the official Government of Canada website.
Travel to Halifax, Nova Scotia
Transfers to Halifax Stanfield International Airport (YHZ) are possible from the likes of Toronto Pearson Airport (YYZ) and Montréal-Pierre Elliott Trudeau International Airport (YUL).
Air Canada's direct flights from Halifax to London Heathrow (LHR) take approximately five hours and 55 minutes.
Westjet operates flights to Nova Scotia from London Gatwick. It also has direct seasonal services (April into October) from Dublin and Glasgow.
Halifax Airport is approximately 35 kilometres from downtown Halifax. The Metro X bus service (320) runs between the two in under an hour. An Airport Express shuttle service also operates between 1 May and 31 October. Taxis are also an option for getting between the airport and city centre.
Holidays in Halifax
Several tour companies offer holidays including time in Nova Scotia's provincial capital. Among them are:
Canadian Sky's 9-night Enchanting Canadian Maritimes Tour holiday includes two nights in Halifax.
Titan Travel's 14-day Maritime Canada holiday includes a tour of Halifax with a visit to the citadel.
Prestige Holidays' 13-day guided Atlantic Maritimes Tour starts and ends in Halifax.
The first two days of Trailfinders' 14-day Maritime Whales and Whales motorhome holiday is spent in Halifax before exploring Nova Scotia, New Brunswick and Prince Edward Island.
Books about Halifax
Planning a trip to Halifax, Nova Scotia? You can buy the following books from Amazon by clicking on the links or cover photos::
The Halifax Explosion: Canada's Worst Disaster by Ken Cuthbertson:
Fodor Travel's
Nova Scotia and Atlantic Canada
:
Bradt Travel Guides
Nova Scotia
:
Nova Scotia: A Pocket History
by John Reid:
Steam Lion: A biography of Samuel Cunard
by John G. Langley:
Map of Halifax
Orientate with this map of Halifax, Nova Scotia:
Google Map showing Halifax, Nova Scotia.
Reasons to visit Halifax
Watch my YouTube video of reasons to visit Halifax for further insights into things to do in Nova Scotia's provincial capital:
Further information
View the Nova Scotia website for more ideas about things to do in Halifax and elsewhere in the province.
The Destination Canada website also has information about tourism attractions in Nova Scotia.
Stuart Forster was presented with the British Annual Canada Travel Award (BACTA) for Best Online Content in 2017. He is available for commissions relating to Nova Scotia and elsewhere.
Enjoy photography? Here's a look at how to make the most of your time with your camera in Nova Scotia.
If you enjoyed this post why not sign up for the free Go Eat Do newsletter? It's a hassle-free way of getting links to posts on a monthly basis.
'Like' the Go Eat Do Facebook page to see more photos and content.
A version of this post was initially published on Go Eat Do on 20 November 2020.