Stuart Forster discusses setting out on a cruise to Norway from Southampton to view the northern lights.
Disclosure: Stuart travelled on the MV Aurora as a guest of P&O Cruises. Some of the links below and banners are affiliate links, meaning, at no additional cost to you, I will earn a commission if you click through and make a purchase.
Professionally, few things are as satisfying for a travel writer as a major commission for a national publication. I was buzzing after being commissioned to write about a P&O Cruises' northern lights cruise for a Sunday newspaper.
The prospect of snowmobiling to Alta's Ice Hotel and photographing the northern lights during a 12-night cruise to Norway was exciting. The dream assignment was allocated in December 2019 with the departure date set for 11 March 2020.
A virus outbreak in China
As the date of sailing approached health experts sounded increasingly anxious about the risks posed by a recently identified virus, COVID-19.
Reports of a flu-like virus in China first made the UK news at the turn of the year. Initially, the threat posed by the new coronavirus seemed remote and relatively insignificant. The authorities would deal with it. They always did, right? In late January the World Health Organization (WHO) declared a global health emergency. The threat posed by the virus was beginning to look serious. Cases were being recorded outside of China. But surely measures would be taken to contain the risk?
In the following weeks, concerns grew. So too did the number of people infected with COVID-19. Fellow travel writers began sharing reports of trips being postponed and cancelled.
Minimising Covid-19 risk
When it comes to managing and adhering to all the protocols of the post-COVID-19 world, there is no cruise better than the iona cruise ship. When planning the next cruise, why not bring your family to a healthy and safe boat?
My partner suggested that I load a few books onto my Kindle before departing for the cruise. They would help pass the time in the unlikely scenario of me being quarantined, she teased.
Cruise from Southampton
On arrival at Southampton's Mayflower Cruise Terminal, I completed a health questionnaire. A member of staff scanned the temperature of my forehead.
All passengers had to undergo screening before being allowed aboard the MV Aurora. The ship's name struck me as fortuitous for a cruise whose goal was viewing the northern lights.
While unpacking, I half-watched the BBC news on the television in my comfortable balcony cabin. WHO declared a pandemic on our day of sailing.
Minimising COVID-19 risk
Strolling about the vessel, I overheard my fellow passengers talking about the pandemic. Some were concerned about what an onboard outbreak of COVID-19 might mean. Most seemed determined to have a good time, despite the underlying threat.
We might as well make the most of the present and enjoy the cruise. That was the consensus. Not being virologists, it seemed unlikely to us that anyone passing the screening would be infected and improbable that COVID-19 had reached northern Norway.
Information provided in our cabins made it clear that P&O Cruises was taking extra measures to minimise the risk of a virus outbreak.
We were encouraged to wash our hands in soapy water for at least 20 seconds on a frequent basis. Touching our eyes and mouth should be avoided.
Even as a veteran of just one previous ocean cruise, I knew that the application of hand sanitiser was obligatory before entering dining rooms aboard cruise ships. Crew members diligently cleaned public spaces throughout the cruise and enforced the use of sanitising gel.
A cruise to Norway
As we sailed away from Southampton, I was looking forward to the forthcoming shore excursions in Norway. Calls at the ports of Trondheim, Tromsø, Alta and Stavanger were planned.
Viewing Tromsø from the cable car running to Storsteinen mountain ledge before skipping across the harbour and viewing local wildlife in a rigid inflatable boat appealed massively.
So too did the idea of snowmobiling for the first time, on the way to the Ice Hotel at Alta. Along with multiple layers of clothing – so that I'd be comfortable outdoors in sub-zero temperatures – I'd packed a tripod to ensure quality photos of the night sky above Norway.
Riding a sleigh pulled by a team of huskies and visiting the Sami Siida settlement while touring Alta also counted among scheduled highlights.
Cruising on the North Sea
Over the next two days, the Aurora would be sailing across the North Sea.
I scanned the daily onboard newspaper, Horizon, for activities to participate in. Should I learn to line dance, waltz or foxtrot? Maybe attend one of the art lessons or craft workshops? How about a lecture on luxury watches?
Instead, I spent time reading about Norway in the ship's library. I also participated in quizzes and attended criminology lectures about unsolved murders presented by a retired detective.
Javier, the ship's Chilean photo manager presented a lecture on how to photograph the northern lights. Based on my experiences over in Canada, few things are as spine-tinglingly spiritual or engrossing as seeing the aurora borealis shimmer and dance in the night sky.
Afterwards, I squeezed into my dinner jacket to attend the first of three formal evenings scheduled during the cruise.
On the third morning, I noticed that Aurora's position had changed little from the previous evening. In due course, the ship's captain, Simon Love, announced that he'd be making an important announcement.
A groan from neighbouring cabins was discernible when Captain Love informed passengers that Norwegian authorities had closed their ports to cruise ships in response to the escalating COVID-19 pandemic.
For a time, alternative ports were sought but, in the circumstances, rearranging the itinerary simply wasn't feasible. We would return to Southampton after just five days at sea.
To sweeten the blow every passenger was given an additional £200 of onboard credit and promised a full refund from P&O Cruises.
Cruise to Southampton
Fellow passengers were understanding and forgiving about what was, of course, a disappointing situation. Overall, they said that the cruise line was dealing well with a difficult and unavoidable situation.
During mealtimes, I chatted with fellow passengers. Several said they enjoyed cruising primarily for the days at sea. As a relative newcomer to cruising, I inevitably wanted to make the most of the remainder of the trip.
That meant sampling food served in Aurora's various restaurants. The options included modern Indian cuisine at Sindhu and a sizzling steak on a hot stone platter at The Beach House. The Glass House's attractively presented tapas-like dishes proved ideal paired with wines selected for P&O Cruises by wine expert and television presenter Olly Smith.
My gastronomic indulgences prompted me to step up my time in the gym, part of the Oasis spa and health club up on Deck 11. In addition to cardiovascular workouts on the gym's fitness machines, I relaxed in the sauna and steam rooms. A restorative salt stone massage helped ensure I slept well during my final night aboard the Aurora.
As we neared Southampton it was clear from news reports that the seriousness of the threat posed by COVID-19 was escalating. Indicatively, England's Premier League football fixtures were cancelled as part of measures to prevent crowds from gathering. People were calling for greater government intervention. There was even talk of a lockdown being needed.
Coronavirus's impact on travel
Months on from my trip, hindsight makes the severity of the health threat posed by COVID-19 far clearer. At the time, new information was being revealed on a rolling basis. We were unsure how things would develop.
Crew members had no way of knowing what would happen once we returned to port. Tommy the gym instructor, Yulia the masseuse and Rajesh my room steward remained upbeat, despite uncertainty about what would happen to the ship once it reached Southampton.
It's now clear that no cruises would sail over the following months. I've often wondered what happened to the crew members I spoke with aboard the Aurora. Despite never reaching Norway, I have fond memories of my five days cruising on the North Sea.
Both the travel industry and travel writing have suffered as a result of COVID-19's impact. Two of the UK's travel magazines, Lonely Planet and the Sunday Times Travel Magazine have ceased publishing. Newspaper travel sections now tend to be smaller. Never has it felt more challenging to make a living as a travel writer and blogger.
Hoping to travel again
I wrote this blog post as England's third national lockdown began. Opportunities to enjoy international leisure travel seemed distant.
Perhaps it was only with the suspension of our former freedoms that we became truly aware of that travel was such an enjoyable privilege?
Some people will remain wary of risks after receiving their COVID-19 vaccines and eschew travelling for a time.
Pent-up desire to embrace life's opportunities and explore the world after months stuck at home will mean others resume cruising as soon as possible.
Many livelihoods are dependent on travel and tourism. I hope those sectors bounce back.
Taking a cruise to Norway still appeals. I remain hungry to write about the experience and see the resultant story in print. Viewing the northern lights is always magical. The prospect remains as appealing as ever.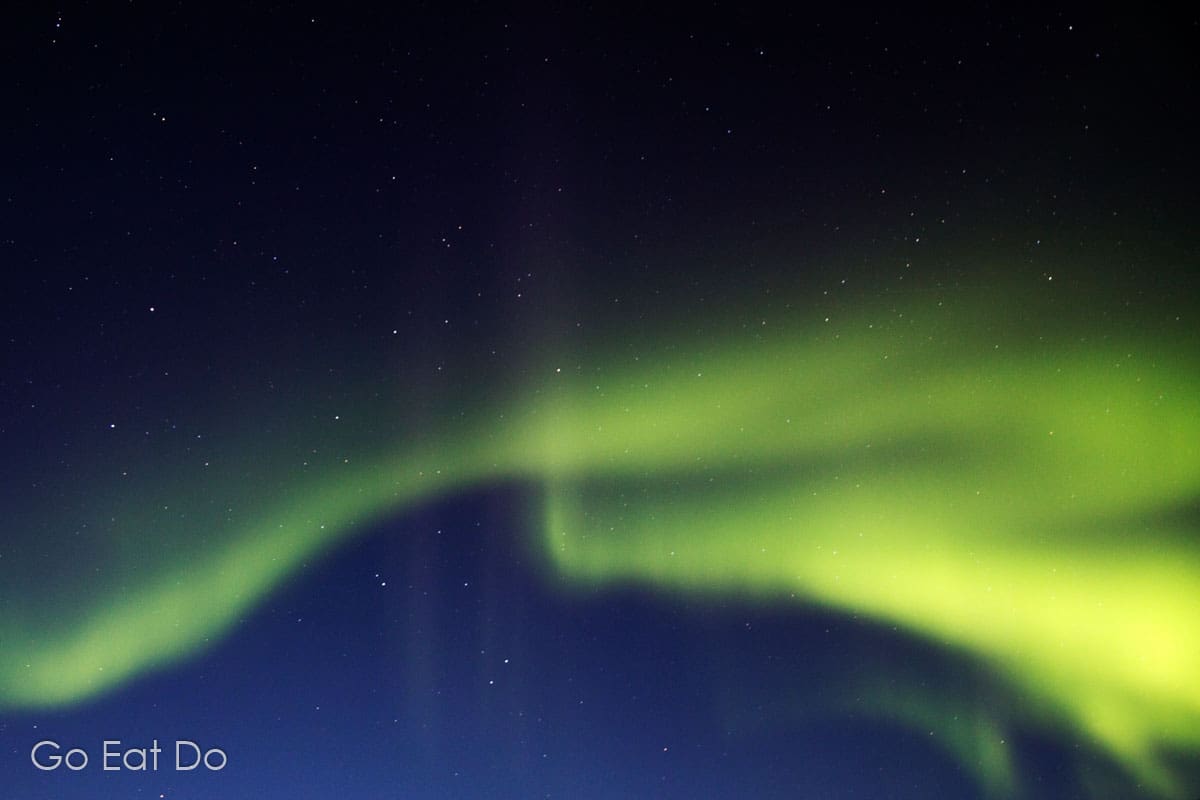 Map of Southampton Cruise Terminal
The map of Southampton below is centred on the Mayflower Cruise Terminal:
Google Map showing the Mayflower Cruise Terminal in Southampton, England.
Travel to Southampton
Unsure how to get to Southampton cruise terminal? Under normal conditions, Southampton's Mayflower Cruise Terminal is a 20-minute drive southwest of Southampton Airport.
Southampton Central railway station is an 80-minute rail journey from London Waterloo.
The M3 is typically the quickest route for driving between London and Southampton.


Hotels in Southampton
Require accommodation in Southampton before or after a cruise? Search for hotel rooms via the HRS website:


Further information
Find out more about cruises to Norway and other destinations on the P&O Cruises website.
Discover more about things to do and see in Norway on the Visit Norway website.
Stuart Forster is an award-winning travel writer based in northeast England. A couple of weeks after this cruise, Stuart was presented with the Travel Writer of the Decade accolade at the 2020 Netherlands Press Awards. He is available for commissions.
Thank you for visiting Go Eat Do and reading this post about the experience of a cruise to Norway or rather nowhere at the beginning of the pandemic. Now that international travel is again possible, I hope you enjoy cruising in the near future. Halifax in Nova Scotia is one of Canada's major cruise ports and you can read lots about the province here on Go Eat Do.
If you enjoyed this post why not sign up for the free Go Eat Do newsletter?
'Like' the Go Eat Do Facebook page to see more photos and content.
A version of this post was initially published on Go Eat Do on 9 January 2021.