Stuart Forster reviews the tapas and pinchos served at the Ibérica La Terraza Spanish restaurant at Canary Wharf, London.
Disclosure: Stuart visited Ibérica la Terraza as a guest of the restaurant, which did not review or approve this post.
The sky is leaden and the air has a distinct chill. Perhaps this isn't really a day for al fresco dining, I reflect, as I crunch my way across the gravel terrace towards a seat under an umbrella at Ibérica la Terraza on Cabot Square, at London's Canary Wharf.
If this was a May afternoon in Madrid I suppose I'd be glad for the shade provided by the umbrella. Here in London it gives reassurance against the probability of rain. The English county cricket season has been underway for six weeks but I welcome the warmth provided by the heater glowing orange under the canopy. Surely this bold effort to introduce an outdoor tapas culture to the British capital is misplaced?
Ibérica La Terraza Spanish restaurant
Apparently not. Each day, up to 300 people a day have been turning up since Ibérica la Terraza opened in April 2013, explains César Garcia, the Group Head Chef. "This is an exclusive place. This is a market who knows what they are taking, so it was a good challenge for us to make it here," he says with conviction and enthusiasm.
The fact that the terrace restaurant's combination of tapas, sangria and cocktails is proving popular despite the lousy spring weather speaks volumes about the quality of the produce on offer.
This restaurant's name may sound familiar if you know other Spanish restaurants in London. Though it's a separate entity to the Ibérica Canary Wharf, only a few meters away, Nacho Manzano is the Executive Chef of both Manzano's flagship Casa Marcial restaurant is distinguished with two Michelin stars.
NACHO MANZANO AS EXECUTIVE CHEF
Garcia, like Manzano, hails from northern Spain "There's a bit of influence from different areas of Spain. The pinchos — bite sized tapas with a variety of toppings served on freshly made crisp bread — are traditional from the Basque country. The bocadillos are from the whole of Spain but the squid bocadillo is from Madrid. The churrasco is from Galicia. The idea to put together a mixture means it's not as formal as over in the restaurant," says Garcia, smiling warmly, encouraging me to tuck into his short ribs.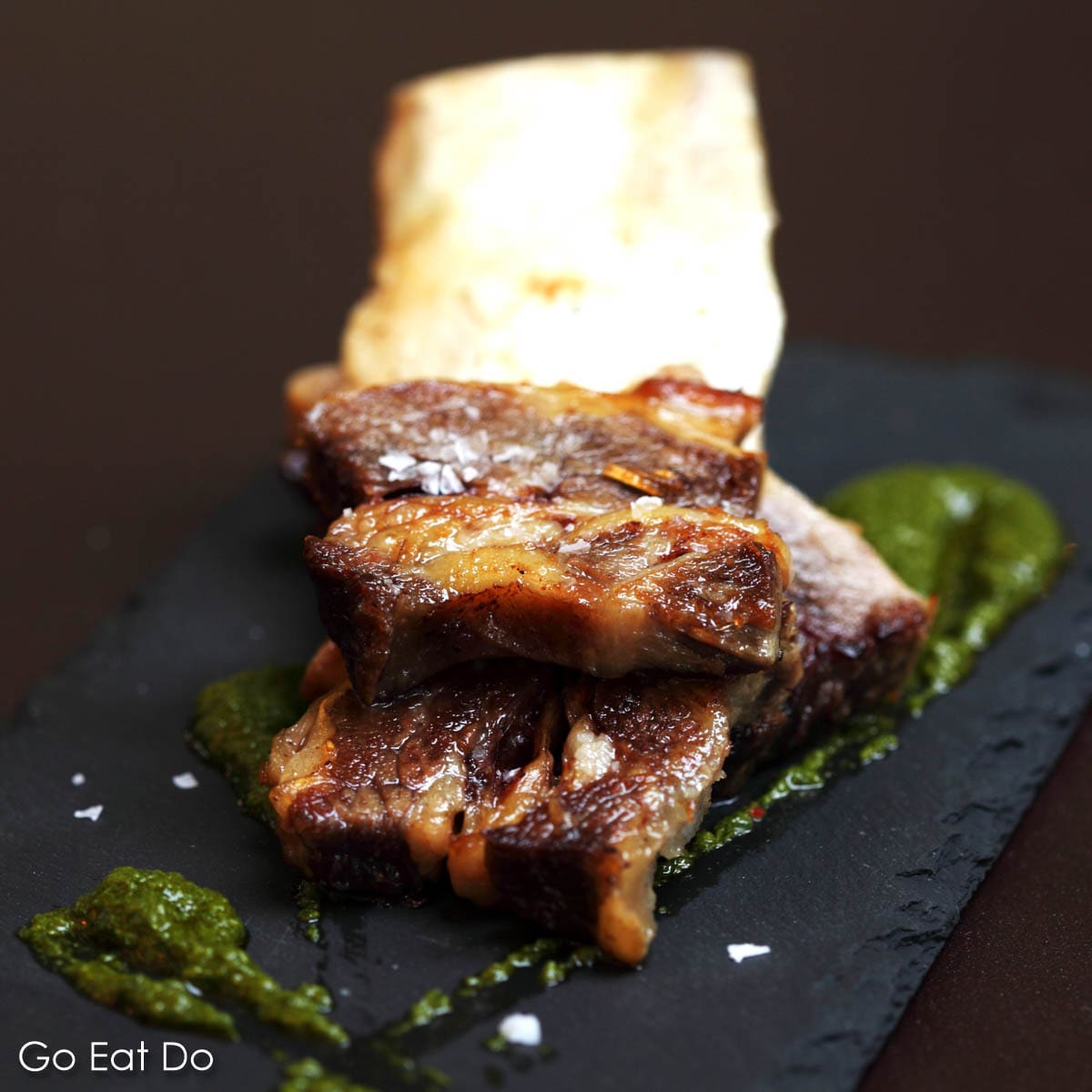 "We cook the meat nine-and-a-half hours then we griddle it. The green mojo is from the Canary Islands. It is with coriander, parsley, a bit of chilli, garlic, vinegar and olive oil," he explains, clearly proud of the quality of the food he's serving.
Traditional Spanish Food and drink
"Since I was a child, gastronomy was always an important part of my life," says Garcia, after telling me how his family influenced his passion for cooking. "The influence is more in the love and the care about what you have in your hands and what you give to others. It's more about how you see the food; it's not about a recipe. It's about the philosophy."
"All our Iberico ham, all our suckling pigs – the signatures of Spain – we import them from Spain from the producers," says the chef, when I ask where he sources his ingredients. Garcia has visited the producers and can vouch for the provenance of the food he's serving. The vegetables and beef, though, are British in origin.
The food served at Ibérica la Terraza ranges from a range of beautifully presented but delicate pinchos to the rustic, filling squid sandwich that Garcia mentioned.
The smoked cod salad is light and fresh.  The aubergine topped with honey and pine nuts, which I nibble in next, is a delicious combination.
Despite the quality of the food, many people clearly come here for post-work drinks too. Pedro Carvalho, the Ibérica la Terraza's Operations Director, is a master cocktail maker and offers a series of sangrias to complement the bar's cava.
Sangria and red wine
"We have a nice large selection of sangrias, away from the normal sangria made from red wine. I started to create sangrias with cava and with white wine, then I went further and I created a rosé sangria, a beer sangria and a cider sangria," says Carvalho. They feature fruit and are low on sugar.
As the evening crowd starts to build I depart Ibérica La Terraza, impressed by the dishes that Garcia is serving.
Further information
Ibérica La Terraza is at Cabot Square, Canary Wharf, London, E14 4QQ (tel. +44 (0) 20 3026 5118).
Google Map showing the location of the Ibérica La Terraza Spanish restaurant at London's Canary Wharf.
Enjoy this post about the Ibérica La Terraza Spanish restaurant? Take a look at this article about The Red Lion Freehouse in Wiltshire. The post about restaurants to enjoy traditional Canarian cuisine in Tenerife may also interest you.
Stuart Forster, the author of this post, is an award-winning travel and food journalist based in northern England. Photos illustrating this post are by Why Eye Photography, which specialises in food and travel imagery.
If you enjoyed this post why not sign up for the free Go Eat Do newsletter? It's a hassle-free way of getting links to posts on a monthly basis.
'Like' the Go Eat Do Facebook page to see more photos and content.
A version of this blog post was first published on Go Eat Do on 29 May 2013.