Stuart Forster interviews Guy and Brittany Manning, who run The Red Lion Freehouse, a cosy country pub and restaurant with a Michelin star in Wiltshire.
Disclosure: Some of the links below and banners are affiliate links, meaning, at no additional cost to you, I will earn a commission if you click through and make a purchase.
The Red Lion Freehouse is a Michelin-starred pub and restaurant at East Chisenbury in rural Wiltshire. Run by Guy and Brittany Manning it seats up to 55 diners.
The Red Lion Freehouse
After visiting Stonehenge I drove to the highly-rated establishment for lunch. The couple has been serving their culinary creations since 2008. In addition to the Michelin star, which was awarded in the 2013 guide, the Red Lion holds three AA Rosettes.
With a thatched roof and white exterior walls, the Red Lion Freehouse looks every bit the traditional English country pub. It has a beer garden and inside it's cosy. A well-used leather sofa and armchairs stand by a brick hearth.
I ate a hearty, flavour-packed pork stew followed by a dessert featuring poached pear and hazelnut ice cream. The food was tasty and reasonably priced. After dining, I convinced the restaurant's proprietors to step out of the kitchen to pose for a portrait by the fireside.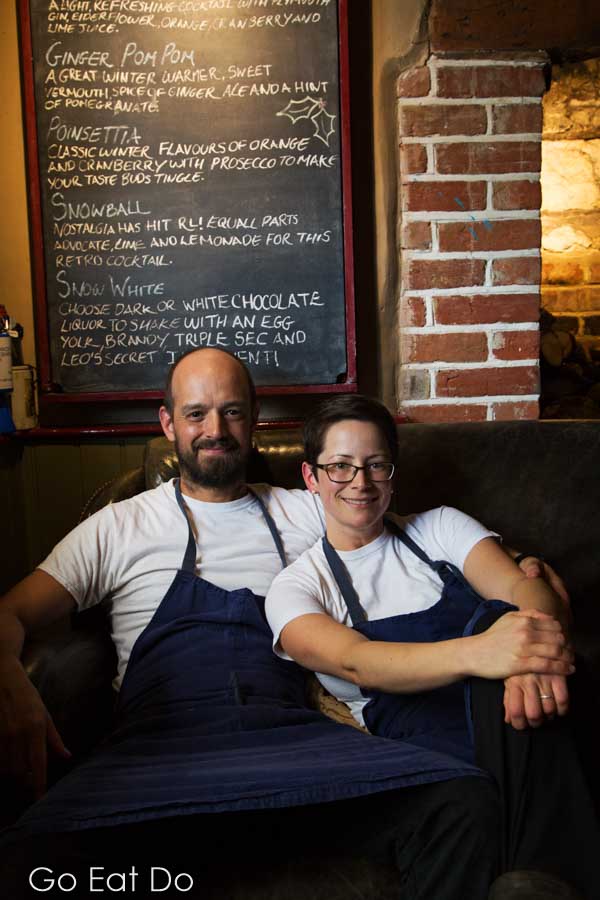 Talking with Guy and Brittany Manning
"We met in New York, working in a restaurant. I was working in savouries in a very busy, very smart kitchen. Fairly swiftly, I noticed Brit, working in pastries. I managed to convince her to come back here to England: I'm never sure how I managed to do that but here we are, years later," said Guy, laughing while reminiscing about how the couple got together while working at Per Se, which has held three Michelin stars since 2006.
I was keen to understand why they moved to a country pub in southern England.
"We'd talked about wanting to do something and had discussed the various options of what we wanted to have. The style of what we wanted to have was something like a pub. Since they don't exist in America we came here," explained Brittany.
"I'd worked in smart restaurants…they were very flavour orientated. That was my background and how I grew up eating — tasty, casual, informal food," added Guy.
Michelin-starred pub and restaurant
"When we were looking at places we didn't have much budget. The less money you have, the further away from cities you get. We ended up here in Wiltshire," he joked. Guy grew up in Newbury, in the neighbouring county of Berkshire, and went to school in Marlborough, a Wiltshire town around 13 miles from East Chisenbury.
"We split running of business between us and, likewise, split the responsibility of the food. Brit looks after the pastries side of things and I look after the savouries. We have a duty manager and lots of young chefs who are enthusiastic and hard-working. There's a lot more delegating but it's also a much bigger business than when we first started," said Guy.
"Then we have our children, which we try to balance with it as well. We split it fifty-fifty, straight down the line. One of us, at least, is here all the time it's open," he added.
Red Lion Freehouse Wiltshire
Sourcing quality ingredients is key to the success of any good restaurant. I couldn't help wondering if that's tricky for an establishment based in the countryside.
"It was definitely a challenge early on. I was fortunate enough to have a good friend who was a chef and has always been in this area. He put me in contact with some good suppliers – we use the best suppliers in the country. Really. We use one of the best butchers [from nearby Devizes] and one of the best fish suppliers [from Gloucestershire].
In the early days, you have to establish that you have the standards that you do and you have to work hard at it. There are still days that things won't be quite right. You have to have your integrity really: if something's not right you have to send it back. If you have to change a dish, that's what you've got to do. It's all a matter of your own standards and where you want to set them," said Guy.
Using locally foraged ingredients
During summertime Guy makes use of locally grown vegetables in dishes served at the Red Lion Freehouse.
"I do feel quite strongly that freshness is one of the most important factors. When you can buy ingredients from people who grow them locally they're of superior quality than when they've been shipped in from the other side of the world – which we tend to avoid doing," he explained.
Guy and chefs working at the Red Lion Freehouse also forage for ingredients.
"It's hard not to when you live out in the heart of it all. One of the best things is watercress. We have an abundance of watercress growing in the river just 100 feet away. We also find wild garlic and other bits and pieces, including garlic mustard. In spring we can make salsa verde with wild garlic rather than the traditional ingredients of parsley, olive oil and garlic.
If we have a quiet morning I can send a couple of guys out for half an hour for a walk by the river. If they come back with a few bits and pieces, I'll be serving them up to customers – providing I know what they are," said the chef.
The team also make their own version of Wiltshire ham, one of the region's celebrated delicacies. It's served in dishes such as Eggs Benedict and alongside eggs and chips.
Michelin star restaurants in Wiltshire
I asked what the Michelin star means to the Red Lion Freehouse. "Pressure?" quipped Brittany. "Initially we weren't expecting to get the star but once you've got it, you can't really let it go."
"We're quite lucky with the feedback we get from people. Most people get what we're trying to do here. We do very much insist on remaining as much like a pub as we can while doing the best food we can: we have kids, Sunday lunch, dogs and people at the bar.
We've had occasions when we've had people who were confused about what having a Michelin star means," commented Brittany.
"Michelin are very clear. As far as I can see, the star is for a certain quality of cooking. You can have a star in a swanky big hotel or a little pub, a noodle bar or whatever. Some people understand that and are happy with the environment they're in: they're going to get good, tasty food with a certain degree of finesse. Other people – and we do get them from time to time – they're, like, it didn't live up to expectations and there was no white tablecloth or canapes.
On a positive side, it's a very good incentive to people who work here to be the best we can and to work to high standards and not have off days. It's a good driving force to minimise those. At the end of the day we're all running around trying to ensure people have a really nice time when they come out for lunch or dinner; that's another thing motivating us," explained Guy.
The approach to gastronomy
Inevitably, I was keen to understand more about Guy and Brittany's philosophy towards gastronomy at the Red Lion Freehouse.
"Making good, tasty plates of food and using ingredients that work well together: creating simple, well-balanced dishes without cluttered flavours. We want to give you a good plate of food that you'll enjoy eating," answered Guy.
"We've got skills from our experience to make it look pretty and employ a lot of people. But the bottom line is it's got to taste really, really good. We want people to have a mouthful and be like, 'that's delicious — I want to eat the rest of that'," he added.
The Red Lion's food
The menu at the Red Lion Freehouse changes daily. It's possible to pop in for traditional British pub grub such as a cheese and pickle sandwich, fishcake and chips or, on Sundays, the likes of roast beef and Yorkshire pudding. During autumn you might see venison from Salisbury Plain served with seasonal vegetables and chestnut alongside vegetarian options such as roast cauliflower with samosa, spiced granola and coconut velouté.
"For me, it's quite hard to have a signature dish because we do work around the seasons and there are different dishes," said Guy.
"We always have our steak for two on, which we're proud of — either a chateaubriand or roasted rib with chips and a bearnaise. It might sound a bit boring for a signature dish but it's something we have on all the time. It's rooted in that pub ethos of steak and chips. But it's the best steak you can get, with everything well prepared," he added.
Passion for serving quality food
While chatting with Guy and Brittany it was obvious that the couple is passionate about what they do.
"It's a tough lifestyle, especially with a family. We do it because we love doing it. We do love the happy people and we do love making people happy by cooking: that's what motivates us. You do have to be very, very passionate about why you're doing it and, essentially, it goes back to wanting to be chefs in the first instance: to make good plates of food and make people happy," said Guy.
Happy with the food served, I left to explore the cathedral city of Salisbury.
The Red Lion East Chisenbury
The map below shows the location of the Red Lion in East Chisenbury, Wiltshire:
Google Map showing the Red Lion Freehouse, a Michelin-starred restaurant in Wiltshire.
Accommodation in Wiltshire
Search for hotels in Wiltshire via Booking.com:
Books about Wiltshire
Interested in visiting South West England? You may enjoy these books about Wiltshire:
The Little Book of Wiltshire by Dee la Vardera:
Guide to Wiltshire Pub Walks
by Nigel Vile:
Photographing Wiltshire: The Most Beautiful Places to Visit by Robert Harvey:
100 Walks in Wiltshire
by Tom Jollands:
Further information
The Red Lion Freehouse (East Chisenbury, Wiltshire, SN9 6AQ; tel. 01980 671124) is open from Wednesday to Sunday. You can find opening times and PDFs of menus on the Red Lion's website. The Troutbeck Guest House has five individually styled guestrooms and is also operated by Guy and Brittany Manning.
The Michelin-starred pub and restaurant is in the county of Wiltshire, about a 20-minute drive from Stonehenge and approximately 15 miles north of Salisbury.
Search for other Michelin star restaurants in Wiltshire via the Michelin Guide.
Stuart Forster, the author of this article, is an award-winning food and travel writer. He was shortlisted for the Travel Blogger/Vlogger of the Year and Trade Feature Writer of the Year at the 2019 Travel Media Awards.
The images illustrating this post are by Why Eye Photography, based in the North East of England and available for commissions worldwide.
If you enjoyed this post why not sign up for the free Go Eat Do newsletter? It's a hassle-free way of getting links to posts on a monthly basis.
'Like' the Go Eat Do Facebook page to see more photos and content.
A version of this post was first published on Go Eat Do on 23 October 2019.