Stuart Forster dines at Le Cochon Aveugle restaurant in York and interviews its owners, Josh and Victoria Overington.
The Le Cochon Aveugle restaurant in York closed permanently in November 2022.
Le Cochon Aveugle is a compact restaurant serving modern French cuisine in central York, England. After enjoying the blind lunchtime tasting menu, with wine pairings, I sat and chatted with its proprietors, Josh and Victoria Overington.
Le Cochon Aveugle in York
The couple took over the restaurant, whose name means 'the blind pig', five years ago.
"Doing a tasting menu was done to save the pennies essentially. We couldn't afford to say buy a turbot and throw it away if no one ordered it. We had to make money. So, we came up with the idea that we do just one menu, which is blind, has no choice essentially and no waste. It's got a lot more elaborate and a lot more our style as the kitchen and the staff grew," explained Josh.
restaurants in York
The couple took over Le Cochon Aveugle restaurant in York from Michael O'Hare, who is now renowned for The Man Behind The Curtain, the Michelin-starred restaurant in Leeds. "We opened it when we were 26, so everything was done quite naively. We just went along with the name of Le Cochon Aveugle," said Josh, adding that it was a French-style bistro before Victoria and himself took ownership.
Le Cochon Aveugle York
Over the past five years, Victoria has been training as a sommelier while Josh works in Le Cochon Aveugle's open kitchen. People who like to observe chefs at work will probably benefit by requesting a seat at the bar overlooking the kitchen when reserving at the restaurant.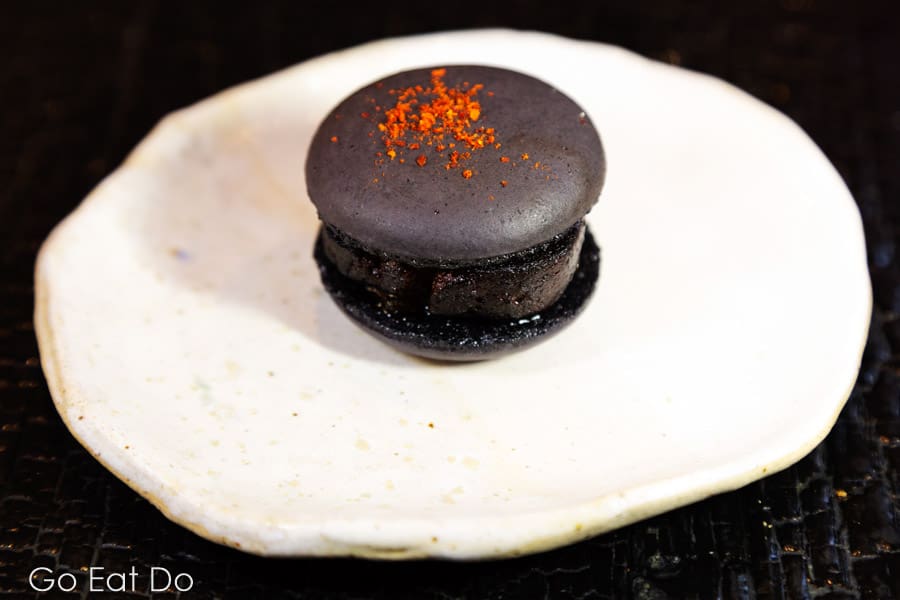 "We found our own palates. When you open a business like this when you're so young, you don't really know what style you really want to do and it's the same with wine. As the restaurant got more well-known you get more confident in what you do. Both sides of it grew in that way. As for the wine programme, we never say it's conventional or natural wines. We just serve wines that we think are tasty," said Josh, who is from Pocklington, south-east of York.
French cooking techniques
"We're pretty well-known for our wine pairings as much as the food. All the food is based on classical French either techniques or dishes, in some description or way. We usually follow the path of what conventionally would you pair. So, the guineafowl we had today with the Valjean, obviously a wine from the Jura would usually pair well with it but let's not be boring about it. We thought let's look at some other interesting regions or countries. Corsican wines have similar profiles. We tried it and think it works.
It's about not being so different that people have to scratch their head about eating and drinking but being different enough that we stand out and it makes people remember us," he said, eliciting a nod of approval from Victoria, who has added several natural low intervention wines to the restaurant's wine list.
"Between us, we'll talk about the dish, the flavours what we're trying to achieve with the dish, then find a wine," explained Victoria, who grew up in Dorset.
Tasting menus with wine pairings
"We're coming into springtime and have got lots of new ingredients coming on soon. Looking ahead a few weeks or months ahead as to what we're going to be doing. Josh will play a few ideas on the food and get some thinking going. When it comes down to the actual dish, during dish development, we'll get a few wines in and try them — quite often with the full team. We'll put a couple of conventional pairings and one or two wild cards in there. More often than not, those make it onto the wine list," she added citing the example of the pairing of beef tartare with La Rumbera, a wine with scrumpy-like characteristics from the Oriol Artigas estate in Catalonia.
Josh and Victoria met in France. After training at Le Cordon Bleu in Paris, Josh was working as a private chef in chalets, saving money with a view to opening a fine-dining bistro. While skiing he broke his leg, which resulted in meeting Victoria, who was working as a nurse.
Before returning to England they decided to take a holiday in Paris. "I wanted to show her why I was in the Alps saving money and what I was trying to go for. Vicky had a view of Paris that a lot of people have — as a grungy city with rude people that doesn't have a lot going for it anymore. It isn't that at all. If you live like a Parisian, if you go on holiday like you live there, you have a completely different and better experience," asserted the chef.
Inspired by Parisian bistros
Inspired by the chic bistronomy of Paris — such as Saturne and Frenchie (5 rue du Nil) — the couple shared a vision: "We wanted to create a restaurant that we would want to come and eat and a bar that we want to drink at. I feel that's what we've created."
"We are an ingredient-led restaurant," said Josh, adding, "I have no time for food which makes things into a ball of foam, or whatever, and you can't tell where you're actually eating."
He sources some of his vegetables from Ken Holland, based in the northeast of England, and scallops direct from the Orkney-based divers.
Top-quality ingredients
"I don't use everything which is local because not everything local is good. Tomatoes from Yorkshire are rubbish because we don't have the climate to grow really nice tomatoes. So I get them from the south of France," he added frankly. "In my personal opinion, guineafowl from the Loire Valley is the best you can buy, so we get it from there. It's just about finding the very best ingredients and then showing them off in a way that is true to the form of them."
What about recipe development? I asked.
"The ideas come from looking at the ingredients and then I might look at a classical French dish… The ingredients will dictate where I go and how I'll twist it. Basically, it's a classic dish, in essence, but I've done my own version of the flavours," answered Josh.
French cooking is cool again
"I would say that there's a lot of restaurants now realising that French food is cool again. We're not cooking old-school food. We're actually cooking quite modern food – classic French food cooked by 30-year-olds. That's my style. We're cooking bistro food in a Michelin style.
There are other restaurants like that, especially in London — The Clove Club and Lyle's, that sort of place — but they are more British in style. We are 100 per cent French and that's what makes us different. You can eat here and see similarities with certain restaurants, but we are different in that we are French to the core," said the chef.
"We want to move away from formal fine dining where you have a starched table and a silent dining room where you're not sure if you can chat or laugh. When people go out to eat, we want people to have fun and we want people to enjoy themselves. That's why they're here. If it makes them want to laugh or want to chat then, yes. We want people to not feel under pressure when they come out. There's nothing worse than going somewhere and feeling uncomfortable about it," added Victoria.
"I always thought York had the wealth to have a fine-dining restaurant or a restaurant that serves really good food. But I also knew York didn't want a white tablecloth, silent, poncey, stuck-up restaurant. I always wanted to do it in York because I'm from here, knew the city and people from it. Luckily, I was proven right. The locals have always supported us and still do to this day…They want a sort of Yorkshire, tongue-in-cheek, fun service. That's what we give them. We feed them as well. No one leaves here hungry," explained Josh, who believes that being in the right place at the right time has been part of Le Cochon Aveugle's success.
York's fine-dining scene
"It feels like there's something happening here. It's the number one place to live in UK. I used to live and work in London. The real big difference I see is that everyone supports each other; all the chefs and front of house. There's no rivalry. Everyone wants what's best for the city and to push it to what it can be. There's the talent here, so let's make it one of the best dining scenes in the UK and everyone's on board with that. There's competition because always competition, but it's a healthy competition: I don't think anyone I know is falling out over it.
We see a lot of people coming to visit us from London. They'll visit us one night visit maybe the wine bar on the second or maybe Skosh or Roots, somewhere like that, on a different night. There are options here for a weekend to visit from London – two hours away on the train – or Edinburgh. York's such a lovely city to visit," said Josh before mentioning Arras as another York-based restaurant likely to attract people who enjoy quality dining experiences.
Places to eat in York
And what does the future hold for Josh and Victoria?
"We're still relatively young and I'd never say never to anything. Right now, I just want to concentrate on Le Cochon Aveugle and make it the destination restaurant of York. There are other great restaurants in York but I want mine to be the best fine-dining restaurant…It's like coming to my house. Basically, you sit in my kitchen and eat — that's the way I treat it.
I want Le Cochon Aveugle to be the best it can possibly be. I believe it's one of the best restaurants in the country right now — I know it's an arrogant thing to say, but I do. Me and Vicky want to keep pushing on the wine list, keep pushing on the service and keep pushing on the food because we're small enough to be able to do that," answered Josh as Victoria nodded.
I stepped into York's late afternoon sunshine impressed by the lunch and what the couple have established.
Further information
Le Cochon Aveugle was at 37 Walmgate in York, England. Josh and Victoria now operate Restaurant Mýse in Hovingham.
Diners with dietary restrictions should give the restaurant 24 hours' notice to prepare alternative dishes. I dined with a vegetarian who enjoyed the food served.
Find information about tourist attractions and things to do in and around the historic city centre on the Visit York and Welcome to Yorkshire websites.
The food photography illustrating this post is by Why Eye Photography. Call 07947 587136 to commission a shoot.
If you liked this post why not sign up for the free Go Eat Do newsletter? It's a hassle-free way of getting links to posts. If you'd like to sponsor a post on Go Eat Do then please feel free to get in touch.
Enjoy this post about the Le Cochon Aveugle restaurant in York? 'Like' the Go Eat Do Facebook page to see more photos and content.