Stuart Forster visits the Avalon Peninsula in Newfoundland and Labrador, a Canadian destination whose place names sound like ideal destinations for a romantic break.
Disclosure: Stuart visited Newfoundland and Labrador as a guest of the province, which did not review or approve this post. Some of the links and banners below are affiliate links, meaning, at no additional cost to you, I will earn a commission if you click through and make a purchase.
If you're romantic and looking for a memorable Valentine's Day drive you could always tour Newfoundland and Labrador's Avalon Peninsula. It offers an opportunity to take your loved one to places such as Cupids, Heart's Desire and Heart's Delight.
There's something about the place names in this part of Newfoundland and Labrador. The Trans-Canada Highway (Highway 1) loops out of St John's beneath Conception Bay on its near 8,000-kilometre route westward across the continent.
Turning north, to follow the road hugging the eastern shore of Trinity Bay, you'll pass one of the many shallow lakes that dot Newfoundland's landscape. Blaketown Pond is about three kilometres in length. "Most bodies of fresh water are called ponds. They can be 10 metres long and 6 metres wide and they are still called ponds," says Larry, the tour guide and driver of the minibus in which I'm travelling.
A quick stop at Dildo
Colourful houses on Gower Street in St John's, the vast icebergs that bob southwards off the coast, and Cape Spear Lighthouse — at the easterly most point in North America — count among sights that reward travel photographers visiting Newfoundland and Labrador. So too, albeit not quite so spectacularly, does the green road sign that announces the community of Dildo.
Seeing it gives us a buzz. Larry must be groaning inwardly at our immature chuckling but, sportingly, agrees to pause the minibus so we can click photos by the sign. Unfortunately, we don't have time to wander through Dildo, so I can't report on its vibe.
Photos at Heart's Delight
At Heart's Delight-Islington three colourfully painted wooden beach huts stand reflecting in a pond that shimmers bright blue in the morning sunshine. We jump out to take photos, this time without cackles of juvenile laughter.
Larry enters into conversation with a couple of fishermen, who mention nonchalantly that humpback whales could be seen offshore just minutes ago. We wait excitedly by the huts but the whales, frustratingly, do not reappear.
As we take our seats back on the bus I keep glancing towards the bay. Sure enough, as we head away, a spout shoots skywards as the first humpback of a pod of whales resurfaces.
Inland at Heart's Desire
We continue north, driving in parallel with the shoreline until nicking inland at Heart's Desire, another of Newfoundland's wonderfully named communities, just five kilometres from Heart's Delight.
We're on our way to visit Heart's Content Cable Station. On 27 July 1866 the Great Eastern — the iron-hulled steamship designed by Isambard Kingdom Brunel, that prolific, top hat-wearing Victorian engineer — set anchor offshore and landed a telegraph cable. The underwater cable cut the time required to transmit transatlantic messages from a minimum of ten days — in optimal weather — to a matter of minutes.
The cable station is a Provincial Historic Site and tells the story of that feat of engineering. The phone in my pocket allows me to instantaneously transmit texts, photos, emails and call anyone in the world. Looking at the switching gear, machines for tapping out Morse code and ticker tape I'm aware that Heart's Content played a key role in revolutionising the world's communications.
Occasionally I gripe about roaming costs incurred while using my phone abroad. I shudder when viewing a facsimile of a 19th-century Anglo-American Telegraph Company poster. It states that transmitting 20 words or less to Great Britain or Ireland "not exceeding in all 100 letters" was priced at £20 sterling in gold. Keeping messages short was a blessing; it cost 20 shillings for each additional word "not exceeding five letters".
Outside the single-storey cable station, I take a walk on the stony beach and spot frayed and rusted telegraph cables.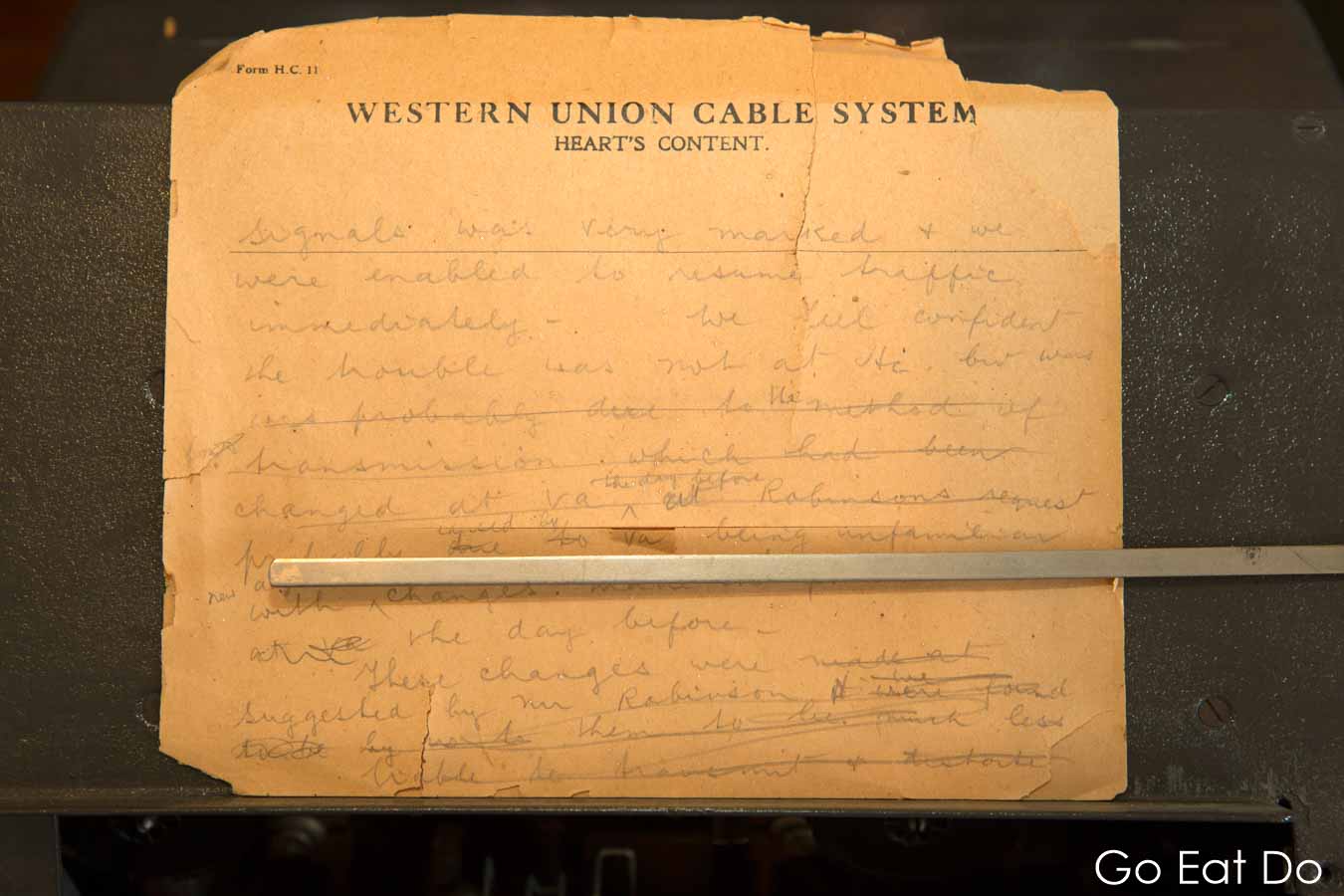 Following the Baccalieu Trail
The coastal communities that we've visited so far are on The Baccalieu Trail, a scenic route running for 230 kilometres along the northern shores of the Avalon Peninsula on Newfoundland and Labrador's routes 70 and 80.
In Portuguese, the word bacalhau refers to salted cod. An icon of a fisherman wearing a sowester marks the route intermittently. Portuguese, French and British fishermen once fished the waters here for its cod.
A visit to Cupids
At first, the fishing fleets made seasonal visits, drying and salting fish and taking home stock each autumn. In 1610 a group of 38 English settlers established a colony under the leadership of John Guy. At first it appeared on maps as Cupert's Cove. Over time the settlement became known as Cupids Cove and simply Cupids.
Cupids is the oldest permanent English settlement in what is today Canada. Following a homestyle lunch at Skipper Ben's (408 Seaforest Drive; tel. +1 877 528 4436) we visit the Cupids Legacy Centre, which in 2009 was visited by the Prince of Wales and Duchess of Cornwall.
Inside, we learn about the history of the settlement and see artefacts excavated from the nearby Cupids Cove Plantation Provincial Historic Site. From the rooftop we look across the bay to the cairn known as the American Man on the hilltop.
Bill Gilbert, the chief archaeologist, discovered the settlement site in 1995 and continues to work here. He gives us a tour of the dig site, explaining that what we can see is the footprint of buildings constructed by settlers. He tells us that the wooden frame of a storehouse is a volumetric reconstruction and points to graves discovered in November 2007.
"This is the beginning of English settlement in Canada. This site is one of four in eastern North America that mark the beginning of English settlement," explains Bill, adding that others are south of the Carolinas.
The landscapes and heritage of this part of Newfoundland and Labrador mean there's plenty to photograph along the way. Larry herds us into the minibus. "It's some shocking good," he says in his Newfoundland dialect and we depart to discover more of the province.
Useful books about Newfoundland and Labrador
Wildness: An Ode to Newfoundland and Labrador by Jeremy Charles:
Newfoundland and Labrador
, in the Moon guidebook series, is by Andrew Hempstead:
Newfoundland and Labrador: A History is by Sean Cadigan:
Scenic Driving Atlantic Canada
by Chloe Ernst:
Getting around in Newfoundland and Labrador
I joined a guided tour of the Avalon Peninsula led by Larry of McCarthy's Party, who offer single- and multi-day tours of Newfoundland and Labrador.
Travel To St John's
I flew with Air Canada from London Heathrow to St John's International Airport. The outbound flight takes five hours and 40 minutes. The return flight has a duration of five hours.
WestJet offers flights to St John's from London Gatwick and Glasgow.
Hotels in Newfoundland
The Sheraton Hotel Newfoundland (115 Cavendish Square: tel. +1 709 726 4980) offers views over St John's harbour and was the starting point for my tour of the Avalon Peninsula
I stayed at the Doctor's Inn and Spa (21 Old Hopeall Road, Green's Harbour; tel. +1 709 582 2754), in a room overlooking Trinity Bay.
When to visit the Avalon Peninsula
The best time of year to visit Newfoundland and Labrador for sightseeing and tourism is during the summer months, from June until September.
Advert for CarBrain
Got a car that doesn't run? Find information on how to sell the vehicle on the CarBrain website.
Further information
See the Newfoundland and Labrador website for ideas about places to visit and things to do in the province.
The Destination Canada website also has ideas about attractions and activities.
Find out about the attractions in the provincial capital of Newfoundland and Labrador, on the Destination St John's website.
Stuart Forster, the author of this post, is a travel writer who specialises in Canada. He was the 2017 recipient of the British Annual Canada Travel Award for Best Online Content.
Illustrating photos are by Why Eye Photography.
If you enjoyed this post why not sign up for the free Go Eat Do newsletter? It's a hassle-free way of getting links to posts on a monthly basis.
'Like' the Go Eat Do Facebook page to see more photos and content.