Stuart Forster heads to the Nordic region's largest inland city and reports on things to do in Tampere, Finland.
Disclosure: Some of the links below and banners are affiliate links, meaning, at no additional cost to you, I will earn a commission if you click through and make a purchase.
Tampere may not be the obvious choice of destination for first-time visitors to Finland.
The nation's capital, Helsinki, 170 kilometres (106 miles) to the southeast, attracts many more direct international arrivals. Yet Tampere, founded in 1779 and the Nordic region's largest inland city, makes a pleasant starting point for insights into the cultural soul of Finland.
Forget stereotypes about bone-chilling temperatures, even colder people and wincingly expensive beer. Tampere and its residents proved such a fun place to visit that I chose to return.
The Manchester of Finland
The city is clean, orderly and makes a positive first impression. Home to nearly 240,000 people, Tampere is Finland's third most populous city.
"You'd have to do something really stupid not to make it back to your hotel safely, even if you're a woman and alone," commented my taxi driver in clipped but excellent English as he dropped me at my city centre hotel from the airport.
Even deep into the night, I felt safe on the streets.
Tammerkoski rapids national heritage site
The next morning I woke early to take an orientation walk. Anglers were already out and active, casting lines into the Tammerkoski River, the waterway running through central Tampere.
Water fizzing through the Tammerkoski rapids once powered red brick mills and factories. Those buildings earned Tampere a reputation for industriousness and its nickname of  'the Manchester of Finland'.
James Finlayson, a Scots industrialist and entrepreneur, recognised the industrial potential of the region. The Finlayson Complex still bears his name.
These days the former industrial buildings and riverside area are part of a national heritage site.
When the mills went into decline in the second half of the 20th century, steps were taken to revitalise the economy and clean up the local environment. Tampere pivoted away from heavy industry to a knowledge-based economy.
The Näsijärvi and Pyhäjärvi lakes are immediately north and south of the isthmus on which the city is built. Those bodies of water provide habitat for freshwater fish, including trout, pike and perch. They are clean enough to support crayfish, regarded as the most sensitive of crustaceans.
Pine forest surrounds the lakes. Bountiful fish, blue summer skies and the sense of solitude while fishing on the region's lakes attracts anglers from Russia, Germany and elsewhere.
Nordic walking and berry picking
The Finns also enjoy making the most of their natural heritage. Around three-quarters of the nation's land is forest and Finnish law guarantees people access to the countryside.
Everyman's Right permits people to walk and camp in the forest. Collecting wild berries and mushrooms is permitted without the need for a license. You don't have to go far from town to see people of all ages enjoying activities such as mushrooming and Nordic walking.
I joined a guided walk, which started from one of the city's former lakeside factories. The premises have been converted into the Holiday Club Tampere, which houses a plush spa and sauna facilities.
In 2018 Tampere was proclaimed the official Sauna Capital of Finland. The city has more than 50 public saunas.
In 2020 the sauna culture in Finland was added by UNESCO to its list of the intangible cultural heritage of humanity. So spending time in a sauna means an opportunity for an authentic experience that is part of local life. It's no sweat if you don't fancy trying it.
The sauna is an integral part of Finnish life and soaking in the Jacuzzi after a session in the steam room is the perfect way to relax after a long walk.
Tampere's summer crayfish parties
The Tampere region is famed in Finland for seasonal crayfish parties. They are held as summer comes to an end.
A small mountain of crayfish was placed in the centre of the table for guests to demolish at the party I attended.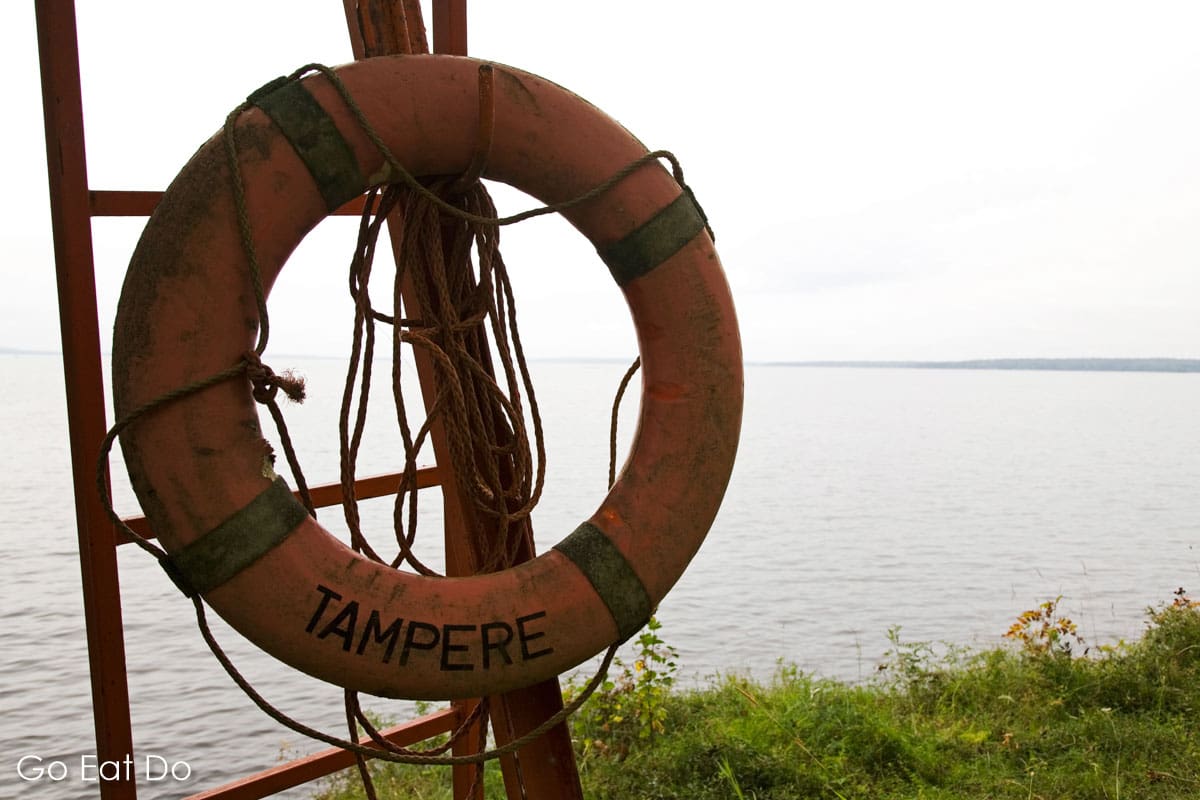 "For every crayfish we eat, we must salute it with a glass of schnapps," said Ismo, a hospitable local fishing expert with whom I spent a day angling. At first, I thought he was joking. We did indeed salute each of the crayfish.
The next day I needed a lie-in and a couple of paracetamol tablets before heading out to explore the city.
Museums in Tampere
Tampere hosts a handful of museums that warrant a visit:
The Lenin Museum
The Lenin Museum (Hämeenpuisto 28, Tampere) provides an overview of the life of Vladimir Ilyich Lenin, the Russian revolutionary and former leader of the Soviet Union. Lenin was based in Tampere in 1905 and 1906. At that time, Finland was an autonomous part of the Russian Empire.
It was under Lenin that Finland was granted independence after the October Revolution of 1917 and the subsequent Civil War.
The compact Lenin Museum is in the building where Vladimir Lenin and Joseph Stalin first met in December 1905. Due to the significance of their discussions, the museum is nicknamed 'the birthplace of the Soviet Union'.
Tampere's Spy Museum
The proximity of the two nations helps explain both Russian and Western interests in Finland during the Cold War.
Fittingly, the world's first dedicated espionage museum was founded in Tampere. The Spy Museum (Satakunnankatu 18 in the Finlayson Complex) displays an array of cunning gadgets and weaponry plus stories about spies and spying. Visitors can take lie detector and special agent tests.
The museum shop sells espionage-inspired souvenirs.
Moomin Museum
The Moomin Museum (Yliopistonkatu 55) introduces the origins of the Moomins and the fictional world in which they live. Finnish author, illustrator and artist Tove Jansson created the Moomins.
The books have an underlying philosophy that makes them popular with adults as well as children.
Vaprikki Museum centre
The Vaprikki museum centre hosts the Tampere Museum of Natural History, Postal Museum and the Pirkanmaa Regional Museum. It's also the location of the Finnish Hockey Hall of Fame.
Art museums in Tampere
Into art? The Heikka Art Museum (Pirkankatu 6) is named after a goldsmith who collected Finnish art and ethnographic items, silverwork and antique furniture.
Tampere Art Museum (Puutarhakatu 34) has a collection of more than 15,000 artworks.
The Sara Hildén Art Museum (Särkänniemi) displays modern art.
Särkänniemi amusement park
Looking for family-friendly attractions in Tampere? Särkänniemi amusement park features rides, an aquarium and a petting zoo. The park's observation tower is the location of a fine-dining restaurant.
Architecture in Tampere
Back outside, I enjoyed viewing the Art Nouveau-inspired architecture around Central Square.
Tampere Market Hall dates from 1901 and hosts 30 stalls selling food. On the first Friday of each month, the hall hosts a late-night event with live music.
Beyond the Spy Museum, Tampere has plenty of secrets worth experiencing.
Travel to Tampere, Finland
Tampere–Pirkkala Airport is approximately 25 minutes' drive southwest of the city centre. Finnair, Air Baltic and SAS Airways count among the airlines operating flights to Finland's second busiest international airport.
Tampere is a 180-kilometre (112-mile) drive northwest of Helsinki. Driving on the E12 and Route 12 between the two cities takes two hours and 15 minutes. Train journeys between Helsinki and Tampere take approximately two hours.
See the UK Government website to see official Foreign, Commonwealth and Development Office advice about travel to Finland.
Map of Tampere
Zoom in or out of the map below to find points of interest in Tampere:
Google Map showing central Tampere, Finland
Tampere accommodation
Looking for a place to stay in Tampere? Search for hotels in Tampere via Booking.com:


Tampere restaurants
You'll find a broad choice of places to eat in Tampere. The city has restaurants serving cuisines from around the world.
One of Finland's best-kept secrets has to be its excellent cuisine.
Chefs make liberal use of locally sourced, seasonal ingredients such as lingonberries and mushrooms to garnish dishes. Elk and reindeer numbers are kept in check by Finnish hunters, who supply local kitchens with lean and tasty game meat.
Places to dine in Tampere include:
Restaurant Näsinneula
Enjoy fine dining experiences? Restaurant Näsinneula serves artfully presented dishes with outstanding views over Tampere and the surrounding region. The revolving restaurant is in the tower at Särkänniemi amusement park.
The food is attractive enough to distract from the panoramic views of the city and nearby lakes and woodland.
Näsinneula's Finlandia menu presents dishes made with Finnish ingredients such as arctic char and reindeer. In terms of cuisine and views, this dining establishment is right up there.
Brewery Restaurant Plevna
This convivial dining establishment and brewpub stands within the Finlayson Complex. Known as Panimoravintola Plevna in Finnish, the Brewery Restaurant Plevna bears the name of the industrial complex's Plevna weaving hall.
Sturdy wooden tables and waitresses in Dirndl-style dresses give the brewpub a feel much like a Bavarian beer hall. The menu features schnitzel, burgers and currywurst. Keen to sample a local Finnish delicacy? Tamperelainen black pudding is served with lingonberry jam and pickled gherkins.
A broad range of beers is brewed on-site, including seasonal specials such as bock beer. Kippis is Finnish 'cheers'.
Stefan's Steakhouse
Stefan's Steakhouse is part of the restaurant chain named after Stefan Richter. Richter was born in Tampere and was runner-up in the fifth series of the American cooking show, Top Chef.
The bistro-like restaurant occupies the ground floor of the red brick Kehräsaari complex. Designed by Lambert Pettersson and built in 1897, the former mill was used to spin and dye wool.
This speciality steak restaurant overlooks the fast-flowing Tammerkoski River. Interested in trying a Nordic speciality rather than beef steak? Reindeer sirloin is a menu option.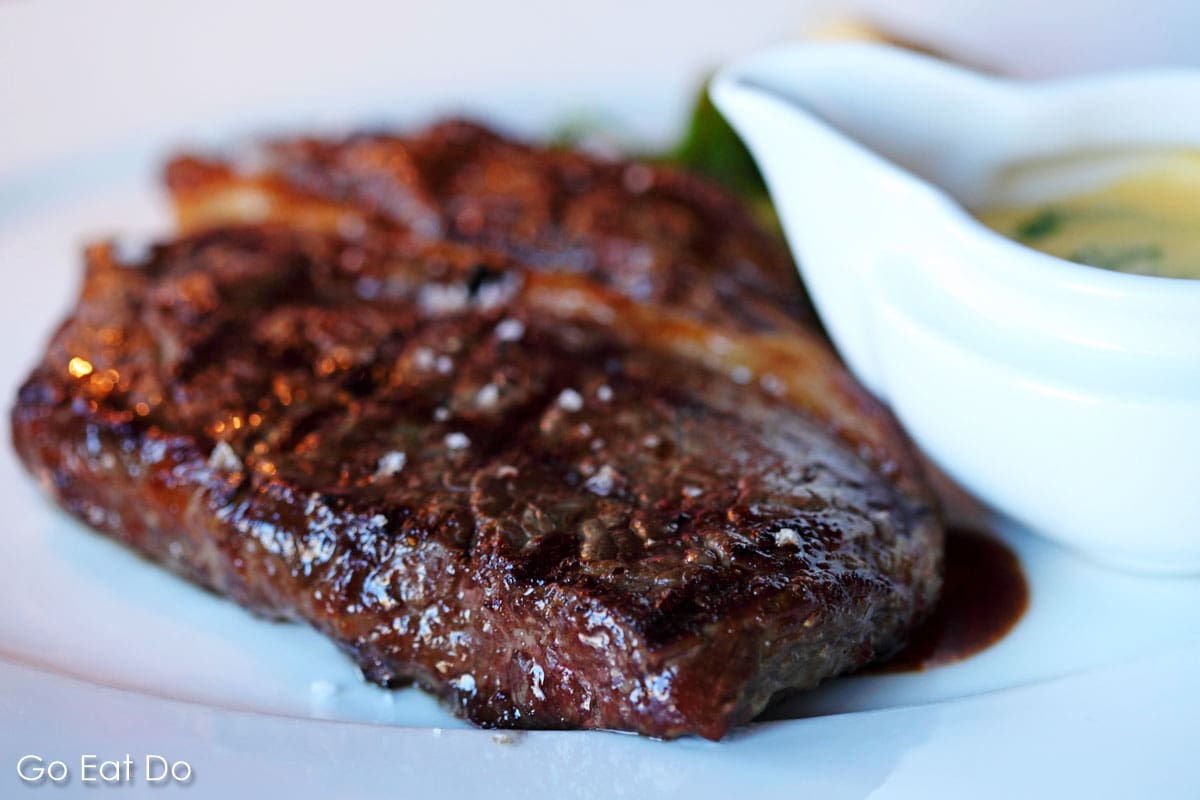 Restaurant Harald
Part of a chain of Viking-themed dining establishments Restaurant Harald is a fun place to dine as part of a group.
Three-course menus with names such as The Voyage of Warrior Freydis and The King's Feast are served along with a la carte choices. Choose Rautakylki's Sword for a spectacular dish that features meats including reindeer tenderloin and venison sausage skewered on a sword.
When to visit Tampere
Tampere experiences four distinct seasons. The summer season, from June until August, is a popular time to visit and enjoy Finland's largest inland city at its warmest. Sub-zero winter temperatures transform the landscape and freeze local lakes.
Ratinanniemi festival park hosts several open-air music festivals. They include the Sauna Open Air rock festival and Tammerfest in July plus the Blockfest in July.
The annual Tampere Theatre Festival takes place over seven days during early August.
Weather in Tampere, Finland
See the BBC Weather and Finnish Meteorological Institute websites to check the weather in Tampere, Finland.
Books about Finland
Planning a trip to Tampere? You may find the following books about Finland informative and insightful:
Insight Guides' Finland Travel Guide (with a free e-book):
Lonely Planet Finland
:
Culture Smart's
Finland: The Essential Guide to Customs and Culture
:
A History of Finland
by Henrik Meinander:
Tove Jansson's
The Moomins: The World of Moomin Valley
:
Further information
Discover more about Tampere and the surrounding region on the Visit Tampere website.
Planning a holiday in Finland encompassing destinations across the country? Take a look at the Visit Finland website for inspiration and information from across the country.
Stuart Forster, the author of this post, is an award-winning travel writer. Stuart is based in North East England and is available for travel and food commissions.
Photos illustrating this post are by Why Eye Photography.
Thank you for visiting Go Eat Do and reading this post about things to do in Tampere, Finland. Interested in off-the-beaten-track travel destinations and city breaks? You'll find plenty of material on this website. Check out this post on a Beatles tour in Liverpool.
If you enjoyed this post why not sign up for the free Go Eat Do newsletter? It's a hassle-free way of getting links to posts on a monthly basis.
'Like' the Go Eat Do Facebook page to see more photos and content.
A version of this post was originally posted on Go Eat Do on 13 April 2013.