Stuart Forster interviews Theo de Haan, a resident of the city, for a local's perspective and insider tips on Things to do in Groningen, the Netherlands.
Disclosure: Some of the links and banners below are affiliate links, meaning, at no additional cost to you, I will earn a commission if you click through and make a purchase.
Theo de Haan is a lecturer in tourism studies. He has lived in Groningen for more than three decades. Theo moved to Groningen to study geography as an 18-year-old. In this interview, he maps out what he likes about the Dutch city.
When Theo first moved to Groningen cars were still being driven on the Grote Markt, the city centre marketplace. Today that area is pedestrianised and more than half of the people who work in Groningen commute by bicycle, Cycling is a good way of getting around for visitors too.
Why should people visit Groningen?
It's a typical old Dutch city with a beautiful centre. There's lots of variety. There are modern things to see, lots of shopping, old houses and medieval buildings, and always a surprise around the corner. If you see a door and people coming out, simply look if you can go in as well.
Visit the Grote Market now and you'll see an empty side of the market, where buildings have been removed. They are building a place called the Groninger Forum.
There's a lot of discussion about every change in the city. I think if you look at it later it will be surrounded by new buildings fronting the Grote Markt. I think you'll see something really beautiful that has been added to the city centre.
If you visit the other side of the Grote Markt around the Goudkantoor — the old gold or finance office of the city — the building was created by an Italian architect. Walk around there and you'll see statues high above you. You'll also see how a late 20th-century building fits nicely inside the city centre.
You see surprises. Of course, you can look in the shop windows but if you look at the second and third floors you see medieval buildings. You'll also see architecture from the 19th century.
Look to street corners and you'll see houses were destroyed in the last days of the Second World War. Still, something with character was built in their place.
Folkingestraat is a typical modern development with a lot of shops for city visitors. But if you look at the ground you'll see little metal signs. That used to be the Jewish Quarter. You'll see which family lived in a house and where they were murdered — some camp in Poland or Germany.
Also in the same street, in the middle, you'll see a very small moon and then, after 10 metres, another moon, a bit larger. Then there's a full moon and the moon becomes smaller again. Hardly anyone sees it but, still, it adds to the character of the city. There's something there which often you don't notice. But it's there.
In that same street, you can see the hind part of a cow — a huge cow about two metres tall. That was where a butcher's shop used to be. Only that part is left. Look around and you'll see that kind of thing — poems on the wall or a plaque where the painter Hendrik Mesdag was born.
There are so many stories. The labour movement of the Netherlands was established at the Huis de Beurs.
As a visitor, you can be surprised by the character of the city. There is lots to see for people who like to visit a city.
What is your favourite place in the city?
The streets around the Vismarkt, the old fish market. There are many small streets of varying character arriving there.
There's a medieval church, the Aa-kerk, with a 19th-century building the Korenbeurs (Corn Exchange) in front of it. I like the kind of shops and cafes around it.
If I added a second I would say Hoge der A and Lage der A, one of the canals. The houses there are beautiful and have names connected to boats and where they came from. It is a very special place.
Where would you take people for a meal in Groningen?
My favourite place is a Greek restaurant De Olijfboom — the olive tree (Steentilstraat 28; tel. +31 50 7370 078). It's managed by young Greek people who got away from the economic crisis in Greece and started a restaurant with family connections. It's excellent for Greek-style tapas.
The other, if you want something typical of Groningen, is called Weeva (Gedempte Zuiderdiep 8-10; +31 50 5886 555). It's from about a century ago and stands for 'Woon – En Eethuis Voor Allen' or 'living and eating house for everyone'. For Dutch food, you go there. Don't forget to ask for a coffee afterwards because then you get a glass of advocaat. It's old-fashioned but it's done in style — country style in the city.
Where would go out for a drink in Groningen?
Café de Sigaar (Lage der A 2; tel. +31 50 ). If you are young you don't go there. But, if you are a bit older, in summer you sit outside by the canal and you can watch the ships passing by. Many ships are passing by, sailboats and all kinds of water traffic.
It's an old-fashioned café with paintings on the wall and ceiling by an artist called Olga Wiese. She is a Dutch realist, self-educated and very good:
Is there a legend or piece of Groningen's history that you particularly like?
In 1672 the Netherlands was at war with England, France, Cologne and Munster in Germany. The Bishop of Munster laid siege to the city.
The commander of the troops in Groningen was called Carl von Rabenhaupt. On 28 August of that year the armies besieging the city went away. That day is a holiday in the city. There are celebrations and fireworks. It's called Bommen Berend, after the Bishop of Munster, Bernhard von Galen, who bombed the city.
The funny thing is there's a statue in the city of Carl von Rabenhaupt. It was recently turned 90 degrees because it was looking to the west. The enemy camp was to the south, so they turned it to look there instead.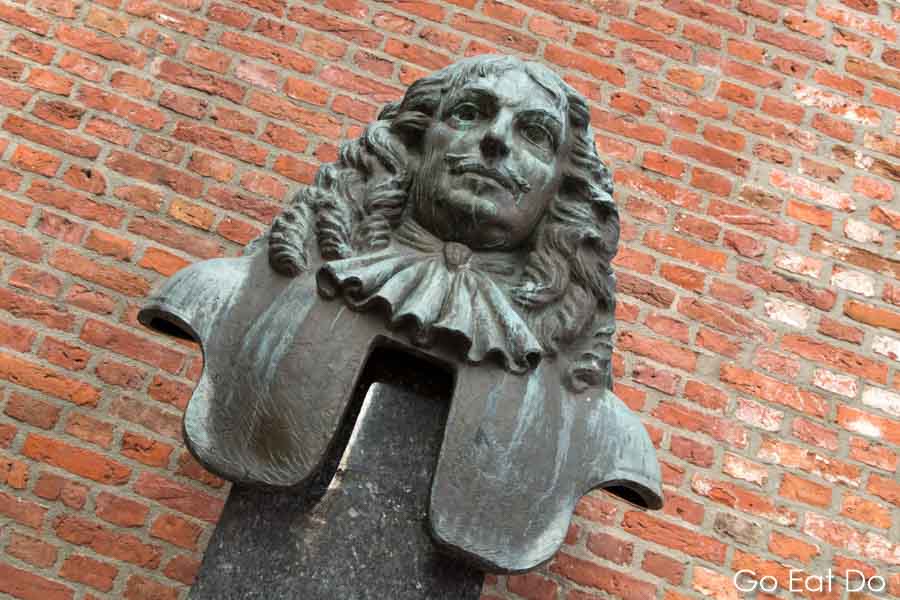 Where should visitors go if they have an extra day in the area?
If you have half a day, go to the railway station and rent a bike. Ride south to the Paterswoldsemeer, it's a lake. It's beautiful there. It has tea houses where you can have a drink — more than tea.
Aristocrats had castle-like places outside of the city. The Fraeylemaborg, in Schlochteren, is so typical of them. It's a beautiful spot — a white, small castle with one tower and a balcony. Behind, there's a forest, about 300 metres wide and three kilometres long. It was created for the family. The baron, who did not like people hunting in his forest, could watch through a long lens and shoot at them. Of course, it was too far but people would be warned that people were hunting in the forest.
Further information
The Groningen Tourism website is a useful source of information about things to do and see in the city and surrounding region.
The Netherlands Board of Tourism and Conventions website has information about things to do in Groningen and elsewhere in the Netherlands.
Photos illustrating this post are by Why Eye Photography.
If you enjoyed this post why not sign up for the free Go Eat Do newsletter? It's a hassle-free way of getting links to posts on a monthly basis.
'Like' the Go Eat Do Facebook page to see more photos and content.