Stuart Forster looks at things to do on a Frankfurt city break in the German city on the River Main that's nicknamed Mainhattan because of its Manhattan-like skyscrapers.
Disclosure: Some of the links below and banners are affiliate links, meaning, at no additional cost to you, I will earn a commission if you click through and make a purchase.
Frankfurt Airport is, by far, Germany's busiest. Yet compared to cities such as Munich and Berlin, Frankfurt am Main remains largely unexplored by international travellers. It's easy to get into the city centre during a layover in Frankfurt.
As I found, there are plenty of things to do in Frankfurt to make it a perfect getaway for a city break.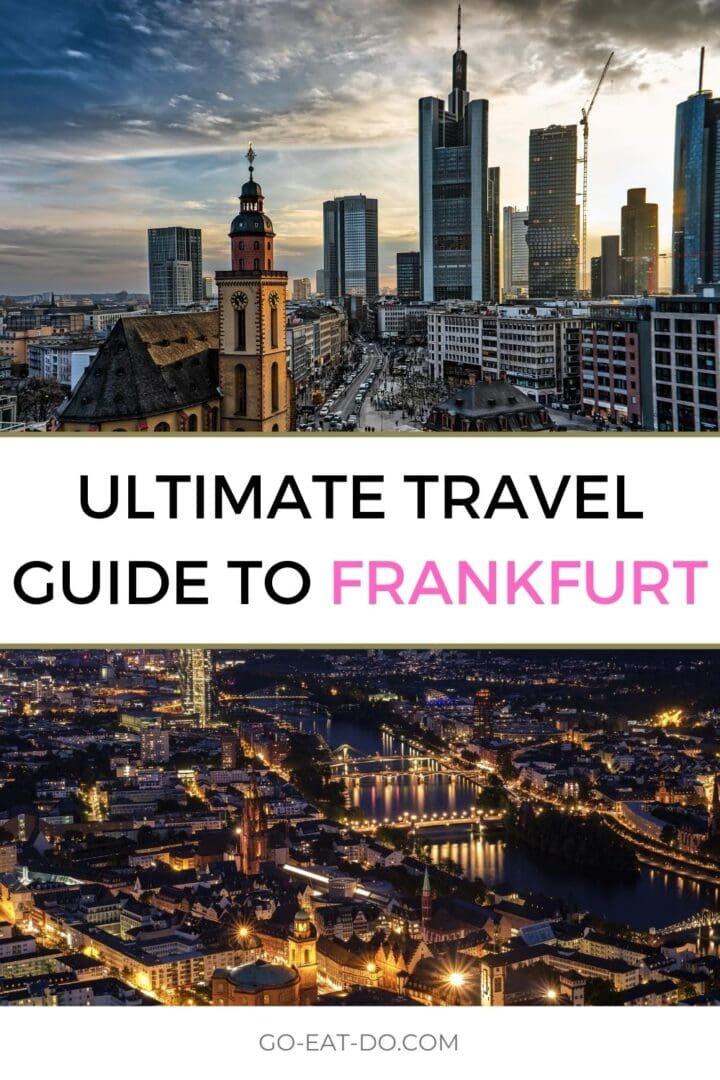 A view of Frankfurt's skyline
The 200-metre high observation platform of the Main Tower is 56 storeys above street level. It provides unparalleled views of the dynamic financial centre that's known in Germany as Mainhattan. That's because of the cluster of skyscrapers close to the River Main.
After passing through airport-style security checks you'll take an express elevator up the only accessible high-rise in Frankfurt, bypassing a potentially exhausting climb up 1,090 steps. The building, designed by the Hamburg-based architects Schweger and Partners, weighs 200,000 tonnes, meaning it's ten times heavier than the Eiffel Tower.
Johann Wolfgang von Goethe's house
On 28 August 1749, Johann Wolfgang von Goethe, one of the stars of German and European literature, was born in a second-floor room of the building today known as the Goethe House. He wrote The Sorrows of Young Werther plus drafts of Faust in the poet's room, where you'll see a writing bureau.
The house was carefully reconstructed after sustaining heavy damage during World War II. You can visit four floors of the building before popping into the adjacent Goethe Museum, which has 14 rooms with paintings from Goethe's era.
Frankfurt's art and history museums
The Archaeological Museum of Frankfurt is housed in the Gothic-style Carmelite Monastery, which dates back to 1246. Modern exhibition wings mean you can browse artefacts from prehistoric times, the Classical era, Roman times, the Orient and the Middle Ages. Among the exhibits are numerous finds from in and around Frankfurt.
The striking, contemporary Museum of Modern Art, designed by Hans Hollein, is known in the city as the MMK (Museum fuer Moderne Kunst). The museum opened in 1991 and rapidly evolved into one of the world's leading art galleries. You'll see international works dating from the 1960s onwards. The museum holds a collection of 4,500 works across 40 rooms, including pieces by Joseph Beuys, Francis Bacon and Cy Twombly.
Imperial coronations and national unity
The history of Frankfurt Cathedral can be traced back to its consecration, to St Bartholemew, in 1239. In 1356 it became the site of the Holy Roman Empire's elections and ten imperial coronations were held in the building from 1562 to 1792; it's therefore regarded as a symbol of national unity.
The building you'll see today is much more recent. It was rebuilt following a fire in 1867 and again after wartime damage, sustained in 1943 and 1944.
River Cruises along the Main are an ideal way of seeing Frankfurt's principal sights while resting your legs. On sunny days you can sit out on deck, setting sail from jetties close to the cathedral, observing the city's scenery to commentaries in both English and German. You'll pass under the famous Eisener Steg, the city's iconic metal pedestrian bridge, along the Schaumainkai, the embankment where you'll find a cluster of 14 museums. After passing through the Friedensbruecke you'll see the 109-metre tall Westhafen Tower before turning back after the Mainova power station.
Places to eat in Frankfurt
If you like chocolate then head to Bitter und Zart an elegant shop with 1920s-style pictures. You'll find chocolate bars in numerous flavours and employees in maid-style uniforms. The artistically arranged displays make this a pleasant place to browse. You'll also find a café with an Art Deco touch, serving coffee, specialist teas and cakes.
Max on One Grillroom, a chic international restaurant, on the first floor of the JW Marriott Hotel Frankfurt. It has an open-fronted show kitchen where you can observe the chefs at work. The stylish, high-ceilinged library section of the restaurant looks out over the Thurn and Taxis Palace, once the headquarters of Germany's imperial postal system.
Nizza Gardens in Frankfurt
Frankfurt is home to 48 parks and gardens but one of the most central is the Nizza Gardens, on the north bank of the river Main. The park is shielded from winds and has a microclimate that allows Mediterranean plants and trees to flourish. A riverside swimming pool once stood in the park but today you can dive into the MainNizza restaurant with high windows, a terrace and seating under canopies.
All told, the city's Old Town, is a pleasant place to wander. And, for a lively night out, the bars of Sachsenhausen have much to offer. Many of Frankfurt's cultural attractions are within easy walking distance of each other and once you're in the city it's an easy place to get around. That's great for your travel itinerary in Frankfurt, Germany.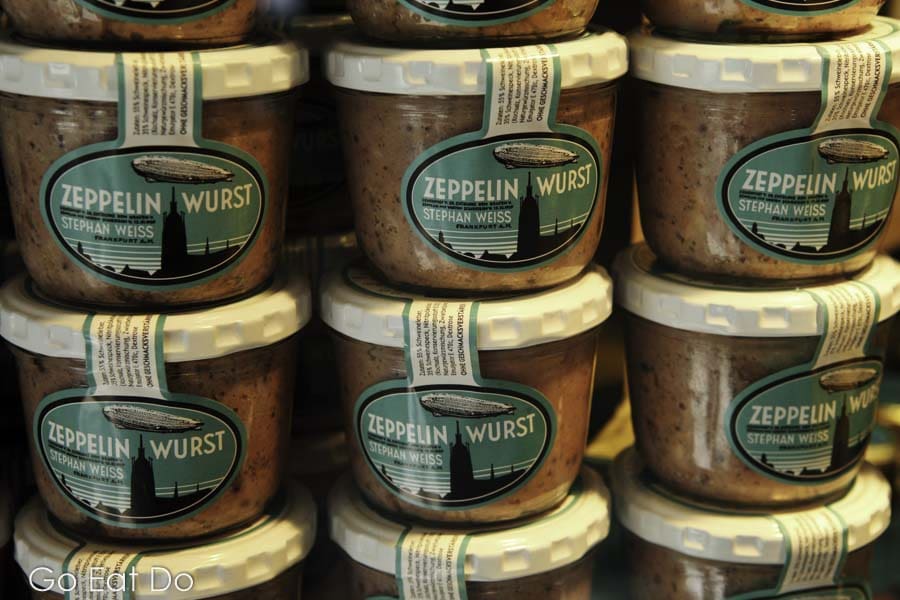 Map of Frankfurt
The Google Map of Frankfurt am Main below shows the location of the city and its key attractions:
Zoom into this map of Frankfurt to see the location of key attractions in the German city.
Travel to Frankfurt
Frankfurt Airport is served by several of the world's biggest airlines.
Frankfurt Hauptbahnhof has good connections with railway stations across mainland Europe.
How to get from Frankfurt Airport to the city centre
The best way to get from Frankfurt airport to the city centre is by train. You can catch the S-Bahn (S6 or S9 lines) to Hauptwache station, which takes you 15 minutes. You can also catch the U-Bahn (U8 or U9 lines) to Hauptwache station, which takes 8 minutes.
For information on prices and tickets, visit the Frankfurt Airport website.
Hotels in Frankfurt am Main
Search for accommodation in Frankfurt on the Booking.com website:


Books about Frankfurt
Keen to know more about Frankfurt am Main? You can buy the following books from Amazon by clicking on the links or cover photos:
Walk Frankfurt: A Guide to a Short Break in Frankfurt am Main by Anne Noble:
A Concise History of Germany
:
The 
DK Eyewitness German
y travel guide:
You may also appreciate
The Sorrows of Young Werther
by Johann Wolfgang von Goethe:
Further information
See the Frankfurt Tourism and German National Tourist Board websites for more ideas about things to do in and around Frankfurt am Main.
Stuart Forster, the author of this post, is an award-winning travel writer and speaks fluent German. His work has been published by Discover Germany, Austria and Switzerland, National Geographic Traveller and Wanderlust.
Thank you for visiting Go Eat Do and reading this ultimate guide to a Frankfurt city break. Planning on visiting the city? You might find this post about apple wine in Frankfurt worth reading.
Photos illustrating this post are by Why Eye Photography, except for those in the Pinterest pins which were supplied courtesy of Canva.
'Like' the Go Eat Do Facebook page to see more photos and content. Also, check out other travel inspiration on the Pinterest page.
If you enjoyed this post why not sign up for the free Go Eat Do newsletter? It's a hassle-free way of getting links to posts on a monthly basis.
This post was originally published on 10 June 2014.