Stuart Forster discusses things to do by the Bay of Fundy while following the Fundy Coastal Drive scenic route in New Brunswick, Canada.
Disclosure: Destination Canada paid for this post.
The Fundy Coastal Drive runs for 486km (286 miles) between Sackville and St Stephen. Highlights along its route include the Hopewell Rocks, Cape Enrage and Fundy National Park. It's possible to complete the Fundy Coastal Drive in under seven hours. However, I'd recommend at least five days to make the most out of a trip along New Brunswick's southern shoreline.
Having a car gave me the freedom to take detours to points of interest such as lighthouses and pause to shoot photos. If you're planning a road trip in New Brunswick I recommend planning plenty of contingency into the duration of each day's driving. I've found that estimates on the internet tend to list actual time on the road, excluding breaks.
Viewing the Hopewell Rocks
Driving from Halifax Stanfield International Airport to Hopewell Cape took me around three hours.
My first impression of the Hopewell Rocks, some of which resemble human faces and animals, was at night. I joined Kevin Snair, a local photographer and interpretative guide, for his Hopewell Rocks Night Photography Excursion.
On evenings when the Bay of Fundy's tide is out, Kevin hosts 2.5-hour sessions introducing the basics of night photography to small groups. He also talked informatively about the shaping of the rocks by erosion.
Thanks to the region's low level of light pollution many more stars sparkled in the night sky than I see at home. Thanks to Kevin's tips, I shot some cracking photos and had a great time.
Walking on the ocean floor
The following day I visited the Hopewell Rocks Interpretative Centre and discovered that 160 billion tonnes of water flow in and out of the Bay of Fundy each time the tide ebbs and flows.
It results in the world's highest tides. The water level varies anything up to 16.64 metres (54.6ft); the height of a four-storey building.
That churn means an ample supply of food for marine creatures, explaining why humpback, finback and minke whales are frequently spotted in the Bay of Fundy.
First Nations' legends about the formation of the rocks include a story about a monster lashing its tail. The one I liked best told how Mi'kmaq people were turned to stone by angry whales.
I spotted several human-like forms in the rock formations while walking on the ocean floor when the tide was out.
A detour to Cape Enrage
Cape Enrage is the location of a historic lighthouse and is worth a detour if you enjoy an adrenaline rush. During the summertime you can ride a zipline and abseil down the 43-metre (142 ft) cliff to the beach.
Lobster dinner in Alma
Maritime Canada is famed for the quality of its seafood.
At the Alma Lobster Shop (36 Shore Lane) I ordered a lobster for lunch and sat outside, at one of the benches, to twist off the claws and crack open the shell.
That's easier than it sounds. If doing that doesn't appeal look for dishes such as lobster roll and pre-shelled naked lobster.
Walking in Fundy National Park
Fundy National Park is one of the two national parks in New Brunswick. The other, Kouchibouguac, is a tad trickier to pronounce.
On arrival, I headed to the red chairs, which are a feature of Parks Canada-managed sites across the country. They're usually set up at places with outstanding views, so worth settling into for a few minutes. Those in Fundy National Park overlook the coastline.
Golf is an option during the summer but I chose to walk one of the park's marked trails. In this coastal region it's worth being prepared for weather changes by carrying a backpack but I was fine in my T-shirt and shorts.
The Reversing Falls Rapids at Saint John
I had a cracker of a night in Saint John, including a couple of craft beers at the Big Tide Brewing Company. The city warrants a couple of nights while travelling along the Fundy Coastal Drive.
At the Reversing Falls Rapids, it's possible to see the Saint John River flowing in two directions, depending on the tide. The Skywalk Saint John is designed for optimal views.
Kayaking off Deer Island
One of the highlights of my visit to New Brunswick was a guided kayaking excursion off Deer Island. Porpoises arced along the sea's surface just a couple of boat lengths away.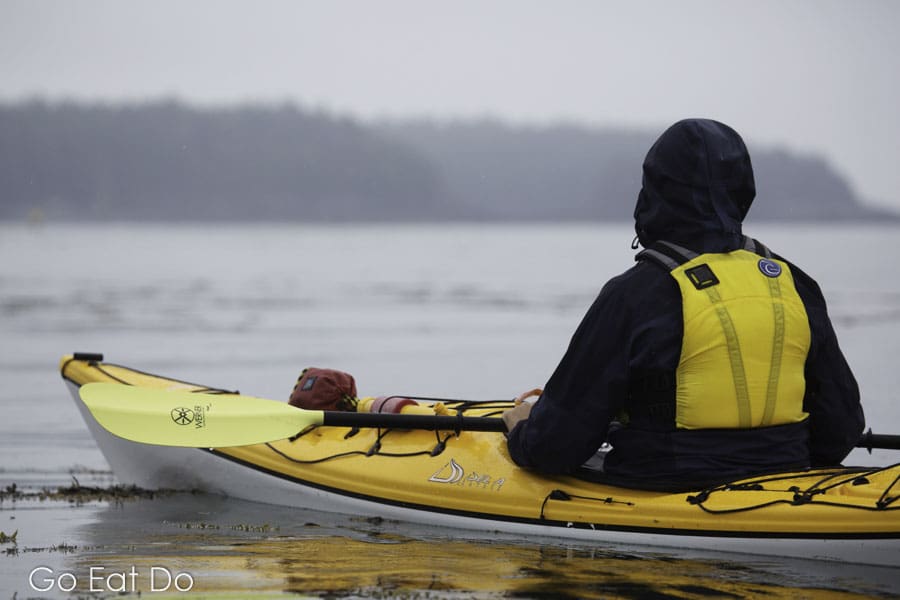 When I paused to get a better view of a bald eagle perched on a shoreline tree, a harbour seal popped up to take a look at me, as if to question why I'd stopped paddling.
Staying on Campobello Island
Taking the ferry to Campobello Island enabled me to visit the house where Franklin Delano Roosevelt spent his summers before being elected US president. It stands in Roosevelt Campobello International Park.
It's by no means the island's only attraction. Head Harbour Lightstation has been painted with a red cross for around 170 years and opens to visitors when the tide is out. Be prepared to climb ladders to reach the landmark.
St Andrews By-the-Sea
St Andrews By-the-Sea is an attractive coastal town dotted with heritage buildings, including a battery and blockhouse dating from the War of 1812.
As a lover of history, I visited the estate of railway magnate Sir William van Horne on nearby Ministers Island. It's worth checking the tides as the drive includes crossing a tidal bar.
Kingsbrae Garden is a gorgeous place to visit. An al fresco lunch is an option in fine weather.
If I was to return for a similar trip I'd plan a couple of extra days and a trip to Grand Manan Island.
Canada's Electronic Travel Authorization (eTA)
Most United Kingdom passport holders flying to Canada for leisure or business require an Electronic Travel Authorization (eTA) to enter the country. Some people need visas.
Apply for your eTA via the official Government of Canada website before booking travel. Don't leave it until you're at the airport, just prior to travel, as the approval process sometimes requires supporting documentation and takes several days. Once approved, eTAs are valid for up to five years.
Be aware that any site charging more than CAD$7 to process an ETA application is not the official Government of Canada website.
Getting to New Brunswick
Flying from the UK to Moncton, Saint John or Fredericton requires a transfer in Montreal or Toronto. I think the easiest way of travelling to New Brunswick from the United Kingdom is to fly to Halifax Stanfield International Airport and then pick up a hire car. Moncton is less than 2.5 hours' drive from Halifax.
WestJet operates direct flights between London Gatwick and Halifax plus seasonal services from Glasgow (April to October) and Manchester (June to October).
Map of New Brunswick
Zoom onto the Google map of New Brunswick below to view details:
Google Map of New Brunswick, Canada
Further information
For ideas about things to do and see in Canada check the #Forglowinghearts hashtag on social media. Additionally, visit the www.explore-canada.co.uk website to see inspirational content from across Canada.
The Tourism New Brunswick site has information on the province's attractions.
Stuart Forster, the author of this post, was presented the 2017 British Annual Canada Travel Award (BACTA) for Best Online Content. He is a freelance travel writer and a frequent visitor to Canada.
Why not sign up for the free Go Eat Do newsletter? It's a hassle-free way of getting links to posts on a monthly basis.
If you liked reading this post about Enjoying the outdoors in New Brunswick, Canada follow the Go Eat Do Facebook page to see more photos and content.