Stuart Forster visits Scotland and looks at Aberdeen Art Gallery which reopened in 2019 following redevelopment and is linked to the city's Remembrance Hall and adjacent Cowdray Hall.
Aberdeen Art Gallery reopened on 2 November 2019. It's undergone a major redevelopment over the past four years. The new look gallery now has a third level and is connected to the renovated Remembrance Hall plus the adjacent Cowdray Hall.
Disclosure: Stuart Forster, the author of this post, visited Aberdeen Art Gallery during a press trip organised by VisitAberdeenshire, which did not review or approve this article.
Stepping into the revamped Victorian building made a positive first impression. From the entrance, I peered into the atrium-like Sculpture Court, which has a black and white marble floor.
Artworks are ranged between the Sculpture Court's granite pillars. Tracey Emin's neon love poem, For You, is displayed between muscular males in a room that also houses Dame Barbara Hepworth's Requiem.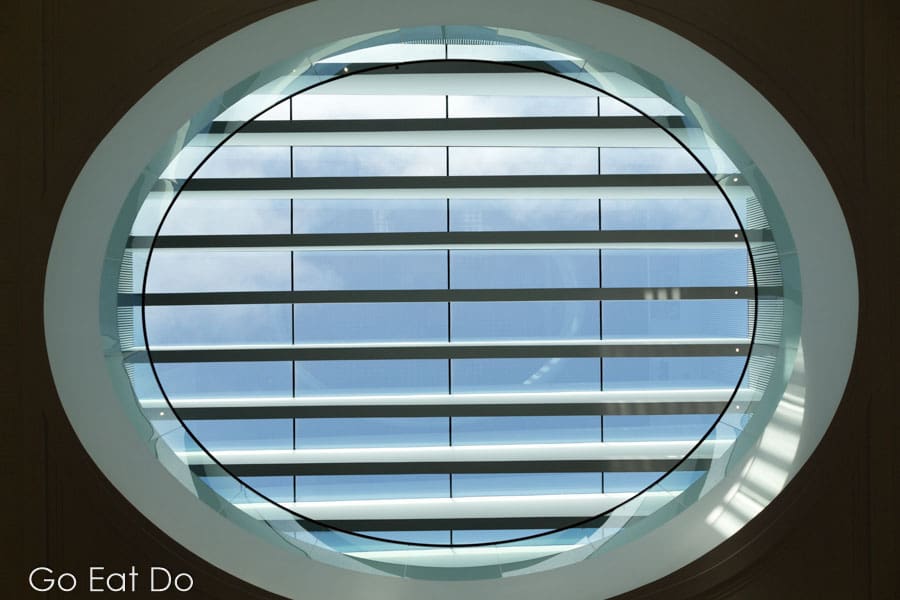 An oval skylight enables natural light to flood into the neoclassical building, which was designed by Alexander Marshall McKenzie and first opened in 1885. Aberdeen Art Gallery's evolution is summarised in Collecting Art, the first of 18 themed galleries displaying items from the city's expansive permanent collection of fine and decorative arts across the lower two floors.
Among Britain's Best Museums
The new third level hosts the three BP Galleries for special exhibitions. The first artist to have his work shown in them is the photographer Martin Parr. His newly commissioned portrait series, Aberdeen At Leisure, and Think of Scotland was displayed until 23 February 2020.
The upper storey also houses a café and a small gallery that celebrates work by local artists. A seminar room is wedged between two terraces giving views over central Aberdeen.
Aberdeen Art Gallery
Aberdeen Art Gallery is free to visit. Artworks displayed include pieces by internationally renowned artists such as Claude Monet, Henry Moore and Gavin Turk plus works that highlight local stories. The Balmoral Phenomenon gallery explores royal connections with the Scottish Highlands and, of course, Balmoral Castle, which is an 80-minute drive from Aberdeen.
The Art of Empowerment gallery tells a story of women in art at the turn of the last century, providing insights into the Suffragette movement in northeastern Scotland. It's preceded by the James McBey – Artist Adventurer gallery, which presents the work of the Aberdeenshire-born painter, draftsman and etcher.
With interactive displays and lucid captioning, the gallery is easy and enjoyable to explore. You don't necessarily need to be an art aficionado to appreciate the artworks displayed.
Cowdray Hall and Aberdeen Remembrance Hall
Cowdray Hall, a recital venue, is named in honour of its patron Lady Cowdray, who wanted to encourage Aberdonians' taste for art and music. The hall has been restored to its original colour scheme of 1925. It has a pipe organ plus a stage with a grand piano and will open its doors on Thursdays for a series of Lunchbreak Concerts. The events are free with donations encouraged.
The Remembrance Hall was designed as a place for contemplation and reflection in the wake of World War One. Members of Britain's armed forces and the Royal British Legion were consulted regarding how to make the space relevant today.
Poppies are projected onto the floor while the names of all Aberdeen's fallen are displayed digitally on the wall. Forget Them Not, a new commission created by Gordon Burnett, stands within the hall.
Getting to Aberdeen
Like to idea of travelling to Aberdeen to visit the Aberdeen Art Gallery?
I flew from Newcastle to Aberdeen with Loganair. The flight had a duration of 50 minutes. I chose a seat on the left-hand side of the aircraft and enjoyed spectacular views of Scotland's east coast in the low morning sunshine.
Flybe is another airline operating flights between the two cities.
Coming from further afield? Aberdeen International Airport (ABZ) is served by the likes of British Airways, KLM, SAS and easyJet.
The 727 bus runs between the airport and central Aberdeen. The journey to the Union Square Bus Station takes just over half an hour.
The rail connection between Newcastle and Aberdeen takes upwards of four hours. From London, the train journey takes about seven hours and 35 minutes.
Staying in Aberdeen
I stayed at the Sandman Signature Aberdeen Hotel (St Andrew Street, Aberdeen; Tel. 01224 945555), which is suited to the needs of both business and leisure travellers. The hotel is less than five minutes' walk from Aberdeen Art Gallery and well placed for exploring some of the Granite City's pubs and bars on a night out.
My sizeable room had a fridge, a microwave and a kettle, plus a desk for cracking on with work. The bathtub was snug but fine for a brief but relaxing pre-sleep dip. The bathroom also had a separate walk-in shower.
The building that the 218-room hotel occupies was formerly used as Robert Gordon University's St Andrew Street campus. A buffet breakfast was laid out in the Chop Grill and Bar on the ground floor.
Insider tip for art lovers
If you enjoy art, you may well enjoy visiting The Fife Arms in nearby Braemar, another of the buildings designed by Alexander Marshall McKenzie. Now a luxury hotel, it features original artwork by the likes of Pablo Picasso and Pieter Brueghel the Younger on its walls.
For works by Flemish Masters, you don't need to dash straight there. Brueghel's The Faithless Shepherd is displayed on Aberdeen Art Gallery's first floor, in the Exploring Art gallery.
Did you know?
£36.4 million was the total cost of the redevelopment of Aberdeen Art Gallery.
The art gallery hosts a programme of free 10-minute talks providing informal insights into displays.
Further information
Visit the Aberdeen Art Gallery and Museums website for information on the free-to-visit attractions' opening times plus its programme of events and exhibitions. The ground floor of the art gallery has a café and shop.
The gallery was named one of the joint winners of the 2020 Art Fund Museum of the Year award.
See the VisitAberdeenshire website for ideas about things to do and places to visit in and around the Granite City. If you're thinking about a trip encompassing more of Scotland then check out the VisitScotland site.
Stuart Forster, the author of this post, is an award-winning travel journalist. Also a travel blogger based in North East England, Stuart enjoys art and visiting art museums.
See With A Local — Aberdeen, Scotland for insights into the favourite places to eat and drink of one of the city's resident food bloggers.
Photos illustrating this post are by Why Eye Photography, which is based in northeast England and contactable by calling 07947 587136.
If you enjoyed this post why not sign up for the free Go Eat Do newsletter? It's a hassle-free way of getting links to posts on a monthly basis.
'Like' the Go Eat Do Facebook page to see more photos and content.