Stuart Forster joins Norman Bourne of BlackRhino Safaris for a rhino walk in Zimbabwe's Matobo National Park.
Dressed in a short-sleeved khaki shirt, beige shorts and a peaked cap, Norman strides ahead of me through the knee-length grass. Parched by the sun, it rustles like straw as we move. Rhinos eat 50-60 kilograms of the grass each day. About 40 per cent of that remains undigested when it exits their system.
Disclosure: Stuart travelled to Zimbabwe as a guest of the Zimbabwe Tourism Authority, which did not review or approve this article.
Once again, I check my phone, just to make sure it is switched off. If a picture is geo-tagged and loaded onto the internet there's a risk that poachers can use that information to discover the location of rhinos.
Hunted for their horns
Brutally, the creatures are hunted for their horns. Those of adult male rhinos — known as bulls — can weigh between 10 and 14 kilograms if left to grow to their natural length. They rarely do. Most rhinos in Matobo National Park have their horns removed as part of anti-poaching measures. The alternative is usually death.
Norman estimates that rhino horns are worth up to $100,000 a kilo on the black market. Some people value the powdered rhino horn for its aphrodisiacal properties.
"There's nothing in the horn that's of use as an aphrodisiac," he commented disapprovingly, as we visited a display of rhino skulls at an open-sided shelter next to the park entrance upon our arrival. "Bite your fingernails and it'll have the same result," he mocked. Rhino horns are, like human nails, made of compressed keratin.
The perceived value of the rhino horns and danger posed by poachers explains why the uniformed guard ahead of Norman has an AK-47 assault rifle slung over his shoulder.
Trees and bushes rise ahead of us. In the distance, I can see a couple of rocky outcrops known as kopjes. Earlier today we saw the Mother and Child Kopje, one of the best-known natural features of Matobo National Park. As its name suggests, the stones resemble human forms.
White-backed vultures circling
White-backed vultures circle in the cloudless blue of the sky. It's a sign the birds have spotted a kill and are waiting for the predator to move off. Their population has sunk in recent years as many vultures have died after eating animals poisoned by humans. Effortlessly they ride the thermals and spiral upwards.
Despite the name of Norman's company, BlackRhino Safaris, we're actually on our way to view a group of white rhinoceroses. Also known as square-lipped rhinos, they have wide mouths. There's speculation that their name may be derived from the Dutch word wijd, which means wide and sounds similar to white. There's nothing white about them.
We're walking in single file through the knee-high grass. Where possible we're following tracks made by animals as they traversed through the bush. Norman is keen to ensure that we don't stray, to avoid disturbing the vegetation.
Deep in rhinoceros territory
"In 14 years, I've never been charged by a rhino," he utters quietly by a bush.
"This is their territory. This is where they live. We try to keep them as wild as we can. Even though we visit them on a regular basis they are not tame animals. They're still wild and we respect them. It's two-and-a-half tonnes of sudden action; zero to 60 km/h [25 mph] in just a few seconds. It can be quite surprising how quickly they get up," he says, intimating that we're getting close to a rhino.
He signals for me to stay put and moves forward. He beckons. Passing a bush with plasticy olive foliage I see a group of rhinos about 25 metres away, sitting in the shade cast by a tree. I resist the urge to let out a howl of pure joy.
Three subadult males are accompanied by a single female aged about five years old. They roam together for mutual protection. Females reach sexual maturity at eight years of age. Males become adults at 12.
White rhinos in the bush
On hearing the rustling we're making the rhinos stand. Two face me. They exhibit an air of curiosity rather than menace.
I note how their horns are rounded. Clearly, even youngsters are dehorned as part of the anti-poaching programme. Yellow tags dangle in their ears.
"I think people misread them and misinterpret the animals' movements. They agitate the animal. Then he'll charge," says Norman quietly but in a matter-of-fact way.
"If the animal charges towards you stand still. By standing still you're showing a non-aggressive approach. You're saying, 'Sorry for disturbing you. Forgive me.' He'll run past you. He won't try to put you on the end of his horn," says my guide while moving gently and speaking softly.
Two of the creatures move to get a better look at us and I can feel the ground reverberate. I raise my camera and capture the scene in front of me.
The female and one of the males trot a short distance to our right. Belatedly, the other two actively take up sentry duty; one faces forwards and the other turns to look behind.
Charged by a rhinoceros
"In the Liberation Time, we were up in the Binga area and charged by a black rhino. We were bold and stupid and on patrol. We were walking through the bush and didn't really care. If I knew what I know now it would have charged," reveals Norman about an incident in the 1970s.
"We ran. Big mistake. I ran for my life. Eventually, I moved out of the way to get behind a tree. I disengaged my webbing belt and dropped my water bottle. He smelt that and tossed them up in the air. I had no water but I'd rather my water bottle was squashed than me," he continues.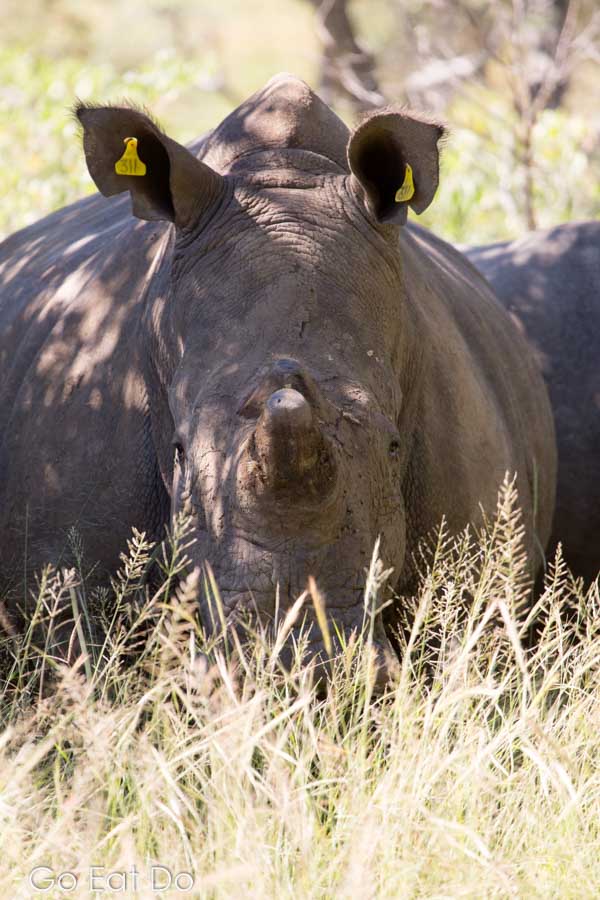 "What you must understand…herbivores have their eyes at the side of the head. Carnivores have them on the front so they can focus on their prey. When he's charging at you, you're in a bit of a blind spot. Unless he moves his head he's not actually going to see you. But he can definitely smell you," he adds as the rhinos peer towards us.
I drop to my knees and photograph the male directly in front of us from his eye level. I focus on my breathing so that I stay calm and get a series of shake-free images that don't betray the excitement I'm feeling.
Approached by a rhino baby
"The babies are the most inquisitive of all the animals. The babies actively come to you. When they do, the mother follows," says Norman, recalling previous encounters in the bush.
"If they trot towards you, to find out who you are, the mother will always try to keep the baby away from you. But if the baby decides it wants to find out what the noise is it'll turn and trot towards you. When they are born they are 50 kilograms. But they have mam behind her. Mam is 2.5 tonnes. You'll have a fairly big baby running towards you, inquisitively, not charging you. Mother knows there's potential danger," he explains.
"You have to stand up and shout. They stop and they look at you. They chomp their lips a bit then turn around and just walk off," he adds.
We stand and observe the rhinoceroses. One begins moving towards us then, with the rest of the group trots away, disappearing between bushes.
"Guiding is all about observation. The more you're out in the wild with animals, the more you understand their way of living. Every day I'm learning something new," says Norman as we tramp back towards our truck following our encounter with the rhinos.
Further information
BlackRhino Safaris (+263 71 222 1284) is based in Bulawayo, Zimbabwe. Norman operates day tours, from 8.30 am to around 6.30 pm, picking up and dropping guests at their hotels in or near Bulawayo. Typically, the package includes rhino trekking in the morning. After a packed lunch in Matobo National Park, Norman guides his guests to paintings by Bushmen on rocks and in shelters. There's then an opportunity to view the sunset from World's View Lookout, the rocky hilltop which has the graves of Cecil Rhodes and Leander Starr Jameson.
Find out more about the Matobo National Park on the Zimbabwe Tourism Authority website.
Getting to Matobo National Park
Stuart flew to Harare, the capital of Zimbabwe, from Gatwick with Rwandair.
Travel on the ground was provided by Edu Tours Zimbabwe (tel. +263 77599 5985), a tour company operated by Basil Mapfumo, a knowledgeable and personable guide.
Where to stay in Bulawayo
The Cresta Churchill Bulawayo (Matopos Road, Bulawayo; tel. +27 21 855 0395) is a three-star hotel with 50 air-conditioned rooms. With mock Tudor architecture, the property has a swimming pool in its courtyard.
The Holiday Inn Bulawayo (Ascot, Bulawayo; tel. +263 9 25246 414440) is a four-star hotel with 150 guestrooms. A dip in the outdoor pool is a great way to start a day of sightseeing.
Stuart Forster, the author of this post, is an award-winning travel writer.
Thank you for visiting Go Eat Do and reading this post about a rhino walk in Zimbabwe's Matobo National Park. If you're thinking about visiting Zimbabwe you may also enjoy this post about a game drive in Hwange National Park, Zimbabwe
Illustrating photos are by Why Eye Photography. Why Eye Photography is based in the North East of England. Specialising in travel and food photography, the company undertakes assignments worldwide. If you have a project that you'd like to have photographed, please call 07947 587136 to discuss your requirements.
If you enjoyed this post why not sign up for the free Go Eat Do newsletter? It's a hassle-free way of getting links to posts on a monthly basis.
'Like' the Go Eat Do Facebook page to see more photos and content.