Stuart Forster heads to St Mary's Inn at Stannington, near Morpeth to sample sandwiches, scones and cakes during a delicious Northumberland afternoon tea.
Disclosure: Stuart was invited to experience a rustic afternoon tea at St Mary's Inn, which has not reviewed or approved this article. Some of the links below and banners are affiliate links, meaning, at no additional cost to you, I will earn a commission if you click through and make a purchase.
Northumberland afternoon tea
St Mary's Inn, near Morpeth in Northumberland, serves afternoon tea six days a week. I popped by with my partner to sample the afternoon tea on a sunny summer's day.
Afternoon tea at St Mary's Inn is served on a two-tier stand featuring wooden boards and a curved metal handle.
Looking around the airy dining room in which the teas are served, I noticed I was the only man present. That surprised me. The portions served at St Mary's Inn are by no means dainty and this is the kind of afternoon tea that I think many of my mates would enjoy.
I'm sure a few of them would also enjoy staying on to sample a few of the local craft brews served in the bar.
From tables where teas had already been served, I gleaned that the lower of the two boards was loaded with savouries while the upper lever carried sweeter stuff.
Afternoon tea in Northumberland
Our drinks order was taken as soon as we were seated. Earl Grey was blended for the former British prime minister whose family estate, Howick Hall, was in Northumberland. That got my nod from the list of Rington's teas served at St Mary's.
Normally I serve Earl Grey with a slice of lemon but that wasn't an option. Milk with Earl Grey? Goodness, no! Not for me, thank you.
For a fiver, we could have added a glass of Prosecco to our afternoon tea.
Afternoon tea at St Mary's Inn
The sandwiches at St Mary's are served on bread cut from brown bloomers or white stotties. If you're a visitor to the region, stottie cake is a type of round flat bread that has long been baked in North East England.
I didn't get past the first item on the menu — ham and pease pudding with mustard and gem lettuce — before deciding that appealed as my choice of sandwich. Smoked salmon, cheese and crushed avocado sandwiches were also available.
Normally a couple of those succulent sandwiches would do me for lunch. Additionally, the afternoon tea menu also allowed us to choose either a slice of cheese and onion quiche or minced beef and onion pie.
The pie won. The pastry was soft and golden. Its flavour was rich and satisfying.
How to pronounce scone?
Whenever my partner and I are in a place that serves scones we revive our long-running discussion about how 'scone' should be pronounced.
I'm a firm believer that scone rhymes with 'cone'. Just look at the similarities in how they are spelt. She is adamant that rhymes with 'con'. That was also how the server who took our orders said it.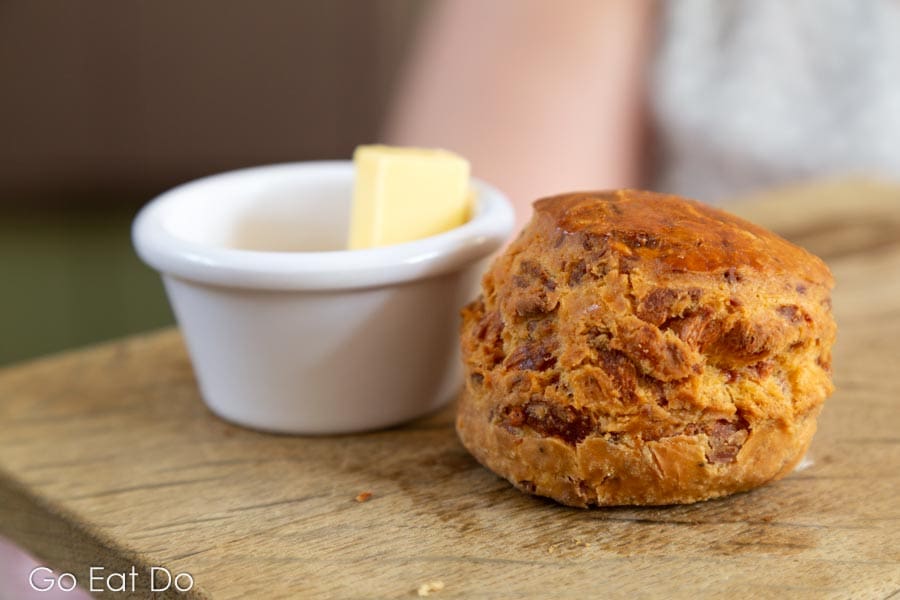 I opted for the fruit scone served with clotted cream and strawberry jam while Helen ordered a cheese 's-con'. The homestyle scones impressed. They were served warm and both had pleasantly soft centres.
The final choice we had to make was between a warm chocolate brownie or carrot cake with cream cheese icing. One of the great things about going out as a couple is being able to order one of each and share.
There's certainly lots of food served during the afternoon tea at St Mary's Inn. I noticed one guest ask for what was left to be boxed up so that she could take it home. Priced at £15 per person, I think the rustic afternoon tea represents good value.
We sat there for a couple of hours, chatting (mainly about scones and how to pronounce their name) and gradually nibbling way through both boards. Thank goodness, then, that the teapots were covered with colourful knitted cosies.
National Cream Tea Day
Did you know that Britain has a Cream Tea Society? The last Friday in June is the UK's National Cream Tea Day.
Travel to St Mary's Inn
Stannington is about 15 miles north of Newcastle. The Visit Northumberland website has information about things to do in the surrounding countryside.
Zoom out of the map below to see the location of St Mary's Inn west of the A1.
Google Map of St Mary's Inn at Stannington, Northumberland.
Hotels in Northumberland
Search for accommodation in Northumberland via Booking.com:
Further information
St Mary's Inn (tel. 01670 293293) is at St Mary's Park at Stannington, near Morpeth, in Northumberland. The pub has 11 guestrooms for overnight stays on a bed-and-breakfast basis. See the St Mary's Inn website for further information about Northumberland afternoon tea, served from noon until 4.00 pm from Monday to Saturday.
Occupying a neo-Gothic building with a clock tower, St Mary's Inn was previously the administrative building for Gateshead's county asylum, which operated until 1996. As many as 2,000 patients were once cared for at the hospital. The hospital building was recently demolished and housing has been constructed on its site.
Stuart Forster, the author of this post, is a travel and food writer from northeast England. His work on the region has been published by The Independent and Love Exploring, and he has talked about it on Travel FM.
The photographs illustrating this post are by Why Eye Photography, which is based in North East England and specialises in food, travel and portraiture. Call 07947 587136 to discuss your needs and to commission a shoot.
Thank you for visiting Go Eat Do and reading this post about Northumberland afternoon tea at St Mary's Inn. Looking for a place to stay the night? Check out this post about St Mary's Inn near Morpeth in Northumberland.
If you enjoyed this post why not sign up for the free Go Eat Do newsletter? It's a hassle-free way of getting links to posts on a monthly basis.
'Like' the Go Eat Do Facebook page to see more photos and content.