On entering Millers All Day, a bar and restaurant on King Street in downtown Charleston, I knew — simply knew — that I had to photograph the team working there.
With their beards, tattoos, rugged looks and laid-back attitudes it was obvious they would be naturals in front of the camera.
Southern hospitality is, of course, renowned. Despite it being a busy lunchtime would they mind taking a moment to be photographed? I'd have regretted it long into the future if I hadn't asked that question. Not at all, came the answer. Nothing quite shows the charm of people as smiling and being gracious while under pressure.
A Charlestonian said to me a couple of days previously that one of the big differences between people in Charleston and, say, New York City, is that folk in the Holy City (a nickname derived from the many churches in Charleston) tend to have more time for conversation than up north.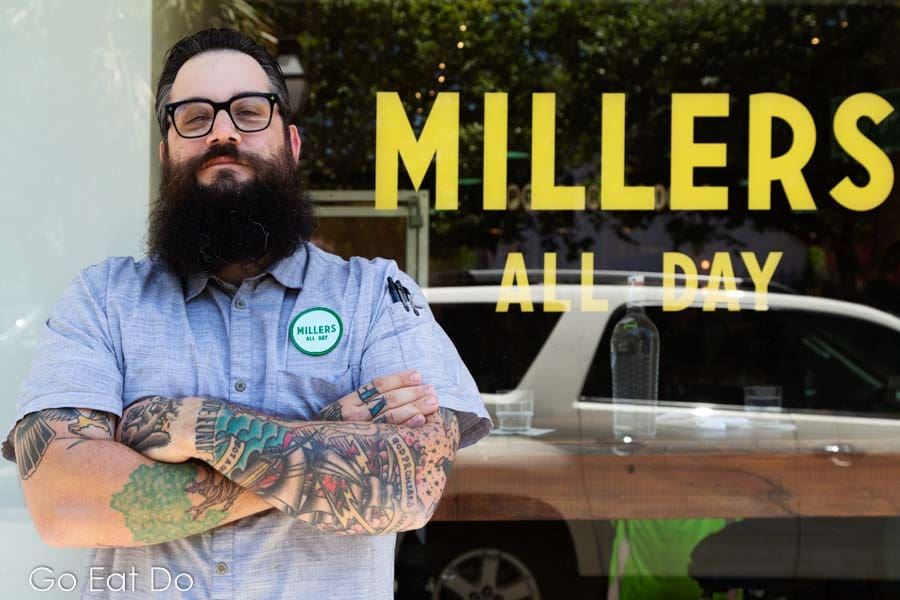 Meeting miller Greg Johnsman
That proved to be the case with Greg Johnsman, one of the owners of Millers All Day, whom I chatted with while photographing by the restaurant's antique mill.
"Millers is a concept of my partner of mine. He's a chef, I'm a farmer and we kind of came together thinking we could do a brunch spot. Brunch is a big deal here in Charleston, South Carolina…it's an opportunity for people to come together," explained Greg as he stood by a neon sign advertising grits, a popular all-day dish in the southern states of the USA.
Though I'd heard grits mentioned in movies set in America's South, I'd never previously tasted them so felt compelled to ask Greg for clarification about what they are.
"Think polenta and cornmeal. Depending on where you get polenta, some's course and some finer. Grits are separated out between the bran and the germ and the meat. The meat is the heaviest kind of piece. We cook it very similar to oatmeal. Then as a day progresses we add different toppings to it," answered Greg.
"Morning could be a simple bowl of grits with a little bit of cheese or butter. By night you can have shrimp and bacon and all different things put on top," he elaborated. Millers All Day opens at 7.00 am every day, serving traditional dishes such as biscuits and gravy (picture scones doused in a creamy pepper sauce laced with chunks of chopped sausage), chicken and waffles, corn muffins in addition, of course, to bowls of grits.
Grits in South Carolina
I was curious to know Greg's favourite grits recipe. He didn't mind sharing it.
"I got two little boys that sometimes don't want to eat grits. We make a lot of grits because that's what I do for a living. But once you made the grits, I'll have another pan going of sausage crumble. I throw it in the pot when the grits are done with a lot of cheese and rotel. Rotel is a kind of mixture of onions, peppers, tomatoes and a little hot sauce. I throw it all in there. I call it 'the dump recipe' or 'the pot licker'. The whole pot is licked when everybody's done!" he answered with a grin.
Greg started milling as a teenager. "I'm 41. When I was in middle school, I used to help an old man on the weekend to restore old tractors and equipment — he was a third-generation miller. They were making moonshine…they didn't want me getting in to help that way, so they kept me busy milling all the corn. I married into a family farm and as we saw the end in sight, knowing that the tomatoes and all we are growing from a shipping standpoint wasn't going to be there, my business started growing large enough for chefs all over the United States. The rest of family now grows for the milling of the operation. It was a kind of a hobby turned passion and saved the family farm," he explained.
Eating at Millers All Day
Millers All Day opened in 2018 and has the vibe of a modern diner. After photographing Greg, I headed back to my table for a bowl of spring pea and potato vichyssoise, a type of fresh soup, followed by a plate of seasoned flounder served with unicorn grits.
Davey, the bar manager, mentioned he had developed a number of fruit cocktails as daytime drinks. I ordered a Holiday in Tortuga (a cocktail mixed with pineapple rum, strawberry Campari and Antica Formula vermouth) before photographing him at work.
After a slice of brown coconut cream pie, I grabbed an opportunity to photograph Greg with Nathan Thurston, the chef who co-owns Millers All Day and specialises in the Lowcountry cuisine of South Carolina.
Perhaps one more cocktail and I would have stayed all day at Millers? But with so much of Charleston still to explore it was time for me to make a move.
Further information
Millers All Day (tel. +1 843 501 7342) is at 120 King Street in Charleston, South Carolina, USA.
Charleston has an array of casual and fine dining venues serving cuisine and ingredients from South Carolina and beyond. See the Explore Charleston website for information about the city and its attractions.
British Airways started operating direct flights between London Heathrow and Charleston International Airport in April 2019.
Stuart Forster, the author of this post, is an award-winning travel writer. Photographs illustrating this post are by Why Eye Photography.
Like this post? Why not sign up for the free Go Eat Do newsletter? It's a hassle-free way of getting links to posts.
If you would like to sponsor a post on Go Eat Do then please don't hesitate to get in touch.
'Like' the Go Eat Do Facebook page to see more photos and content.