Stuart Forster conducts an interview with Dutch chef Jim de Jong at his Restaurant de Jong in Rotterdam, the Netherlands.
"When I was 21 I came back to Holland and I opened my first restaurant," says chef Jim de Jong as we chat in the arched dining room of Restaurant de Jong in Rotterdam.
The 27-year-old reveals he spent time working at Heston Blumenthal's The Fat Duck, for Gordon Ramsay and also in a Montpellier restaurant with two Michelin stars before returning to the city where he grew up.
Restaurant de Jong is Jim's second business venture and is proving popular. It proves tricky to get a table on Friday and Saturday evenings unless you reserve a couple of weeks in advance. You might be lucky if you call on a weekday but even then it makes sense to book a week or so ahead.
Attractively presented modern cuisine
The dishes created by Jim and his team are beautifully presented – the kind of food you see posted on Instagram and wish was yours. I've just enjoyed a cheese-based tasting menu and I'm looking forward to reviewing my photos of his carefully arranged dishes. Edible flowers added dashes of colour. The flavours and textures were just as satisfying as the appearance of the food.
This isn't the kind of place you visit and order a la carte. It's possible the dishes served will differ each time you come here. Diners are faced with a simple choice when ordering at Restaurant de Jong – the vegetable or non-vegetable menu. Each consists of four courses. The waiting staff ask diners if they have any allergies or dislike anything and the team at work in the open kitchen prepares dishes accordingly.
Close to Rotterdam's Centraal Station
When I arrived the sun was streaming down on tables out on the terrace. The restaurant occupies space below an old railway arch and is within easy walking distance of Rotterdam's recently opened Centraal Station.
"The north part of Rotterdam is very up-and-coming. There are a lot of young entrepreneurs and young people starting businesses here. I grew up in this part of the city, so there's a lot of engagement with this place," says Jim with enthusiasm.
Vegetables but not vegetarian
"We want to give a stage for vegetables, to make vegetables more popular without being a vegetarian restaurant. We never speak the word vegetarian or of a vegetarian menu in this restaurant. We don't use tofu or tempeh, it's just vegetables," he explains.
This fits with Jim's view on nutrition: "I think that, globally, we should eat less meat. So if we use meat we use very good meat – organic and we give small portions. We give a lot of vegetables and it seems to work quite nice."
"One of my heroes is still Alain Passard, from Paris, but also the Scandinavian guys from Noma," he answers when I ask about his influences. Jim explains the food served in his restaurant reflects a mixture of cuisines, including Dutch and Nordic cooking.
I learn the cheese-based menu I've just enjoyed was only created today. Jim left the choice of Dutch cheeses to his regular supplier, tasting them in the morning and combining them with some of the other products on his menu.
TastY and creative cooking
"When I taste the Bergens Blonde cheese it tastes a bit like the sea. I immediately think of asparagus. Some connections in my mind result in these dishes. For every chef it's different – it's like tasting wine. It's also your memories of things from your childhood or along the way. That's why every chef should make his own dishes. If you copy things when you're a chef you'll probably end up being not so good. You have to put on the plate what's on your mind. That's what we do every day here. We freestyle," says Jim passionately.
"There are also dishes that evolve. We have several that contain a hummus of broad beans…We have one dish that's based on two ingredients, asparagus and Kalamata olives, which is a very good combination…We have a skeleton, some things on the menu stay the same. We need some stability. Two, three, four dishes a day change," he adds.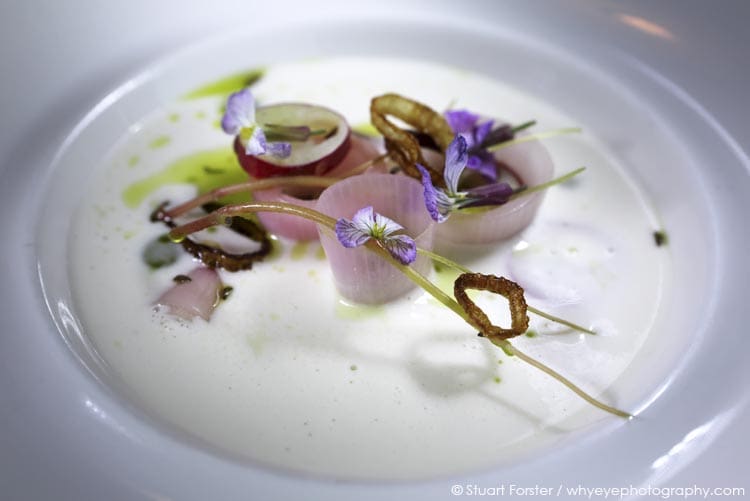 Seasonal and local produce
I'm keen to find out if Jim has a signature dish. "We have a steak tartare but made from tomatoes. The structure of the tomato's flesh is almost the same as meat. People know when the tomato season starts we'll put this on the menu," answers Jim.
"The season is very important. Products are always better when they are in season. When you buy local, let's say tomatoes, I buy them from a farmer not far from here. I buy them directly so I tell him to pick his tomatoes when they are almost falling off the plant. If you buy them from France, Italy or further away they pick them when they are green, so there's no flavour to the tomatoes," he explains.
"I'm not really religious when it comes to local. I think when the sunshine is better and more, in Italy for example, the peaches growing there have more intensity, so I can buy them. It depends on the product. We have very good soil for legumes – beans – potatoes and carrots. So you have to know which vegetables or fruit to buy locally and which is best to buy elsewhere," says Jim.
The food Jim has served at Restaurant de Jong made a positive impression and I'd be happy to return to see what's on the menu.
Restaurant de Jong
Restaurant de Jong is at Raampoortstraat 38, 3032 AH Rotterdam. Call +31 (0)10 4657955. At the time of publication, the four course menu is priced at €45.
Getting there
Restaurant de Jong is within walking distance of Rotterdam Centraal railway station. Rail fares from London to Rotterdam start from £116 per person for a standard class return. The journey takes from 4 hours 4 minutes. To find out more or make a booking see the Voyages SNCF website (Voyages-sncf Travel Centre, 193 Piccadilly, London, W1J 9EU; tel. +44 (0)844 8485848). Direct trains between Amsterdam Schiphol International Airport and Rotterdam Centraal take from 27 minutes.
Further information
Find out more about the city on the Rotterdam Info and Holland websites.
Photos illustrating this post are by Why Eye Photography.
If you enjoyed this post why not sign up for the free Go Eat Do newsletter? It's a hassle-free way of getting links to posts on a monthly basis.
'Like' the Go Eat Do Facebook page to see more photos and content.
.