Stuart Forster provides an overview of the top things to do in Alnwick, Northumberland.
Disclosure: Some of the links and banners below are affiliate links meaning, at no additional cost to you, I will earn a commission if you click through and make a purchase.
Alnwick is an attractive small town which I enjoy visiting fairly frequently. The reasons include stopping by for a bite to eat or a pint of beer after country walks. Yet Alnwick hosts some of the top tourist attractions in North East England. Its castle and The Alnwick Garden are two of the principal reasons why people visit Alnwick.
Here's a look at some of the things to do in the Northumberland town and why Alnwick makes an outstanding place for a weekend break in north-east England:
Alnwick Castle
The town is dominated by the presence of one of England's great castles. It has been a home to the Percy family, the Dukes of Northumberland, for more than 700 years.
It's possible to visit the castle on a seasonal basis. If you appreciate history, plan time in the Castle Museum. Should military history be your thing, be sure to explore the Fusiliers Museum of Northumberland.
You may recognise the historic landmark from its use as a set during the filming of movies such as Robin Hood: Prince of Thieves and Transformers: The Last Knight. It was also used as Brancaster Castle in two Downton Abbey Christmas specials.
Its use as Hogwarts, in Harry Potter movies, helps make Alnwick Castle a popular family attraction. Broomstick training and a dragon's quest are two of the activities geared towards youngsters.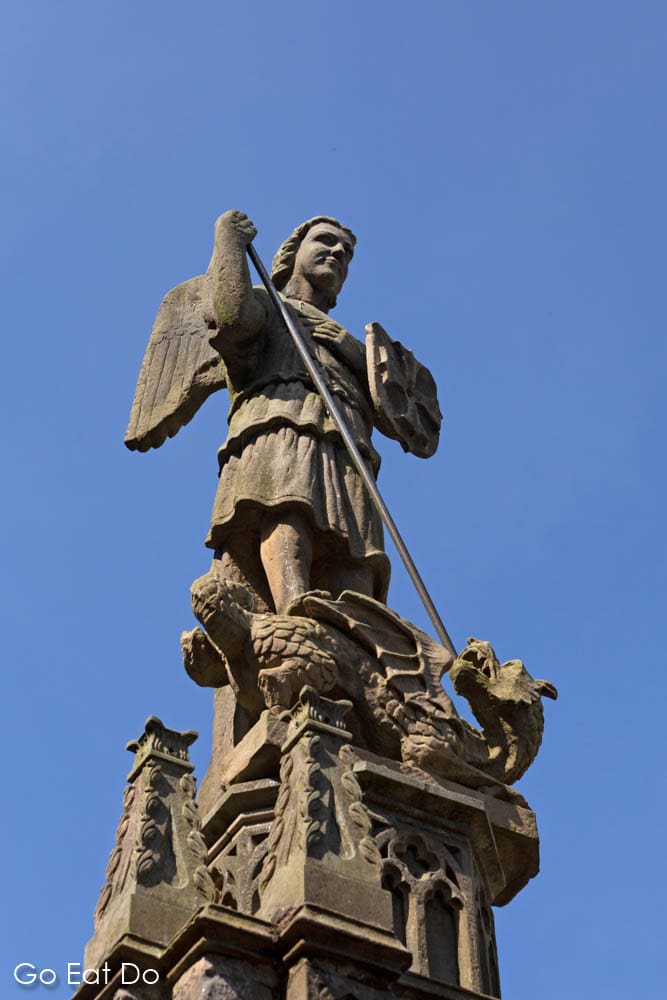 The Alnwick Garden
Normally open throughout the year, The Alnwick Garden is one of north-east England's premier tourism attractions.
Beautifully landscaped, the garden was created by the Duchess of Northumberland. Highlights include a cascading fountain, a vast treehouse and the world's largest orchard of Japanese Taihaku — flowering cherry trees. Typically, the cherry trees blossom in late April or early May.
If you're looking for unusual things to do in Alnwick, reserve a spot on one of the tours of the Poison Garden. Guides lead visitors between deadly plants in a section of the garden that remains locked between the start of tours.
Lilidorei at The Alnwick Garden
Also created by the Duchess of Northumberland, Lilidorei is an attraction aimed at children. Opened in 2023, Lilidorei is home to the biggest play structure in the world, Elfwin Drin.
It has its own magical lore, as a kingdom that is the home of nine clans who worship Christmas. It is ruled by Lord Elfwin from within Elfwin Drin.
A team of Secret Keepers encourage children to play and reveal clues about the nine clans so that youngsters can use their imaginations and create their own stories.
In addition to the vast play area, Lilidorei has a village of imaginatively created houses that guests can meander between. The sounds and details are likely to engage adults as well as children.
Lilidorei looks set to become a popular winter attraction thanks to its illuminated buildings.
Alnwick Farmers' Market
Historically, Alnwick is a market town. It continues to hold weekly markets on the cobbled square in front of the old town hall.
If you're a foodie, plan your visit to coincide with one of the farmers' markets. Local producers sell a range of goods, including cheeses, meats and baked goods.
Alnwick Gin is also sold at the farmers' market. If you visit on a non-market day, pop into A Taste of Northumbria. The shop opens onto the marketplace and sells locally made spirits and beers, including brews from the Alnwick Brewery.
Bailiffgate Museum and Gallery
Alnwick's Bailiffgate Museum and Gallery tells stories from the locality. It occupies a former church. The museum website holds details about exhibitions and entry prices.
Live shows at Alnwick Playhouse
Enjoy attending plays and concerts while you're on the road? Alnwick Playhouse is at Bondgate Without.
As well as hosting live shows, the playhouse has a gallery exhibiting art by artists based in north-east England.
Barter Books second-hand bookstore
If you enjoy browsing bookstores, stroll to the used bookshop housed within the town's former railway station. Barter Books counts among the biggest second-hand bookshops in the United Kingdom and top Alnwick tourist attractions.
With a café, colourful murals and a toy train that rattles around above the bookshelves, Barter Books is both quirky and attractive. I rarely visit without buying at least a couple of books. The shop is well-organised and contains everything from popular novels through local history to collectors' items.
A round of golf in Northumberland
If you want to play a round of golf as a visitor to the region, options include playing the 18-hole parkland course at Alnwick Castle Golf Club.
Alnmouth Village Golf Club is the oldest nine-hole links golf course in England.
Meanwhile, Alnmouth Golf Club at Foxton Hall can claim to be the fourth oldest golf club in England.
Hulne Park
Hulne Park in Alnwick is part of Northumberland Estates and is open to the public, from 11.00 am to 5.00 pm daily. It was once part of the Percy family estate and there are over 3,000 acres to explore.
It's perfect for ramblers and has circular routes suitable for beginner, intermediate and expert walkers.
You often get the opportunity to spot roe deer as well as a variety of different birds. Around the walks, you can also see views of Brizlee Tower, Alnwick Castle and the River Aln.
Parking is free along the roadside, just before the entrance into Hulne Park.
Things to do in the Alnwick area
There are a number of standout things to do in the area around Alnwick.
Like the feeling of sand scrunching under your bare feet? Kick off your shoes and stroll on the broad expanse of Alnmouth Beach.
If history's your thing, check the tide tables and plan a trip to Lindisfarne, approximately 35 minutes' drive from Alnwick.
Bamburgh, the location of another of Northumberland's famous castles, is less than 30 minutes' drive from Alnwick's town centre.
Walking in Northumberland National Park, along Hadrian's Wall, and observing the night sky in Northumberland International Dark Sky Park are ideas if your want to head further afield.
Where to eat in Alnwick
Alnwick has a good selection of dining options. The choice encompasses cafés, restaurants and pub food.
If you like the idea of modern European cuisine in an elegant setting, you may be tempted to dine in the White Swan Hotel's Olympic Restaurant. The dining room features wood panelling and mirrors that once adorned the RMS Olympic. That was the sister ship of one of the most (in)famous liners of all time, the RMS Titanic.
So, what else is going down (See what I did there?!) on the town's gastronomy scene?
To dine somewhere out of the ordinary, reserve a table at The Treehouse Restaurant in The Alnwick Garden. It's an opportunity to dine inside an enormous treehouse. Slow-braised rabbit and mussels from North Shields feature among the menu's well-presented modern dishes.
The Market Tavern is a dog-friendly pub with a choice of hand-pulled ales. The menu includes steaks, British classics including shepherd's pie plus hearty regional dishes such as Geordie chop and Northumbrian casserole.
Lunch and afternoon tea are served at The Bailiffgate Bistro, in The Cookie Jar. Burger and fries is one of the comfort food options.
Mumbai Flavours is one of the restaurants serving Indian cuisine in Alnwick.
Where to drink in Alnwick
For a small town, Alnwick has a cracking choice of pubs, including The Black Swan and The Dirty Bottles.
The Dirty Bottles is named after cobweb-covered glassware displayed in the window of the old building that's long been one of Alnwick's historic taverns. Reputed to be cursed, the bottles go untouched. A sign recounts their legend. The pub has a decent choice of local beers and serves smokehouse-style cuisine.
Hotels in Alnwick and Northumberland
Considering a weekend break or a short country getaway in Alnwick?
If you enjoy staying in cosy boutique hotels, book yourself into The Cookie Jar. The stylish, 11-room property is situated between Alnwick Castle and the Bailiffgate Museum. If it's a special occasion splurge on The Chapel or one of the suites with a freestanding bathtub.
Breakfast features a selection of freshly made pastries and bread. Hot dishes are also available.
Dogs are allowed into guestrooms and kennels are on site.
Doxford Hall Hotel and Spa offers upscale accommodation less than nine miles north of Alnwick. The converted Georgian mansion dates from 1818. It has 36 bedrooms, six of which accommodate dogs.
Several places in and around Alnwick offer accommodation on a bed and breakfast basis. Search out places to stay via HRS:

Travel to Alnwick
Alnwick is off the A1, approximately 45 minutes' drive from Newcastle upon Tyne.
The X20 bus service operates between Newcastle and Alnwick.
Some trains stop at nearby Alnmouth on the journey along the East Coast Main Line between London and Edinburgh.

The map below shows the location of Alnwick:
Google Map showing Alnwick in Northumberland.
When to visit Alnwick
With plenty of things to do in the Alnwick area during summertime, the town traditionally proves a popular summer destination.
The flowering of the cherry blossoms draws many springtime visitors to The Alnwick Garden.
If spectating at one of Britain's historic sporting fixtures appeals, plan on visiting Alnwick on a Shrove Tuesday. Residents of the two local parishes are piped onto the meadow behind the castle to play a game of mass-participation football.
Books about Alnwick
Planning a trip to Alnwick and Northumberland? You can buy the following books via Amazon by clicking on the links or cover photos:
Pathfinder Walking Guides' Northumberland and Scottish Borders: Outstanding Circular Walks:
Northumberland Park Rangers' Favourite Walks
:
50 Gems of Northumberland: The History & Heritage of the Most Iconic Places
by Steve Ellwood:
If you plan on hiking in the region you may benefit from having an Ordnance Survey map of
Alnwick and Amble
:
Further information
See the Visit Alnwick and Visit Northumberland websites for more information about what to do around Alnwick.
Photos illustrating this post are by Why Eye Photography.
Stuart Forster is an award-winning travel writer based in the north-east of England. He is available for travel writing commissions across the region and beyond.
Thinking of planning a trip to Alnwick? You might find it handy to also check out this post on reasons to visit Northumberland.
If you enjoyed this post why not sign up for the free Go Eat Do newsletter? It's a hassle-free way of getting links to posts on a monthly basis.
'Like' and follow the Go Eat Do Facebook page and Pinterest feeds to see frequently posted content.