Stuart Forster gets his teeth into the story of Goan sausage, an Indian delicacy from Goa and an early form of fusion food.
According to the popular saying, the way to a man's heart is through his stomach. Perhaps that's why Goa has found such a special place in mine. I adore Goan cuisine.
Most visitors are drawn to Goa by its reputation for pristine beaches and the promise of long hours of uninterrupted sunshine. For me, it's the Goan food that I find enticing.
The mouth-watering prospect of tucking into regional delicacies such as prawn balchao, chicken xacuti, sorportel, vindaloo and links of spicy choriço-style sausage repeatedly draws me back.
Enjoying Goan cuisine
Good food is never far away in Goa. Typically Goan dishes can be enjoyed in dining establishments ranging from humble beach shacks to the smart restaurants of luxury hotels. Outlets at both ends of the price scale attract patrons from around the world.
Europeans seeking winter sunshine mingle with domestic holidaymakers from cities across India.
Globalisation is lauded by some and loathed by others. It has flattened the world. Today people from different continents are able to share expectations and aspirations regarding vacations.
You could even argue that Goan food is a by-product of a far earlier wave of globalisation.
Colonialism and food and drink
Colonialism now has overwhelmingly negative associations. The historic movement of people and international trade continues to influence how food is consumed today.
Portuguese ships first appeared off India's west coast in 1498. Portugal was the first European power to make its presence felt on the Indian subcontinent. Their exploration followed the Treaty of Tordesillas of 1494. In it, the Portuguese and Spanish agreed to divide the world into spheres of influence.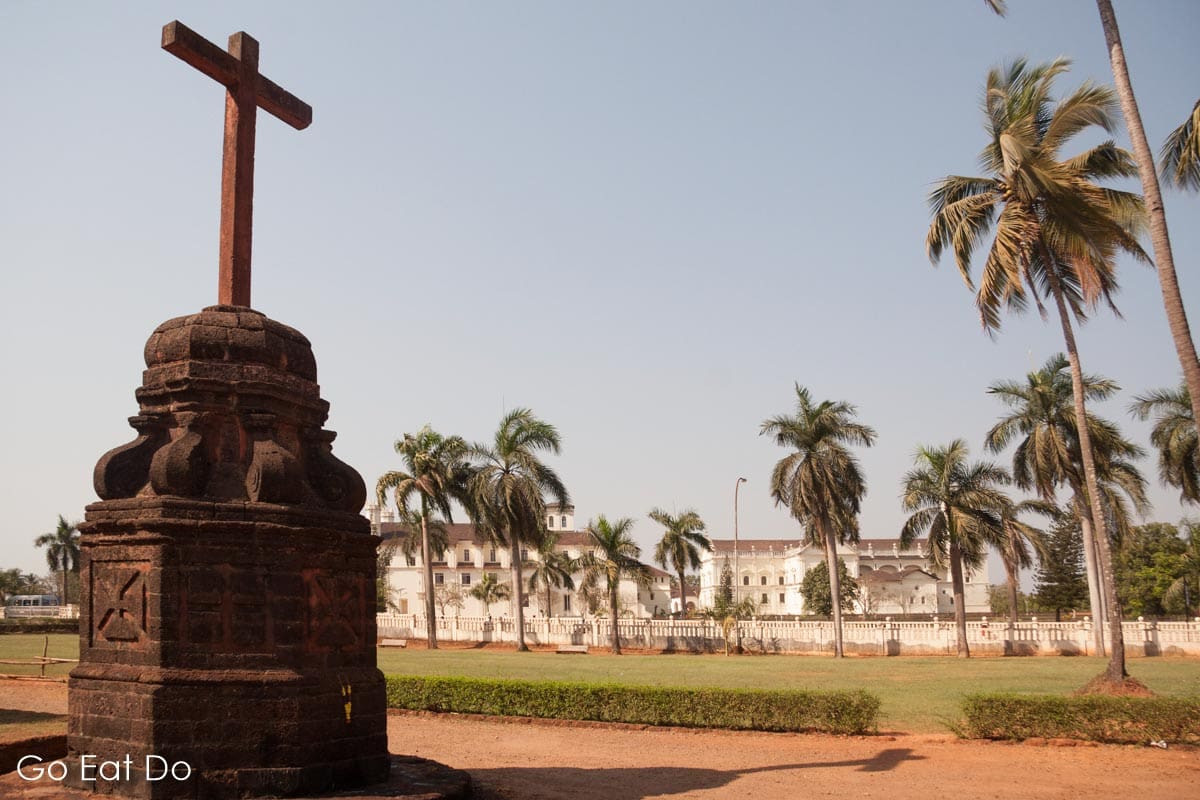 A type of Goan chorizo
A wave of exploration, trade and conquest followed. Foodstuffs were among the commodities shipped between landmasses. Many of the ingredients now integral to Goan and Indian cuisine were introduced from the holds of Portuguese ships.
Chillies, coriander and tomatoes were introduced. So too were cashews, aubergines and pumpkins. Potatoes, pineapples and papaya were also among the long list of fruits and vegetables that followed Afonso de Albuquerque and his men into Goa.
An early fusion food
Even centuries ago, chefs were experimenting with new ingredients. They grafted inspiration from one part of the world onto the cuisine of another. Just a few years ago, fusion food was acclaimed as fashionable. In reality, the idea of bringing influences from one cuisine to another is nothing new.
Scan any Goan menu today and you'll see the names of recipes created after the arrival of the Portuguese in India. It's subject material that anthropologists and food historians can really get their teeth into.
Goan pork sausages
So, who influenced whose cuisine? Did homesick sailors, soldiers and administrators long for foodstuffs fondly remembered from their homeland, far away?
Did Goan cooks combine their know-how and the newly available ingredients to come up with winning recipes?
Were the Goan wives of Portuguese settlers encouraged to cook more like their husbands' mothers?
Portugal's influence on Goan food
Hindu dishes consumed within Goa tended to retain traditional vegetarian ingredients. Meanwhile, Christian-influenced Goan food did not shy from using the newly introduced ingredients. Meat also became a characteristic element. Sorpotel is said to be derived from a dish popular around the Portuguese town of Castelo de Vide.
Vindaloo, a dish known in Goa as vindalho, added a piquant combination of garlic and spices to salted pork.
Pork also became a key ingredient of Goan sausage. The popular dish draws heavily on the recipe long-used to make Portuguese chouriço.
How to make Goan sausage
In a time long before refrigeration was commonplace, cured Goan sausages remained edible for up to six months. For seafarers facing the prospect of months aboard a ship, the pork-based sausages offered a tasty addition to the quartermaster's supplies. Shipboard life was tough and dangerous. It's said that Panaji's impressive white Church of Immaculate Conception was constructed so that seamen could offer prayers for their safe passage before setting sail.
For residents of Goa, the sausages represented a tasty source of protein. During the monsoon season, they would have been especially welcome. Unfavourable monsoon tides limited opportunities for fishermen to fish in the Arabian Sea.
During the summertime, prior to the rainy season, Goan sausages would be strung out to dry under the sun. The sunshine offered an alternative to curing sausages in a smoky barrel.
A beach walk in Goa
Otto von Bismarck is reputed to have said, "the less people know about how sausage and laws are made, the better they sleep at night." Bearing that in mind perhaps it makes sense to avoid supplying further meaty details of how Goan sausages are prepared.
Goa's cuisine and coastline complement each other. What could be better for aiding the digestion of an indulgent lunch of Goan delicacies than a long late-afternoon beach walk, barefoot on the golden sand?
Travel to Goa
Air India offers direct flights between London Heathrow and Goa International Airport. The duration of the flights is approximately nine hours and 35 minutes.
See the UK Government website for official Foreign, Commonwealth and Development Office (FCDO) advice about travel to India.
Accommodation in Goa
Search for accommodation in hotels in Goa via Booking.com:


Map of Goa
The map below shows the position of Goa in western India:
Google Map showing the state of Goa in India. Looking for a specific location? Zoom on the map for more details.
Books about Goa
Dreaming of a trip to Goa? You may find the following books worth reading:
The Lonely Planet guidebook to Goa and Mumbai:
The DK Eyewitness
Top 10 Goa
pocket travel guide
The
Essential Goa Cookbook
by Menezes Teresa Maria:
Pervis de Souza's The Goad Grind: The Untold Story of Goa's Ground Masalas and Pastes:
Further Information
Discover things to do and see in Goa on the Goa Tourism and Incredible India! websites.
Stuart is a travel and food writer who has lived in India. He visited Goa several times. His work has been published by The Times of India, The Hindu and Mumbai Mirror. He is based in the northeast of England and available for commissions.
Thanks for visiting Go Eat Do and reading this post about the story of Goan sausage. Thinking about visiting southern India? You may enjoy this post about houseboating on the backwaters of Kerala, India.
If you enjoyed this post why not sign up for the free Go Eat Do newsletter? It's a hassle-free way of getting links to posts on a monthly basis.
'Like' the Go Eat Do Facebook page to see more photos and content.
A version of this post was first published on Go Eat Do on 20 July 2013.