A collection of inspiring travel with friends quotes.
Over the past few weeks, I've been reminiscing about my travels and great adventures. As a person who normally travels regularly, this is by far the longest time that I haven't been out on the road (or sea!). The coronavirus pandemic is, of course, the reason for that time spent at home.
As a result, I've found myself looking through some of the travel quotes that are out there. I decided to collect my favourites together. Hopefully, they will help inspire you to travel with your friends. Maybe they'll help get you past procrastinating too…something which led to this post!
I've decided to round up the best and most inspiring travel with friends quotes. When I've found myself travelling with friends it's been a blast. I've tried to avoid the cornier quotes and collected those mainly from artists, proverbs and movies.  There are a few famous quotes that remain anonymous. I even found a couple of quotes from Winnie the Pooh and Peter Pan!
Travel with friends
I have found 55 inspiring travel with friends quotes and have ordered them into groups to make it easy for you to find the one you want. These are grouped into:
trip with friends quotes
adventure with friends quotes
best friend travel quotes
road trip with friends quotes
travel alone quotes
Each of the travel quotes can be used as a caption for a trip with friends on Instagram or you can use the images for pins on Pinterest.
Trip with friends quotes
#1 Come with me where dreams are born and time is never planned. – Peter Pan
#2 Each friend represents a world in us, a world possibly not born until they arrive, and it is only by this meeting that a new world is born – Anais Nin
#3 Everyone needs this friend that calls and says, "Get dressed, we're going on an adventure. – Terry Allison
#4 Friends don't let friends do silly things alone. – Anon
#5 Friendship is the only cement that will ever hold the world together. – Woodrow Wilson
#6 Good Times + Crazy Friends = Great Memories! – Anon
#7 I have found out that there ain't no surer way to find out whether you like people or hate them than to travel with them. – Mark Twain
#8 If you want to go quickly, go alone. If you want to go far, go together. – African proverb
#9 In life, it's not where you go – it's who you travel with. – Charles M. Schulz
#10 It doesn't matter where you are going, it's who you have beside you that counts. – Anon
Keep on travelling
#11 Keep away from those who try to belittle your ambitions. Small people always do that, but the really great make you believe that you too can become great. – Mark Twain
#12 Life is partly what we make it, and partly what it is made by the friends we choose. – Tennessee Williams
#13 Never go on trips with anyone you do not love. – Ernest Hemingway
#14 People don't take trips, trips take people. – John Steinbeck 
#15 Sharing adventures means enjoying them 100% more. – Anon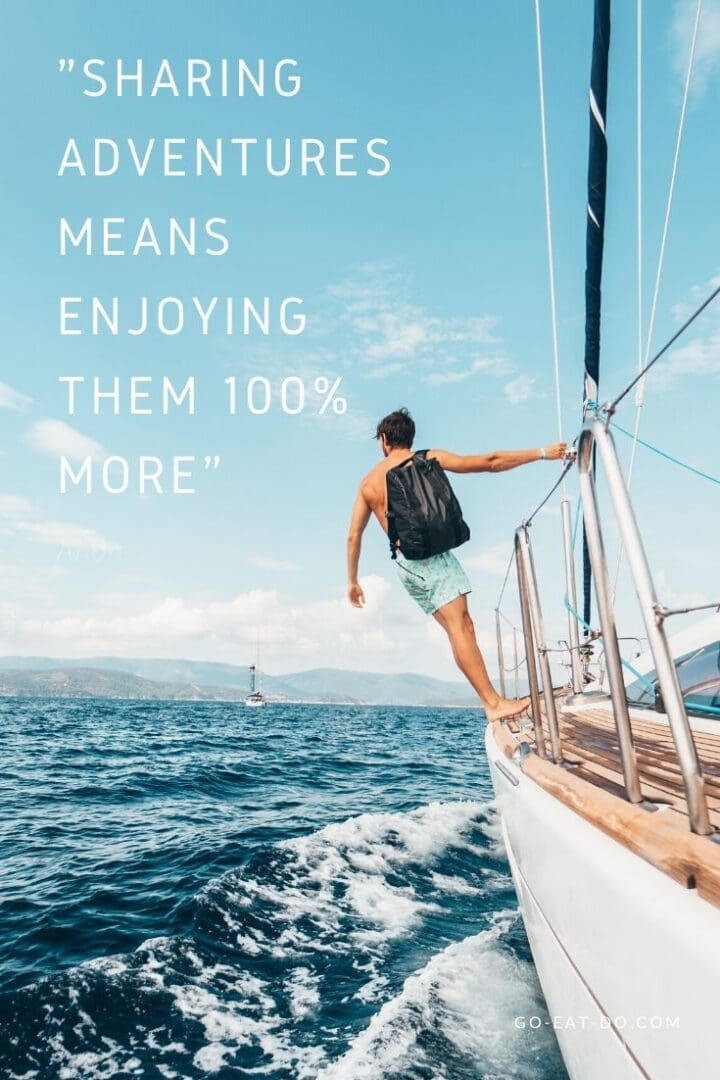 #16 There is an unspoken bond you create with the friends you travel with. – Kristen Sarah
#17 To the world you may be just one person, but to one person you may be the world. – Brandi Snyder
#18 Travel sparks our imagination, feeds our curiosity, and reminds us how much we all have in common. – Deborah Lloyd
#19 Traveling – it leaves you speechless, then turns you into a storyteller." – Ibn Battuta
#20 Wherever it is you may be, it is your friends who make your world. – Chris Bradford
Adventure with friends quotes
#21 A hangover suggests a great night, jet lag suggests a great adventure. – J.D. Andrews
#22 As soon as I saw you, I knew a grand adventure was about to happen. – A.A. Milne, Winnie The Pooh
#23 Here's to all the places we went. And here's to all the places we'll go. – John Green
#24 Life was made for good friends and great adventure – Proverb
#25 There comes a time when you have to stop crossing oceans for people who wouldn't jump puddles for you. – J.L. Sheppard
Best friend travel quotes
#26 A daring adventure with your best friends might be just what the doctor ordered" – Unknown
#27 A good friend listens to your adventures. A best friend makes them with you. – Anon
#28 A real friend is one who walks in when the rest of the world walks out. – Walter Winchell
#29 A true friend is someone who thinks that you are a good egg even though he knows that you are slightly cracked. – Anon
#30 Good friends follow you anywhere. – A.A. Milne, Winne the Pooh
#31 Having a best friend is like having your own little corner of the world to escape to. – Anon
#32 Life by the water is always better, especially with a few good friends in tow. – Anon
#33 The best things in life are the people we love, the places we've been, and the memories we've made along the way. – Anon
#34 Together is our favourite place to be. – Anon
#35 Travelling in the company of those we love is home in motion. – Leigh Hunt
#36 You can pack for every occasion, but a good friend will always be the best thing you could bring!" – Anon
Road trip with friends quotes
#37 A journey is best measured in friends, rather than miles – Tim Cahill
#38 A journey well shared is a journey well enjoyed. – Anon
#39 As with any journey, who you travel with is more important than the destination. – Anon
#40 Friends are as companions on a journey, who ought to aid each other to persevere in the road to a happier life. – Pythagoras
#41 Good company in a journey makes the way seem shorter. – Izaak Walton
#42 It is not the destination where you end up but the mishaps and memories you create along the way! – Penelope Riley
#43 No road is long with good company. – Turkish proverb
#44 Sometimes all you need is a great friend and a tank of gas. – Thelma and Louise
Travel alone quotes
I think I've left the best section until last. I have met some lifelong friends on my travels, that includes when I've been travelling alone. When you find yourself travelling the world, it's often possible to meet up with people who can enrich your appreciation of a place.
 #45 A friend may be waiting behind a stranger's face. – Maya Angelou
#46 Each friend represents a world in us, a world possibly not born until they arrive, and it is only by this meeting that a new world is born. – Anais Nin
#47 I'm in love with cities I've never been to and people I've never met – John Green
#48 If you go looking for a friend, you're going to find they're very scarce. If you go out to be a friend, you'll find them everywhere. – Zig Ziglar
#49 One of the great things about travel is that you find out how many good, kind people there are. – Edith Wharton
Meeting strangers while travelling
#50 The fastest way to make a friend for life is to travel with a stranger – Anon
#51 The more I travelled, the more I realized fear makes strangers of people who should be friends. – Shirley MacLaine
#52 There's not a word yet for old friends who've just met. – Jim Henson
#53 Traveling is a brutality. It forces you to trust strangers and to lose sight of all that familiar comfort of home and friends.  You are constantly off balance. Nothing is yours except the essential things: air, sleep, dreams, sea, the sky – all things tending towards the eternal or what we imagine of it. – Cesare Pavese
#54 We are all travellers in the wilderness of the world, and the best we can find in our travels is an honest friend. – Robert Louis Stevenson
#55 When you decide not to be afraid you can find friends in super unexpected places. – Ms Marvel
Further information
And there you have it, 55 inspiring travel with friends quotes. Have I missed your favourite? Let me know if you have an inspirational travel quote by commenting in the comments field below.
If you enjoyed this post why not sign up for the free Go Eat Do newsletter? It's a hassle-free way of getting links to posts on a monthly basis.
'Like' the Go Eat Do Facebook page to see more photos and content.
Also, you can follow Go Eat Do on Pinterest, where we share pins to help you to inspire you for your next trip or things you can do.