Stuart Forster talks with Victoria Falls resident Basil Mapfumo for insider tips on things to do in Victoria Falls, Zimbabwe.
Disclosure: Some of the links below are affiliate links, meaning, at no additional cost to you, I will earn a commission if you click through and make a purchase.
The Zimbabwean town of Victoria Falls shares its name with the waterfall on the River Zambezi.
The waterfall was named after the 19th-century British Queen by the explorer and missionary David Livingstone. A statue of Livingstone stands within the park overlooking the UNESCO World Heritage Site also known as Mosi-ao-Tunya, meaning 'the smoke that thunders'.
One of the best ways to get an overview of Victoria Falls and the zigzagging gorges around the waterfall is to take the Flight of the Angel helicopter flight.
While I was in southern Africa I spent time in the company of Basil Mapfumo, a tour guide who lives in Victoria Falls. Basil has established the Best of Kaza Torchbearer Awards for tourism and hospitality.
Basil's knowledge of southern Africa is impressive. Here he answers my questions to provide insider perspectives of things to do and where to eat and drink in Victoria Falls, Zimbabwe.
Why should people visit Victoria Falls?
Victoria Falls is one of the Seven Natural Wonders of the World. Due to its height and width, it's one of the biggest water curtains in the world. I think it's one of those places that has to be on everyone's bucket list.
There's also adventure activities and wildlife around Victoria Falls. We have adventure activities, including skydiving and white water rafting. We also have bungee jumping off the Victoria Falls Bridge and a zip line crosses from Zambia into Zimbabwe.
At Vic Falls we have an array of wild animals. Within the town itself, we see a lot of warthogs coming through. We're on the periphery of the national park, where you can see elephants. Within the national park, you can see buffalos, hippos and giraffes are abundant.
You can see hippos and crocodiles during the sunset boat cruise on the Zambezi near Victoria Falls. That's spectacular. People can sit enjoying a drink as the sun sets and watch wild animals.
Where is your favourite place in Vic Falls?
It's undoubtedly the Victoria Falls watefall.
In summer, when it's really hot — during August and September — it's great to get soaked in the spray of the water that falls in the rainforest. The temperature there is always cooler and there's different flora growing compared to the surrounding area. It's very beautiful and amazing science.
In April, May and June when the force of the waterfall is at its peak I don't like going there because it's quite misty and wet there. I prefer to walk to the Victoria Falls Bridge and view the falls from the bridge, which is quite a distance from the spray.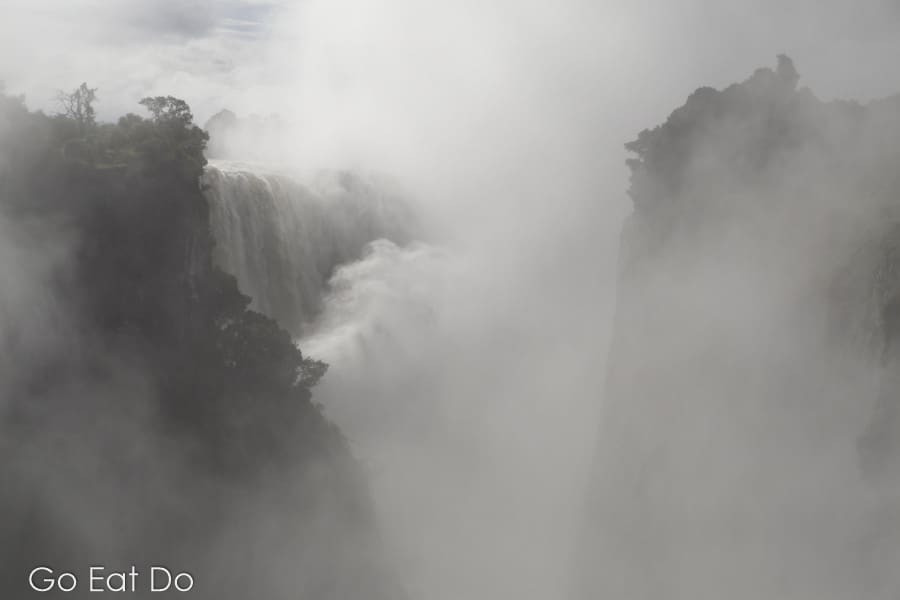 Where would suggest for a meal in Victoria Falls?
My favourite place is the Shearwater Café in the Explorer's Village. It suits everyone's pockets and they serve a range of modern food, so I recommend it.
When I want a local dish I go to Mama Africa restaurant on Victoria Falls Road. That's where we get traditional foods. I personally would order mopane worms, an edible caterpillar that's collected from mopane trees and fried with sadza, a type of thick white mash made from maize, and vegetables.
A traditional boma dinner and drum show is fun too.
Where would you take someone for a drink in Vic Falls?
That would definitely be Zambezi House (Parkway Drive; tel. +263 213 284 1130). It's a nice place with a restaurant. One of the house pizzas, Mr Ngwenya, is topped with crocodile tail.
If I'm staying in town I'd go to the Shoestrings Backpackers Lodge (West Drive 12), which has a bar and a garden.
Where do you recommend if people have a day or two to spend near Victoria Falls?
I would recommend that people cross over to Chobe National Park in Botswana. The chances of seeing Africa's Big Five (cape buffalo, elephants, leopards, lions and rhinoceroses) are quite good. People can take a morning game drive and a boat cruise to see animals. They can make a day visit or take an overnight package in Chobe. It's about 70km from Victoria Falls. It's an easy trip.
Hotels in Victoria Falls
Check room availability in Victoria Falls on the Booking.com website:


Where is the Victoria Falls
The map below shows the location of Victoria Falls on the border of Zambia and Zimbabwe.
Google map showing Victoria Falls, Zimbabwe.
Further information
For more information about things to do and see in and around Vic Falls visit the Victoria Falls Tourism and Zimbabwe Tourism websites. If you want to book Basil as a tour guide when you are in southern Africa, contact him on +263 7759 95985 or via the BestofKaza.com website.
Stuart Forster, the author of this post, has visited Zimbabwe several times. His work has been published by CNN Travel, National Geographic Traveller and Wanderlust.
Illustrating photos are by Why Eye Photography. If you have a project that you'd like to have photographed, call 07947 587136 to discuss your requirements.
If you enjoyed this post why not sign up for the free Go Eat Do newsletter? It's a hassle-free way of getting links to posts on a monthly basis.
Looking to stay in Victoria Falls? Check out this post on Go Eat Do reviewing a stay at the Victoria Falls Hotel.
'Like' the Go Eat Do Facebook page to see more photos and content.