How do you like the idea of combining a red carpet experience with visiting a Christmas market? That's possible in Arras, which hosts the biggest Christmas market in northern France.
Disclosure: Stuart Forster travelled in France as a guest of Pas de Calais Tourisme. Pas de Calais Tourisme did not review or approve this article. 
The Arras Christmas market is held at Grand Place, one of the French city's principal squares. For the duration of the Christmas market, which remains open until 30 December, the cobbles of the square are covered by a red carpet. It features 140 chalet-style stalls, a Ferris wheel, an ice rink, an old-fashioned carousel plus a 32-metre luge run.
The seasonal event in Arras attracts a mixed audience of families, couples and groups of friends. Judging by several of the voices that I overheard, it proves a hit with visiting Britons.
Visiting Arras Christmas market
The market remains open until 10.00 pm on Friday and Saturday evenings, meaning plenty of time to sip warming vin chaud (mulled wine) and chat. It is open until 8.30 pm on other days. The stalls open at 10.00 am on Saturdays and Sundays, and at noon on other days.
"It's the sixth year we are here at Arras," said Thomas Delforge who is from Brussels, Belgium, which lies a little over 140 kilometres (80 miles) northeast of Arras. He runs the Doctor Steam Bar, which serves vin chaud from copper vessels.
"For me, Arras is one of the most beautiful cities in France, maybe in Europe. It's very nice to work here, with good people and good conditions. For the business, it's a very good place for us. Belgian chocolate is very appreciated here in France they don't have the same one — we have Belgian chocolate!" he said, as, instead of trying his hot chocolate, I sipped a cup of his mulled wine fortified with a shot of rum.
"I think the best day is a Friday. In the first hour, you can do the shopping easily, there is not so many people. In the evening you have more people. You have music, you can drink and have a good time," suggested Thomas, when I asked for a tip on visiting the market.
Security at the Christmas market
In an age of security concerns because of terrorism, you may be reassured to know that guards check visitors' bags at gates that control entry into the Arras Christmas market.
Vehicles and concrete barriers block access routes to Grand Place. Soldiers patrol the surrounding area with automatic weapons.
Christmas shopping in Arras
I have a shoddy record of Christmas shopping. Unfortunately, I have that tendency to leave gift buying to the last moment. Why? I don't know and can offer no excuses. Particularly not after visiting this Christmas market.
Wandering between stalls of the Marché de Nöel d'Arras, as the market is known in French, I had plenty of opportunities to purchase presents and many ideas for gifts. I noted stalls selling jewellery, cheeses, hats and, inevitably, handcrafted Christmas decorations.
The wooden stalls are attractively laid out and fronted with lights that make them ideal backdrops for seasonal selfies. There was one selling maple syrup and products from Quebec. Another was stocked with Racing Club de Lens football merchandise.
One particularly tempting stall had a wonderful display of nougats stacked likes wheels of cheeses. I made a purchase, intended as a gift, but consumed it while exploring other stalls. I tore off the tiniest of slivers, just to taste, and one thing led to another. Within minutes the entire piece was gone. Ultimately, I left the market empty-handed.
Le Marché de Noël d'Arras
Prior to leaving, I tasted some of the seasonal produce available at the market. Waffles, foie gras and hot chestnuts count among the specialities sold. Charcuterie and pate, macaroons plus delightfully presented pastries were available too.
Yet it was to the Thierry Petit stall that I headed, for a platter of oysters and white wine.
"My father is an oyster farmer near La Rochelle," said Julian Petit, explaining the name of the stall, while taking a short break from shucking oysters. The stall sells shellfish harvested by the family-run business, which has been established for over 30 years.
"Near our home, there are a lot of oyster farmers. It's very far to La Rochelle and we are alone here. At home there aren't any Christmas markets," explained Julian, who first set up a stall to sell oysters at the Marché de Nöel d'Arras in 2016. His father, meanwhile, has been selling oysters at the market in Béthune since the turn of the millennium.
Best view of Arras Christmas market
For an overview of the market, and an opportunity to take photos, I took a spin on the 35-metre high Ferris wheel — La Grand Roue — that stands on the Grand Place.
Most of the other people waiting to ride the wheel were couples, undoubtedly looking forward to a romantic moment together high above the Christmas market.
It's certainly somewhere I'd be tempted to bring my partner in future. That said, the chance to do so may be wishful thinking if I don't find her a suitable Christmas gift this year.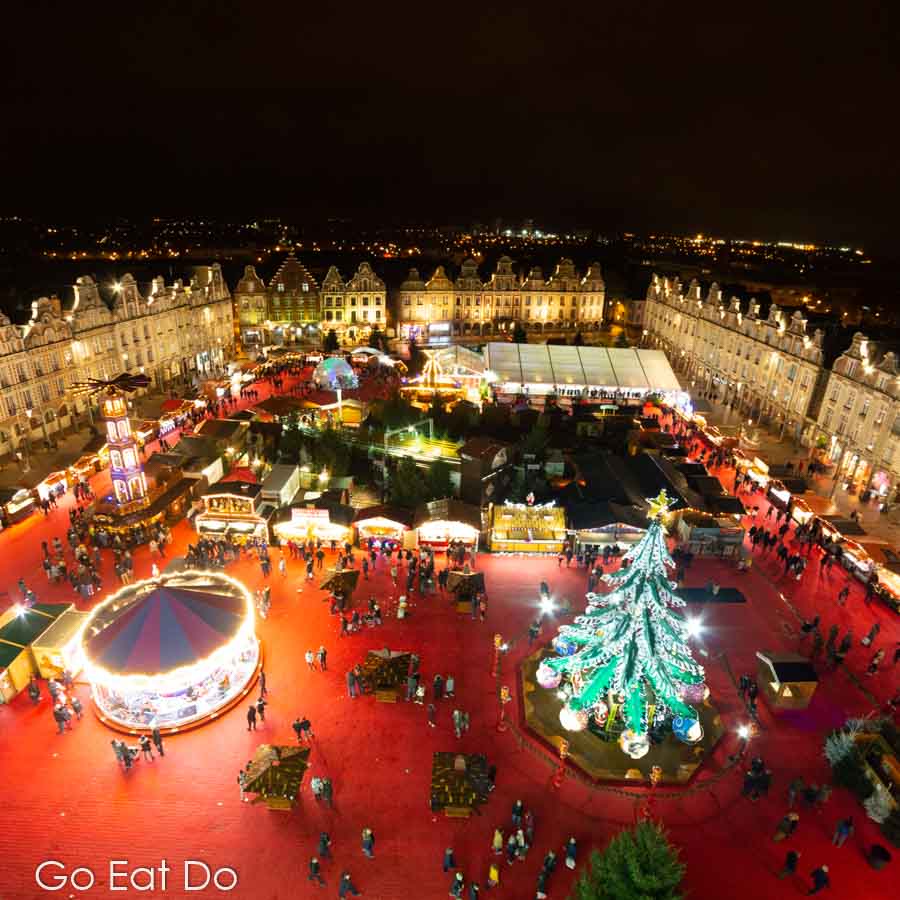 Travel to Arras
If you are travelling from London, one of the easiest ways of reaching Arras is by rail. Eurostar has frequent departures from the London St Pancras International railway station. Take the Eurostar to Lille or Paris then a connecting train to Arras.
Hotels in Arras
The Hotel Mercure Arras Centre Gare (58 Boulevard Carnot, 62000 Arras; tel. +31 (0)3 2123 8888) is a central, four-star property with 80 modern guestrooms, including nine family rooms. There's a bar by the lobby and a restaurant on the ground floor. The hotel is a five-minute walk from Grand Place, the location of Arras's Christmas Market.
Behind the reception desk, you'll see a frieze showing details from a woodcut depicting the fall of Arras in 1640. Instead of showing traditional armies fighting, it shows uniform-wearing cats and rats in conflict. The cats depict the French army while the rats were the defenders of Arras. Until the city's conquest in 1640 it was ruled by the Habsburgs as part of the Spanish Netherlands.
Why the cats and the rats? A popular song from long ago suggested that when cats had eaten the rats, then Arras would become French.
A fast Arras fact…
Maximilien Robespierre was born in Arras in 1758. He supported the abolition of slavery on French territory and signed the decree that made it illegal in 1794. Robespierre was closely associated with the French Revolution's Reign of Terror. He was himself guillotined, at the Place de la Révolution in Paris, on 28 July 1794.
One more thing…
If you enjoy military history, don't miss the opportunity to visit the Wellington Tunnels (La Carrière Wellington) while in Arras.
The tunnels were dug out of the chalk that runs below the city ahead of the Battle of Arras, which began on 9 April 1917. Guided tours show doodles on the walls and explain how the tunnels enabled Allied troops to move unseen towards the front line prior to the dramatic start of the battle. Entrances to the tunnels were exploded outwards ahead of the attack on German lines that saw fighting from Bullecourt to Vimy.
Further information
Find out more about things to see and do in the city on the Arras Tourist Information website. For details about the Christmas market in Arras visit the French language Marché de Nöel website, which lists the market's opening times.
Discover more about the city and the surrounding region on the Pas de Calais Tourisme website.
The France tourism website also has information that may be useful if you are planning a trip.
Stuart Forster, the author of this article, is based in the northeast of England. Stuart is available for freelance commissions. Feel free to make contact via this website or by calling +44 (0) 7947 587136.
Photographs illustrating this post are by Why Eye Photography.
If you enjoyed this post why not sign up for the free Go Eat Do newsletter? It's a hassle-free way of getting links to posts on a monthly basis. If you'd like to sponsor a post on Go Eat Do please get in touch.
'Like' the Go Eat Do Facebook page to see more photos and content.