Stuart Forster reports on the experience of dining in the Fusion restaurant at the Ramside Hall, Durham.
How come so many people already know about this place? That thought ran through my head while dining at Fusion, the informal, pan-Asian restaurant on the edge of Durham.
Disclosure: Stuart was invited to dine as a guest of the Fusion restaurant. Ramside Hall did not review or approve this post.
Fusion is at the Ramside Hall, a long-established hotel in the Carrville district of Durham. Since I last visited, as a child accompanying my parents and grandparents, the Ramside Hall has added two golf courses to its expansive grounds and opened a stylish looking spa. The Fusion restaurant is located within the hotel's spa extension.
Our table was located by a partition providing views of the spa's tempting hydrotherapy pool. It looks a relaxing place to while away a few hours.
A Monday night in Fusion
Despite dining on a Monday night, Fusion was busy. Soft music, subtle lighting and the chatter of dozens of conversations helped create a convivial atmosphere.
The majority of tables were occupied; some by hotel guests, others by locals on an evening out. The couple at the neighbouring table were clearly meeting for a first date. As we left they were sitting by the pewter-topped bar drinking cocktails together — things were obviously progressing well.
If their initial meeting does flourish into a relationship then they have set the bar high, in terms of choosing venues for future dates. Locally, the Ramside Hall has an upmarket reputation. That said, Fusion's vibe impressed as being pleasantly laid-back.
A bar and restaurant
An oval bar sits at the centre of the lower part of Fusion's dining room. Wall-mounted televisions screen live coverage of sporting events. Dining on Asian-style tapas at the bar is one option open to diners.
A wooden screen and branches decked with faux cherry blossom help separate the bar area from the upper part of the dining room. Framed pictures of Asian faces and a dynamic looking auto-rickshaw hint at the pan-Asian influence on Fusion's menu.
Selecting from Asian starters
Glancing down the menu I spotted a handful of starters that I'd happily have tucked into, including Thai-style tom kha gai soup, shredded duck pancake and chicken satay.
We opted for a portion of tender calamari and soft shell crab. Though served with garlic mayo and sweet chilli sauce, the subtle flavour and moist texture of the batter-encrusted crab meant it was a pleasure to devour undipped.
Kukky, our server, proved attentive throughout the evening, ensuring that our water glasses were regularly topped. If it had been a weekend perhaps we'd have been tempted to place an order for a cocktail or bottle of wine with her. But our Tuesday schedules were busy. We kept our drink consumption to a fruit-based mocktail and a single glass of Malbec. (A handful of Fusion's wines are served in 175ml or 250ml measures.)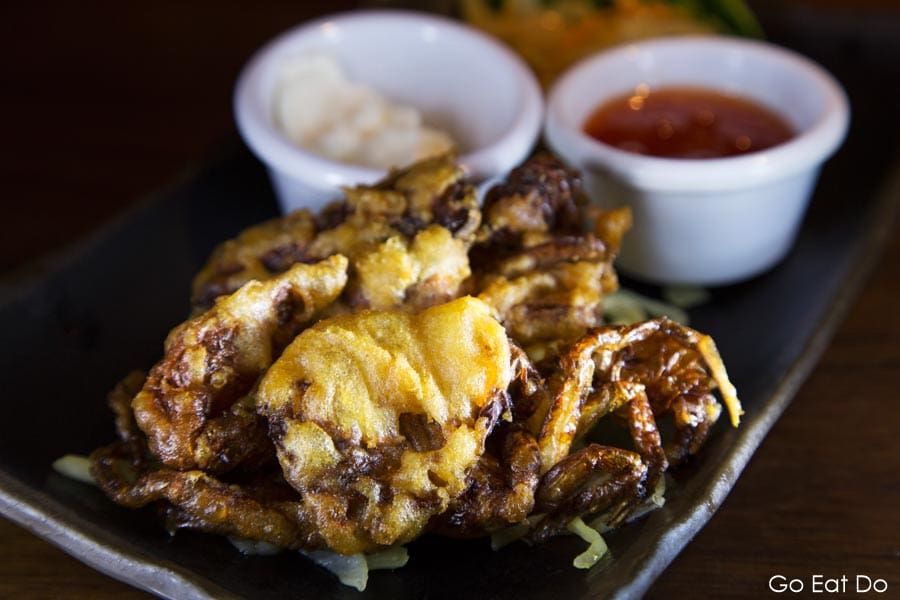 Sushi and dim sum options
Sushi, dim sum and Bento boxes — featuring any four from a selection of dishes and served with jasmine rice — meant we could have maintained a meat-free Monday.
That was never going to happen after Kukky mentioned that the day's special was fillet steak in a garlic and pepper sauce.
For a moment I was veering towards lambchop with massaman curry but at the last moment ducked away. The prospect of crispy duck with pak choi, green red chilli and udon noodles proved irresistible. The tenderness of the succulent breast meat, which came sliced and topped with coriander, made it a pleasure to consume.
After wavering, envious glances towards the slice of cheesecake served at a nearby table was enough the ensure we enquired after desserts. We weighed up the idea of ordering a bento box, containing a little of each dessert, before sharing a crème brulee, topped by mango segments, and served with lavender shortbread.
The food, service and ambience of Fusion combined to make a positive impression. Judging by the restaurant's popularity, that's clearly no secret among the foodies of north-east England.
Further information
Fusion is one of the restaurants at the Ramside Hall (Carrville, Durham, DH1 1TH; tel. 0191 3865282), 10 minutes' drive from the centre of Durham City. The Ramside Hall is a four-star hotel with two 18-hole golf courses, a driving range with 16 bays, plus a state-of-the-art spa and gym.
Fusion serves brunch (8.30-11.00am), lunch (noon-5.00pm) and afternoon tea (2.00pm-5.00pm), as well as dinner (5.30-9.30pm).
See the This is Durham website for more information about things to see and do in County Durham.
Photos illustrating this post are by Why Eye Photography.
If you enjoyed this post why not sign up for the free Go Eat Do newsletter? It's a hassle-free way of getting links to posts on a monthly basis.
'Like' the Go Eat Do Facebook page to see more photos and content.