Stuart Forster heads to Sweden and stays at Berns – a Stockholm boutique hotel and more.
Berns, I learn during my two-night stay close to central Stockholm's Nybroviken Harbour, is more than just a hotel. You might think it smacks of marketing speak to describe a hotel as an institution but this place is worthy of the term.
Disclosure: Some of the banners and links below are affiliate links, meaning, at no additional cost to you, I will earn a commission if you click through and make a purchase.
Heinrich Robert Berns, a successful pastry chef, established his café-cum-concert hall, Berns Salonger, at this site back in July 1863, with an orchestra proving a popular draw. Today it's also a live music venue, a nightclub and has two restaurants. The hotel side of the business was established just a generation ago, in 1989. Berns is a chic yet affordable boutique hotel with 82 individually furnished guestrooms, designed by Olle Rex and displaying original artworks.
Stockholm's cultural scene and nightlife

This hip venue has its finger firmly on the pulse of Stockholm's cultural scene. Berns partners with the city's fashion and art weeks, as well as the film festival, which explains why you'll see photos of actors displayed around the hotel. It also means you'll be able to get hold of tickets for fashion shows if you're around during Stockholm Fashion Week (held in mid-May).
On arrival the reception staff prove personable and well-informed about Stockholm's attractions, helping me to orientate and find attractions and bars. Their willingness to chat is welcoming and they strike a balance between professionalism and informality.
Chic accommodation in boutique rooms
I'm staying in room 508, which has a flat-screen TV at the foot of the bed, on top of shelving containing a number of coffee table books on art, Swedish design and photography. I grab books on Helmut Newton and Andreas Gursky and flick through them while relaxing on the leather sofa. My room also has a desk and French windows. The mirrored bathroom has rainfall and power showers plus a gorgeously scented range of Malin and Goetz skincare products, including a rum body wash.
Berns is no stranger to visiting stars and dignitaries. Guests have included the Dalai Lama and Bill Gates. The hotel made the news a few years ago when the Spice Girls shocked neighbours by sunbathing topless. The terrace they appeared on is visible from my room.
Live music by international stars
Long before the hotel was built the Stora Salongen, an ornate music hall, was drawing people to Berns. The hall dates from 1886 and holds up to 1,200 people. A number of top international performers have appeared over the years. In 1968 the Supremes and Aretha Franklin played, and in 2012 Rihanna performed. The Prodigy, Lady Gaga and Bob Dylan are also among the names to have been on the stage. With bas-relief stucco, gilded artwork and chandeliers it's not the kind of place I immediately associate with the pop and rap acts who'll be performing over the months ahead.
"I have a deluxe room above the stage that used to be the dressing room of Marlene Dietrich and displays photos of her," says Annika Frisch, Sales Manager at Berns, as we chat on the balcony. Dietrich performed here more than 20 times over a five-year period. She is, of course, one of the divas widely adored within the gay community, which the hotel welcomes.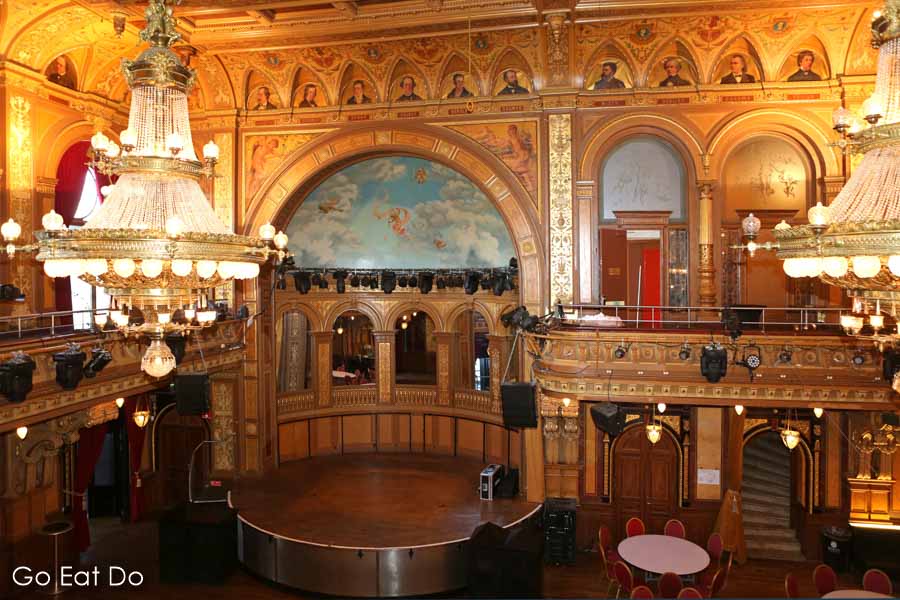 Nightclub, bar and restaurant
Berns tends to become busy at weekends and is popular for its basement nightclub, 2.35:1, named after the format of video films once shown there. The décor of the club changes every three to four months, with original artwork by Swedish artists displayed on the walls. The club remains open until 5.00 am but I don't notice the sound from my bed.
A buffet breakfast is laid out in the conservatory of the original hall, which has mirrored walls, chandeliers and booths with leather seating. Since 1940 it has hosted an Asian restaurant, Asiatiska (+46 (0)8 5663 2766), for which reservations are highly recommended. DJs perform on evenings from Thursday to Saturday. I book a seat at the sushi bar. The chefs prove entertaining, working with verve to prepare sushi and sashimi dishes. As the evening progresses the place takes on the feel of a lounge bar.
Sipping on a Swedish wheat beer I mull my options for the night ahead. Do I stay here for the evening or head out to a nearby bar?
Book accommodation at the Berns Hotel
Check room availability at the Berns Hotel via Booking. com:


Getting to Berns
The Berns hotel is by the Berzelii Park (Post Box 16340, 10327 Stockholm, tel. + 46 (0) 8 5663 2200). See the map, below, for details regarding the hotel's location:
Google map showing the location of the Berns hotel in Stockholm.
Further information
See the Berns website for more information about the hotel, room prices and availability, and to make a room or table reservation.
The hotel also has a compact fitness room plus eight meeting and conference rooms. Berns Bistro and Bar (+46 (0)8 5663 2515) also serves French-style cuisine in the pavilion next to the hotel.
Guests booking rooms directly with the hotel can take advantage of a weekend package providing a VIP wristband giving priority access and free entrance to 2.35:1 plus five other leading Stockholm nightclubs (Ambassadeur, Hell's Kitchen, Sturecompagniet, The Spy Bar and The White Room).
The Visit Stockholm website has information about things to do and see in Sweden's capital city.
If you enjoyed this post why not sign up for the free Go Eat Do newsletter? It's a hassle-free way of getting links to posts on a monthly basis.
'Like' the Go Eat Do Facebook page to see more photos and content.