Stuart Forster takes a boat to Huraa Island in North Male Atoll and experiences visiting one of the Maldives' local islands.
Disclosure: Some of the links below and banners are affiliate links, meaning, at no additional cost to you, I will earn a commission if you click through and make a purchase.
Bleached coral crunches under the soles of my sliders as I step along the beach on Huraa Island. Tiny pieces tinkle like glass breaking as I move towards the shoreline. The finger-long chunks of coral look like a cross between pitted, sun-dried bones and white-painted tree branches. A handful of twisted palm fronds lies scattered on the whitened coral.
Coral plays a significant role in attracting travellers to the Maldives. The country's 26 atolls host nearly 200 species of hard corals. The coral reefs are part of a biodiverse ecosystem that supports more than 1,100 fish species plus many types of crustaceans and molluscs.
Diving in the Maldives
Underwater visibility in the Maldives is exceptional for much of the year. Tropical sunshine means the seawater is a pleasant temperature to dive and snorkel in. Yet in 2016 a spike in seawater temperatures, a manifestation of the El Niño weather phenomenon, caused widespread coral bleaching.
The Indian Ocean's tidal flows bring a feast of plankton, explaining the presence of whale sharks and manta rays. Those creatures, plus the wealth of colourful reef fish, explain why the Maldives has long been regarded among the world's best destinations for diving holidays.
Holidays in the Maldives
Over time, dead coral is transformed into white sand that feels pleasantly soft under bare feet. Beneath leaning coconut palms and clear blue skies, Maldivian beaches look idyllic. Images snapped during sunset strolls are ideal for envy-inducing posts on Instagram. No wonder so many couples head to the Maldives for honeymoons and romantic breaks. Rocking in hammocks, soaking up the sun, taking dips in the tropical water and dining together over good food count among the ways of passing time.
The first of the Maldives' island resorts opened back in 1972. The 'one island, one resort' policy proved a winning formula. More than 130 have opened since.
Maldives island resorts
Those Maldivian resorts and private islands have become synonymous with luxury travel. Overwater villas, beachfront bungalows and architectural masterpieces with underwater rooms count among the array of upscale accommodation options. All-inclusive packages encompassing drinks and dining are commonplace.
For travellers wishing to spend time together and enjoy long hours of sunshine, the Maldives' island resorts are ideal. Serious scuba divers and snorkellers may prefer accommodation aboard boats and yachts that tour the best dive sites in the Maldives.
Visiting the Maldives
Yet the island resorts mean visiting tourists have limited contact with Maldivian people in their home environment. Being islands, visitors tend only to have opportunities to meet those locals employed at the resorts they're staying at and people working on inter-island transport.
As a traveller accustomed to independently making my way around the world, I enjoy interacting with local people and being exposed to the traditional culture and cuisine of destinations. Spending time on a so-called 'local island' makes that possible in the Maldives.
Maldives on a budget
In 2009 it became possible to stay on islands permanently inhabited by Maldivian citizens. Around 200 of the Maldives 1,192 islands are inhabited.
They are known as local islands, to differentiate them from resort islands, visitors can expect a more grounded experience. Some of the local islands have hotels but guesthouses dominate accommodation listings.
That's true here on Huraa Island where there's just one four-star hotel, the 32-room Pearl of Sands Maldives on the island's northern tip, plus a smattering of guesthouses. The hotel has a private beach for use by guests.
Islands in the Maldives
The Four Seasons Resort Maldives is across a strait off the island's southern tip. I could probably swim the distance in a minute or two.
Beyond mangroves to the north is Kanifinolhu Island, the location of a Club Med resort.
Away from resort islands, Islamic values dominate everyday life. That means consumption of alcohol is forbidden on local islands. Visitors are expected to dress demurely away from demarcated 'bikini beaches'. Reserved for foreigners, swimwear is permitted on bikini beaches.
My choice of a long-sleeved T-shirt and knee-length shorts meets expectations for modesty as I walk about the tiny island. A broad-brimmed hat helps shield me from the sun along with a lathering of factor 50 sun cream.
Geography of the Maldives
The country's entire landmass measures just 298 square kilometres. That means the Maldives could fit into London five times over and still leave space.
Yet the atolls and islands are dispersed across an area of ocean measuring more than 800 kilometres (500 miles) from north to south.
I'm here on Huraa Island in the company of a guide named Athuhar. He's not so much as flinching while walking barefoot on the coral.
A group of local youngsters kick a football about, laughing and chatting in the language of the Maldives, Dhivehi. One of the lads wears a yellow Borussia Dortmund shirt.
Athuhar picks a spot to chat under the shade of a banyan tree. Vines hang from the tree like twisted strings. Eventually, they will implant themselves into the sandy earth by the waterfront and support the growing tree.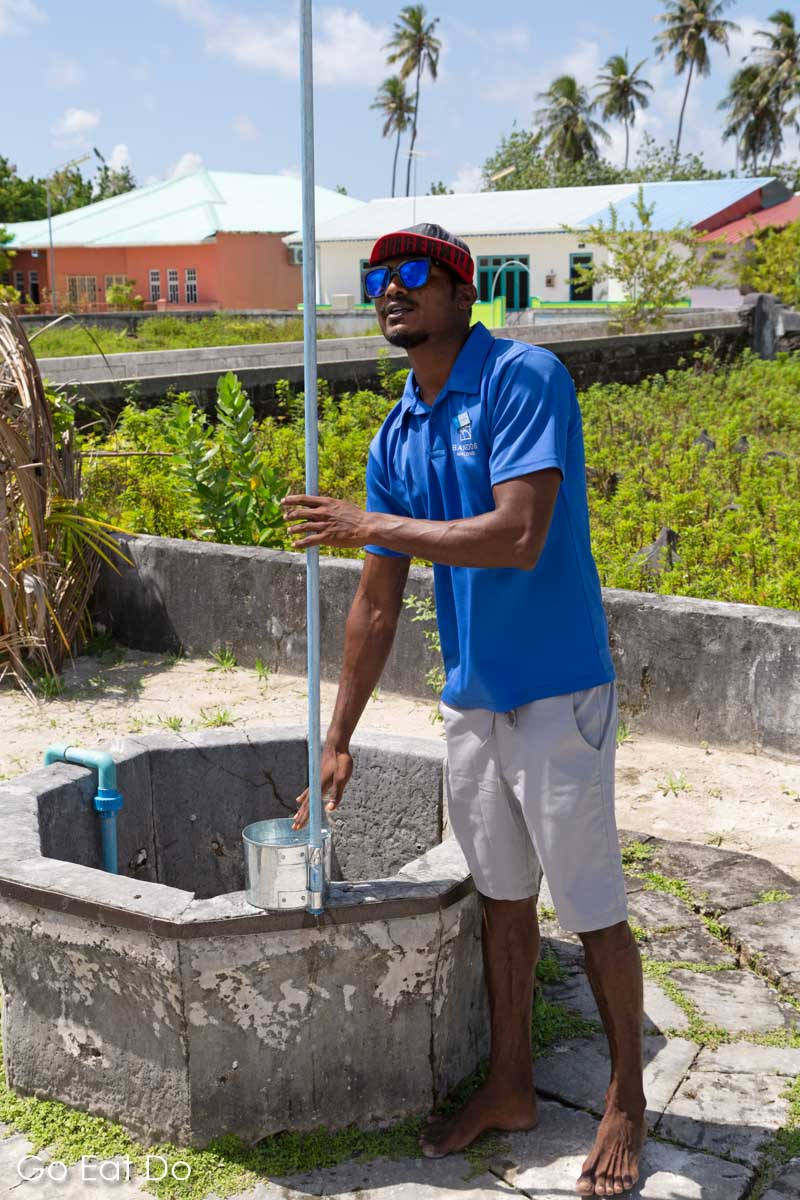 He explains that the tsunami of 2004 detrimentally affected Huraa Island's groundwater supply. Consequently, locals collect rainwater to drink.
Pretty much all the food consumed here must be imported. Fish is not. After the tourism industry, fishing is the second largest industry in the Maldives. Coconuts dangle in bunches from palm trees.
Building in the Maldives
Palm leaves used to be used to thatch roofs. Athuhar tells me that modern Maldivian homes tend to have metal roofing which results in them being warmer than older, traditionally built houses.
He points out a wall made from chunks of coral. Naturally abundant, traditionally people used it to construct their homes. The pieces are bound by a mortar made using coral burnt to a powder and then stored in the ground.
As we walk through town we pause by a tiny burial ground surrounded by a wall that rises to the height of my knee. Interlaced geometric patterns are sculpted into the majority of the headstones. Four of the stones rise to a point, which denotes the grave of a male. Two are arched, signifying female graves.
An unlocked bicycle leans by a yellow wall at the back of a house. I wish it was possible to leave a bicycle unlocked back at home and feel confident it would still be there when I returned. We stroll along the concrete-surfaced lane towards shops.
Locals mill about chatting with one another. They greet us and we head towards the island's freshwater lake and football field.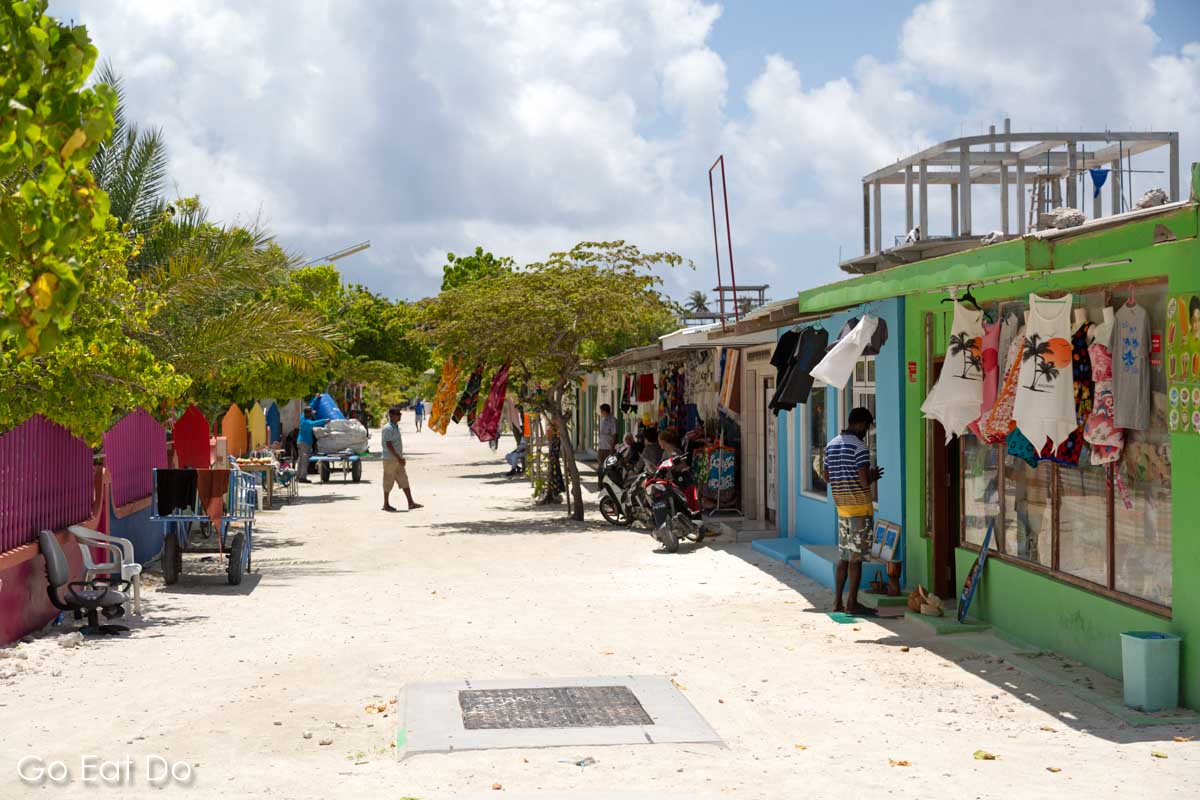 By the harbour, I spot nets on metal frames and wonder if they are for drying fish. Judging by the moored boats, many of the locals still make their living fishing.
It's been pleasant to stroll around Huraa Island and gain impressions of everyday life in the Maldives.
Map of Huraa Island
The map below shows the location of Huraa Island in North Male Atoll:
Google Map showing Huraa Island, one of the local islands in the Maldives.
Getting to Huraa Island
Ferries run between Huraa Island and Male. The journey takes around an hour.
Travelling by speed boat cuts the journey time between Male and Huraa Island to around 25 minutes.
Local island tours are offered from luxury resorts.
Cheap Maldives accommodation
Overnight accommodation in guesthouses on Huraa Island costs a fraction of staying at one of the Maldives island resorts. This type of accommodation opens the Maldives to budget travellers.
Search for rooms on Huraa Island via Booking.com:
Travel to the Maldives
I travelled to the Maldives on a Qatar Airways flight from London Heathrow Airport. British Airways is one of the airlines offering flights to and from Velana International Airport in the Maldives.
Tourists flying to the Maldives are required to take a PCR test to prove that they do not have COVID-19. The negative PCR certificate must be issued less than 96 hours before the scheduled departure.
See the UK Government website for official Foreign, Commonwealth and Development Office (FCDO) advice about travel to the Maldives.
When to visit the Maldives
The most popular time of year to visit the Maldives is from December to March. That coincides with the northeast monsoon (November until April). It's actually the Maldives' driest season and an optimal time for scuba diving and snorkelling.
The southwest monsoon brings rains. The wettest months of the year are typically July and August though weather patterns are proving increasingly difficult to predict. That may mean nothing more than short, heavy showers. Accommodation prices dip during the southwest monsoon season, meaning it can be the best time of year to visit the Maldives to get a value for money holiday at a luxury resort.
Activities in the Maldives
A night fishing expedition presents opportunities to learn the traditional Maldivian technique of fishing with a reel. After spending a couple of hours at sea the catch is then grilled and served for dinner.
Boat cruises are a way of viewing islands and seeing dolphins swimming alongside the prow of the boat.
Night diving and drift dives are popular among experienced scuba divers. Many PADI-affiliated dive centres operate in the Maldives, meaning opportunities for beginners to learn and acquire Open Water certification.
Golf in the Maldives
Don't bother heading to the Maldives if you're a keen mountain climber and looking for high-altitude action. The country's highest point stands just five metres above sea level.
The Maldivian landscape summits at the eighth tee of the nine-hole golf course on Villingi Island in Addu Atoll.
Did the golf course designers miss a trick? If a hole had been placed there instead of a tee it would have given golfers opportunities to recreate scenes from the top of Mount Everest after holing their putt. Planting the flag back into the hole could have become one of the Maldives' iconic images.
Books about the Maldives
Planning a holiday? You can buy the following books from Amazon by clicking on the links or cover photos:
A.S. Ryanskiy's Coral Reefs Maldives:
The
Lonely Planet Maldives
guidebook:
Shaai Sattar's Cook Maldives featuring traditional Maldivian recipes:
Further information
Looking for more information about the Maldives? Take a look at the Visit Maldives website.
Stuart Forster, the author of this post, is a travel writer based in North East England. An award-winning travel writer, his work has been published by national newspapers, travel magazines and leading travel websites.
Thank you for visiting Go Eat Do and reading about visiting one of the Maldives' local islands. Interested in visiting the Maldives? You may enjoy this post about Bandos Maldives resort in the Maldives.
Photos illustrating this post are by Why Eye Photography.
If you enjoyed this post why not sign up for the free Go Eat Do newsletter? It's a hassle-free way of getting links to posts on a monthly basis.
'Like' the Go Eat Do Facebook page to see more photos and content.
A version of this post was initially published on Go Eat Do on 1 May 2021.