Stuart Forster goes cycling around the Lakeside Way at Kielder Water and Forest Park in Northumberland, England.
The Lakeside Way loops for 26 miles around Kielder Water, the reservoir which Queen Elizabeth II opened on 26 May 1982. The trail is popular with cyclists and completing it makes for an enjoyable, in places challenging, day out.
Disclosure: Some of the links below and banners are affiliate links, meaning, at no additional cost to you, I will earn a commission if you click through and make a purchase.
Cycle hire at Kielder Water
I'd long wanted to cycle the Lakeside Way, which skirts the shore of Britain's biggest artificial lake by volume; Kielder Water holds up to 200 billion litres of water. Myself and my partner Helen decided to hire a couple of mountain bikes to circumnavigate the lake, following the marked cycle route around Kielder Water.
We reasoned that hiring cycles would be easier than faffing about trying to cram our own bikes into the car. It also meant we wouldn't need to worry about cleaning them down afterwards.
After checking that the weekend weather forecast looked reasonable, I phoned The Bike Place — at Kielder Waterside — to reserve a couple of mountain bikes two days in advance of our adventure. At 6'4" I wanted to ensure I had a bicycle with a suitably large frame.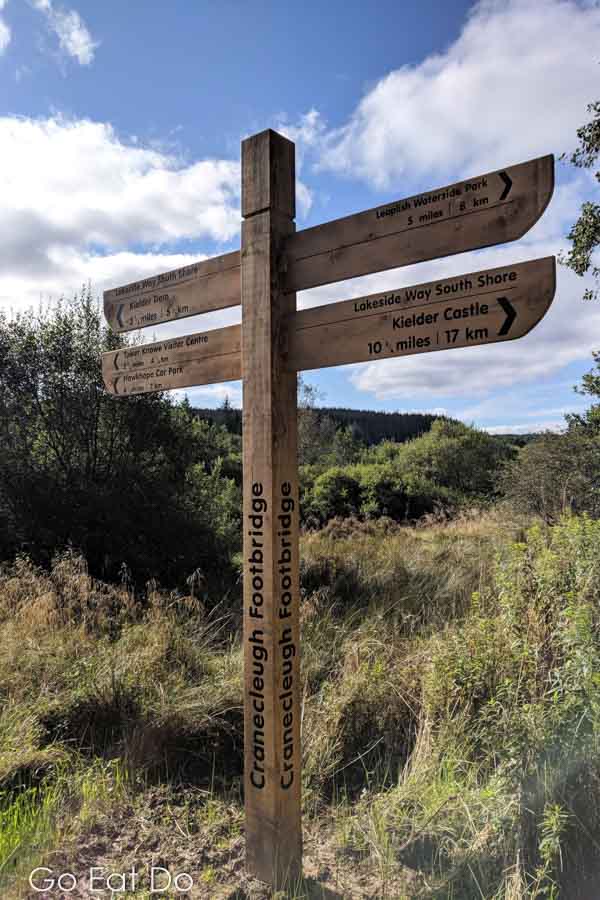 Northumberland International Dark Sky Park
This was our first visit to the area since a springtime visit to Kielder Observatory. During that trip we spent an evening listening to informative talks by astronomers then viewed stars and planets using the observatory's telescopes.
With an area of 572 square miles, Northumberland International Dark Sky Park is the largest expanse of its type in Europe. Subject to the night sky being clear and adequate geomagnetic activity, the Northern Lights can be viewed around Kielder.
We signed up for aurora alerts with the intention of heading back when conditions are ideal. When the Kp-index reaches seven the prospect of seeing the aurora borealis in northern England is good. (In case you're wondering, the index's name is derived from a German term, Planetarische Kennziffer, which is usually translated as 'planetary index'.)
The art trail at Kielder Water
Our intention was to cycle steadily along the trail and pause to view the art installations dotted alongside the Lakeside Way.
Freya's Cabin, on the southern shore of the lake, was our first stop. A creation of Studio Weave, it stands opposite Robin's Hut, which overlooks Kielder's northern waterfront. This is just one of the artworks that you can spot when you cycle around Kielder Water.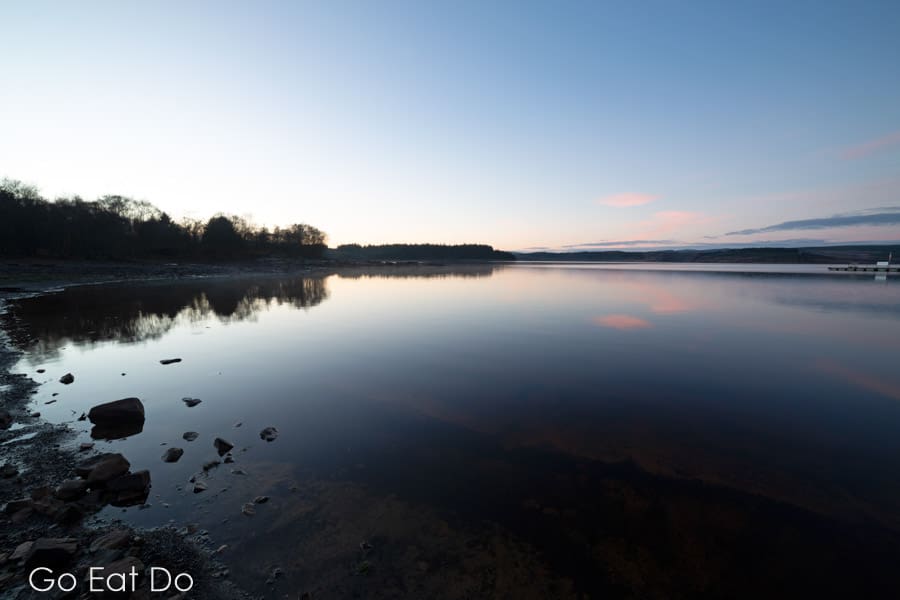 Viewing flora and fauna along Kielder cycling route
Previous trips to Kielder yielded sightings of roe deer and ospreys, a bird of prey reintroduced to the region in 2009. Pine martens were spotted for the first time in Kielder Forest during 2018.
About half of England's population of red squirrels live in the area. Woodland hides present opportunities to view the rare mammals along with bird species such as chiffchaffs and coal tits.
An inquisitive red-breasted robin came within a couple of metres of us as we readied ourselves by the car. Sedge warblers and whitethroats darted by as we cycled. A grey heron studied the water for prey close to where the Lewis Burn flows into the reservoir.
Adders, the only native venomous snake native to the United Kingdom, give birth to live young during August and September. Unfortunately, we didn't see any as we pedalled around the lake.
Kielder's mushrooms and Toadstools
Cycling the Lakeside Way in autumn presents opportunities to see the wide variety of fungi that thrives from August into November. The mushrooms and toadstools varied in colour from pale blue to vibrant orange. Their forms reminded me of clusters of open umbrellas, discarded bowls and pointing fingers.
Arguably the most photogenic toadstool was the fly agaric. Red with white spots resembling a sprinkling of little chunks of marshmallow, they look like something from the pages of a fairy tale.
Cycling the Lakeside Way
We followed an anti-clockwise route around the lake. In places the Lakeside Way is quite a few metres inland, running through woodland; it doesn't hug the shoreline.
It follows an undulating course, particularly on the north side of the water. Be prepared for a workout. In places, the gravel track is steep and winding.
Kielder Dam, at the eastern end of the reservoir, represents one of the longest stretches of flat cycling along the 26-mile route. A control tower rises from the water close to the dam; known as the Valve Tower, the austere-looking concrete structure is 70 metres tall but most is beneath the lake's surface.
Aiming to cycle around Kielder inside of four hours while pausing along the way to view the landscape, birdlife and artworks proved a challenge. We underestimated. With the benefit of hindsight — now that I've climbed those hills on the northern shore — I'd pack a picnic and make a day of it.
Kielder Castle plus the area's various hides and art installations mean there are plenty of places to pause while cycling the Lakeside Way at Kielder Water and Forest Park.
Travel to Kielder Water and Forest Park
Newcastle to Kielder Water and Forest Park is 52 miles. The drive takes approximately 80 minutes on the route along the A69, A68 and B6320.
Kielder Water map
Zoom into the map of Kielder Water below to see details of the area around the reservoir:
Google Map showing the location of Kielder Water.
Planning a trip? You may find a copy of the Kielder Water and Forest Ordnance Survey Explorer Map (OL42) useful:
Kielder accommodation
Looking for Kielder Forest accommodation or places to stay near Kielder? Search for accommodation in Northumberland and Cumbria via Booking.com:
Walks in Northumberland
Enjoy the idea of getting outdoors? You may find these books useful:
Pathfinder Guides' Northumberland and Scottish Borders: Outstanding Circular Walks:
Day Walks in Northumberland: 20 Coastal and Countryside Routes by David Wilson:
Cicerone Guides' Walking in Northumberland: 36 Walks Throughout the County – Coast, Cheviots, Hadrian's Wall and Cheviots:
Walks for All Ages: 20 Walks in Northumberland
by Kate Sanderson:
Further information
Stuart Forster is an award-winning travel writer based in north-east England. Stuart's work has been published by the likes of The Telegraph, The Independent plus Food and Travel magazine.
I hired bicycles from The Bike Place (Kielder Waterside; tel. 01434 250144). Each Hardtail MTB cost £20 for four hours.
Get hold of information about Kielder Water and Forest Park in the visitor centres at Kielder Castle, Kielder Waterside and Tower Knowe for details about the Kielder Water cycling routes. The Visit Northumberland website also has information about things to do.
Thank you for visiting Go Eat Do and reading this post about cycling the Lakeside Way at Kielder Water and Forest Park. Looking for things to do in north-east England? Take a look at my post about places to visit in Northumberland for more ideas on things to do.
If you enjoyed this post why not sign up for the free Go Eat Do newsletter? It's a hassle-free way of getting links to posts on a monthly basis.
'Like' the Go Eat Do Facebook page to see more photos and content.
A version of this post was first published on Go Eat Do on 11 September 2019.