Stuart Forster interviews filmmaker Julian McDonnell, the creator of travel films and documentaries.
Julian McDonnell is the filmmaker behind the Joolz Guides series of videos about London. His work Take Me To Pitcairn has won three awards at tourism film festivals. It is screened on Air Tahiti flights. With media commentators emphasising the importance of videos and filmmaking, I interviewed Julian to find out how he got into the business and to gain tips for up-and-coming filmmakers.
Disclosure: Some of the links below and banners are affiliate links, meaning, at no additional cost to you, I will earn a commission if you click through and make a purchase.
"I always wanted to be a TV presenter but struggled to find a way in. People kept telling me I should make a showreel but I thought people would ignore it if it was badly made. I had always enjoyed doing "selfie" films on my travels and used to do silly, ironic pieces to camera just to put on YouTube," he explains. An inexpensive camcorder and a laptop with video editing software proved his way into the business.
The Joolz Guides London series
"At the moment I'm making a lot of mini videos about London. The aim is to show people that there's more to London than the snazzy stuff in the guidebooks. It's supposed to show you nice places that are right there but you might not necessarily know their significance. They have an element of charm and humour and they are intended to give people a feeling of what experiences are actually like, who you will encounter, how people behave – at the same time as giving a quick history lesson and some trivia which might be useful if you're ever showing anyone around yourself," says Julian.
"Someone once said that they are like an old friend or uncle showing you his home town. I genuinely love showing people around London so that should come across in the films. I'm hoping someone will pick up on them and feature them on their site or platform," he adds.
See more examples of Julian's work by subscribing to his Joolz Guides channel on Youtube.
Take Me To Pitcairn
"I always maintained that if I went to a genuinely mysterious place people would respond. Not only is the subject irresistible but it is still a very difficult place to reach. More people visited the South Pole in the last year than Pitcairn. The island really is shrouded in mystery and controversy – from the day the first settlers arrived, in 1790 – after the mutiny on the Bounty," says Julian about the destination of his most successful film.
"It's hard to make films about places off the beaten track which aren't overrun with tourists but Pitcairn is really remote. Just 47 people live there now and its history is fascinating: mutiny, adventure, steamy tales of passion and seduction, violence and longing, palm trees, tall ships, sunshine and huge shirts……what's not to like?"
"Take Me To Pitcairn shows how hard it is to reach Pitcairn, even 200 years on. It depicts the genuine anguish and gamut of emotions that an unlikely bunch of travellers have to go through to follow their dreams. What is more, it has a strong message of hope and shows how friendships can be made in the oddest of circumstances and how you can do anything you put your mind to. It was a huge undertaking for one person who wasn't even a filmmaker at that stage. I'm extremely proud of it," says Julian about his work.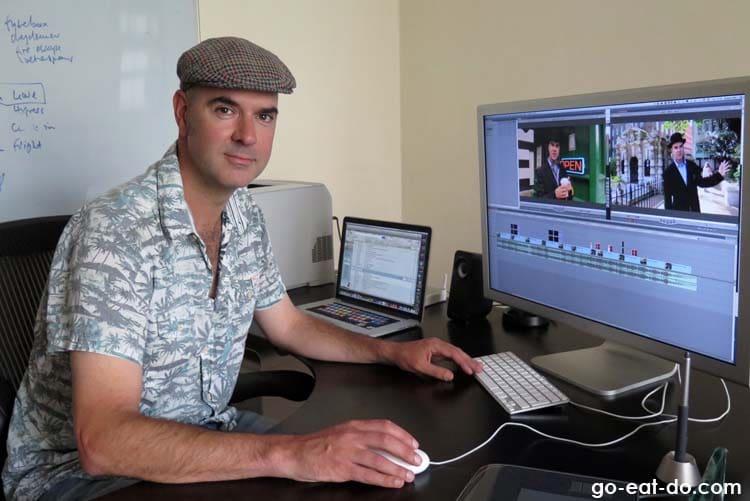 Equipment for making travel films
"It seems that every time you get a new piece of equipment it goes out of date and is superseded by something else," says Julian, half-joking, when I ask him about the kit he uses.
"These days a Canon XA-20 with rode mic and also a Sennheiser Lavalier wireless mic. I edit on my MacBook Pro with Final Cut Pro. It's useful to have a smaller snaps camera for unexpected events. I have a Canon quick shot G12. If I need more cinematic shots I use a Canon DSLR, but it's not so good for running around and reporter-style filming, which is what I do a lot of," he explains.
Julian McDonnell's Advice to filmmakers
So what key advice does Julian offer newcomers to filmmaking?
"The same advice that I heard Quentin Tarantino offer. The best way of learning how to make a film is to go and make a film. You can be taught a lot of things but there is nothing like the experience of running into certain obstacles. The amount of mistakes I made were of extreme value to me," he says with frankness.
"Always keep the sound running and the video too if possible. It's always when you switch off the camera that something amazing happens. It's not a massive disaster if you don't capture the video. You can always cheat it as long as you have the audio. I would also recommend, where possible, getting release forms ready to sign, just in case it gets picked up by the BBC and you need to have the right documentation," he suggests.
"If anyone would like to be involved in making a film with me I'm always up for helpers. If there's a part of London you particularly like and want to do a film with me about that or anywhere really, let me know," says Julian.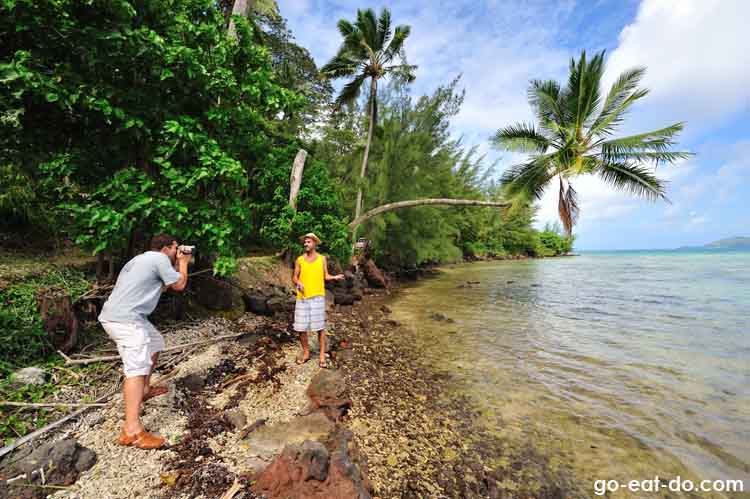 Further information
Planning a trip to London? View Julian's London videos via www.JoolzGuides.com or YouTube. Keep abreast of Julian's news via the JoolzGuides Facebook page. Additionally, his corporate videos can be viewed under www.Joolz.tv. Why not participate in a food tour of London's East End while in the British capital?
Watch Take Me To Pitcairn on the film's website or via YouTube.
If you enjoyed this post why not sign up for the free Go Eat Do newsletter? It's a hassle-free way of getting links to posts on a monthly basis.
'Like' the Go Eat Do Facebook page to see more photos and content.
Illustrating images were supplied courtesy of Joolz Guides.