Stuart Forster suggests a simple twist to lift a humble toasted cheese sandwich in this tuna, sweetcorn and cheese toastie recipe.
Disclosure: Some of the links and banners below are affiliate links, meaning, at no additional cost to you, I will earn a commission if you click through and make a purchase.
This easy-to-make tuna, sweetcorn and cheese toastie recipe is ideal as a snack, lunch or quick dinner option.
Generally, I'm pleased with the food I cooked during the lockdown period. It's been varied, nutritious and enjoyable to prepare. I've both followed recipes and experimented, which has kept it interesting.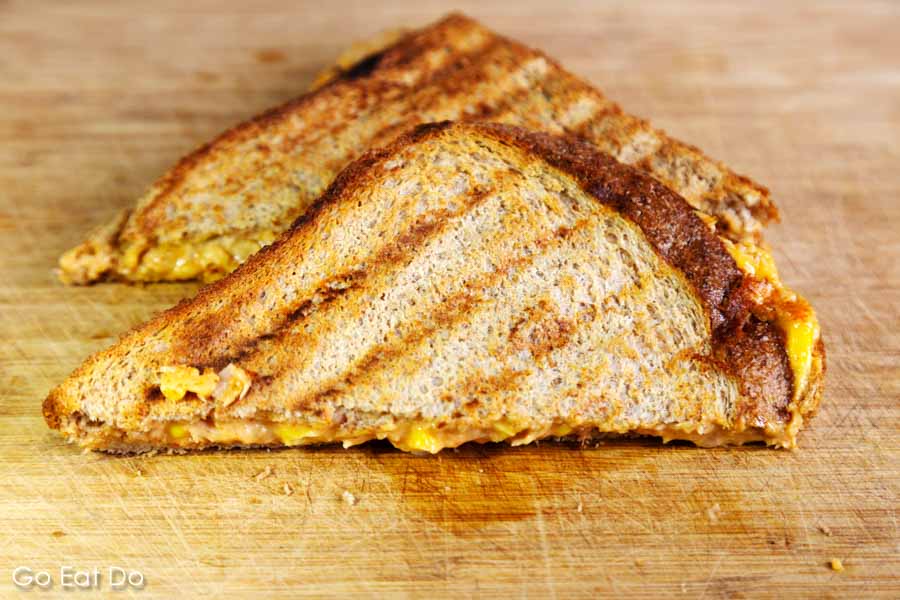 A tasty toasted Cheese sandwich
Cheese toasties tend to be one of my go-to snacks. Occasionally, I don't shy from making a cheese toastie for breakfast though I tend to favour my homemade granola. More commonly they're a dish I make when I'm looking for a quick and tasty lunch or tea. Making a cheese toastie can be tastier and significantly less expensive than ordering in food.
It's possible to make a cheese toastie under a grill or in the oven but it's far simpler to prepare them in a dedicated grilled sandwich maker. The Breville Deep Fill Sandwich Toaster and Toastie Maker is available via Amazon:
At present, I use a
George Foreman
grill. It's simple to operate, only taking a couple of minutes to heat up, and easy to clean:
Of course, there's plenty of debate about the best cheese for a grilled cheese sandwich. I favour using mature cheddar cheese in my toasties, because of the strong flavour and consistency. I find it melts well. If cheese oozes out onto the grill that's a bonus as it ends up as a delicious yellow crisp.
One of my favourite cheese toasties is made with sliced ham and cheese. Known as tosta mista in the cafés and bars of Portugal, they tended to be my breakfast on the go during early starts in Lisbon. Every time I have one reminds me of a café that I used to frequent near the Santa Apolonia railway station.
Variety, though, is the spice of life. It would be dull to have the same type of toastie every time, so why not give something different a go? Those were my thoughts as I came up with this recipe.
In addition to a cheese toastie maker, you'll need a cheese grater, mixing bowl, tablespoon, knife and chopping board to make my tuna, sweetcorn and grilled cheese sandwich.
Ingredients of this tuna, sweetcorn and cheese toastie recipe
This tuna, sweetcorn and cheese toastie recipe requires the following ingredients (to make three toasted sandwiches):
Six slices of wholemeal bread
One 160-gram tin of canned tuna fish
One 150-gram tin of canned sweetcorn
100 grams of mature cheddar cheese
Half of a medium-sized red onion
One heaped tablespoon of mayonnaise
One teaspoon of harissa spice (try paprika if you don't have any harissa at home)
How to make my tuna, sweetcorn grilled cheese sandwich
Making a cheese toastie is easy. Follow these four simple steps to make my tuna, sweetcorn and cheese toastie recipe:
Grate the cheese into the mixing bowl. Add the mayonnaise, spice, sweetcorn and tuna fish.
Chop the onion into small pieces and add them to the bowl. Stir the contents of the bowl together.
Spoon the mixture onto three slices of bread. Ensure it is layered relatively thickly (see photo below for guidance). Add top slices of bread to close the sandwiches.
Grill the sandwiches for around five minutes.
These toasted sandwiches are easy to prepare and big on flavour. They're ideal as an easy lunch or an all-day snack.
Hopefully, you'll find this recipe easy to follow and the only burning issue is how to serve your grilled sandwiches. Should they be cut across the middle or diagonally? That issue has been dogging cheese toastie lovers such as myself for years. Aesthetically, I think the diagonal cut is ideal. Why? Simply because I think that diagonally cut sandwiches look better on a plate.
Please feel welcome to chip in with your viewpoint in the comments field below. Likewise, if you have any feedback, suggestions on how to enhance this recipe or other grilled cheese sandwich ideas that you'd like to share, please feel free to share them below. If you've got a gourmet grilled cheese sandwich recipe that you want to make public, please add a comment.
Additional information
Thanks for visiting Go Eat Do and reading this tuna, sweetcorn and cheese toastie recipe. Looking for inspiration for your cooking? You might enjoy traditional dishes from the Mount Athos region of Greece.
In the USA 12 April is National Grilled Cheese Sandwich Day.
Photos illustrating this post are by Why Eye Photography.
If you enjoyed this post why not sign up for the free Go Eat Do newsletter? It's a hassle-free way of getting links to posts on a monthly basis.
'Like' the Go Eat Do Facebook page to see more photos and content.