Stuart Forster conducts an interview Rich McCor, the Instagram star known as Paperboyo.
Rich McCor is an Instagram sensation with a distinctive style of photography. His Paperboyo feed has more than half-a-million followers.
If you were to meet Rich at a party there's every chance he'd modestly introduce himself as a photographer rather than a social media star with a blue tick.
Disclosure: Some of the links and banners below are affiliate links, meaning, at no additional cost to you, I will earn a commission if you click through and make a purchase.
He was passionate about what he does yet down-to-earth and approachable when we met in London. We chatted about his creative processes and career, including the time he worked with film star Will Smith.
How did you get into Instagram?
It was an amalgamation of a few things. I didn't join Instagram straight away because I didn't know what I could do that was different to anyone else. I didn't want it to be photos of dinners or my pets — basically what most people doing back in 2013 or 2014.
Then I got into photography as an excuse to explore London. By that point, I'd been living in London for five or six years and I'd never been to Trafalgar Square unless I was passing through. I'd never gone somewhere to simply explore it as a landmark. So, I'd use my camera as an excuse to explore and then used these photos on Instagram.
Photographs of London landmarks
Then I realised my photos weren't any different to what a lot of London photographers were posting. That made me realise that I needed to do two things; either I needed to become a better photographer or a different photographer. I took the second route.
I decided to try and do something a bit different — still celebrating London but with my own twist and personality. And that's when I leaned into my paper crafting hobby. That was something that I'd been doing separately, a few years before. I'd made stop motion music videos and low-budget short films. Then it came together, using paper within photos. It was something a bit interesting.
It was cheap. I didn't know Photoshop. I didn't know any animation skills at the time. But I did know how to hold up a bit of paper in front of the camera. It was something so easy, almost a bit analogue. It went from there.
Was crafting just a hobby?
I did a very generic media degree. I'd always known I wanted to do something in TV, film and visual media. But I didn't know how I was going to make a living out of it.
At that time I was working in a production role at the BBC, quite low down on the scale. That did give me access to a little studio at the weekends which no one ever seemed to use. So I had an amazing lighting setup. Actually, I moved my bedroom hobby into the studio at the weekends. I shot little animations. My friend was in a band, I really liked the music and I made their music videos.
The nice thing about paper is that you don't have to be a great artist because there's something about the rustic charm of paper and cardboard. It always looks beautiful when you shoot it or film it.
When did you hit upon the idea for Paperboyo?
My first iteration of paperwork in photography was that I would go to landmarks and I'd sketch out. For example, I'd sketch out St Paul's Cathedral on a white bit of card and then hold up that sketch in front of the real thing. What you'd see was like the paper sketch and then the real-life surroundings around it. I did that a few times, liked it, but was aware that I'd sort of seen similar things. Ultimately, I didn't like that I was covering up the actual landmark that I was meant to be celebrating.
I decided that black paper would stand out more, especially against a blue or white sky. I enjoyed the idea of embellishing, transforming or just being a bit playful with a landmark. It felt like such a simple idea and I was sure that someone else must have done it before. I did as much research as could and hadn't seen anyone else do it.
That's when I thought 'I think I've got something here that I really, really enjoy.' Also, I felt it had some potential. I didn't know that it would turn into a job but I felt maybe more than just my friends and family would enjoy it.
How did your family take you moving into this?
They came up to London and we went to the Tate Modern and had a cup of tea there. This was about 10 months into it. I said to them I was considering leaving the BBC and thinking about doing this full-time. I was met with a silence, which is understandable considering I'd spent something like 20 grand on tuition fees to get a job in the media, then got a job at the BBC.
They've always been supportive. They were nervous but were happy for me to pursue what I wanted to do. Back in 2016, I don't think anyone really understood social media and that you can make a living from it. They're a lot more comfortable now that I've been in various publications.
My grandma's eyesight isn't amazing and she couldn't really see when I showed her my phone. One of the nicest things was when I had a book out two years ago. That was a really touching moment for me. They were decent-sized images and I could show her what I've been doing. That was a really special moment.
The Paperboyo book 'Around the World in Cut-Outs' is available for purchase via Amazon:
When did your career take off?
It was I think it was about October 2015. By that point, I had about 4,000 Instagram followers that I'd been clawing away at, hashtagging and doing as much as I could to get that audience. Then The Daily Mail ran a feature and I was on Mail's website.
I remember pressing refresh on my Instagram and it jumped from 4,000 to 11,000. Initially, I thought it was a glitch. I checked later and it was still there. It was at that point I thought there was potential for it to be more than just a little hobby.
Influencer marketing was very much in its early days, so I certainly didn't think I could leave my job or anything. I thought maybe I could do a book or a calendar or something.
Where is home for you?
I grew up in a village in Kent. I haven't really done anything Kent, which is a shame.
London's been my home since I was 21 and I'm 32 now. I consider London to be home. I like the balance I've got at the moment, where I spend sort of two or three weeks here then a week or two away. But it's not very good for sustaining relationships. While I'm still relatively young it's quite a good way of seeing the world.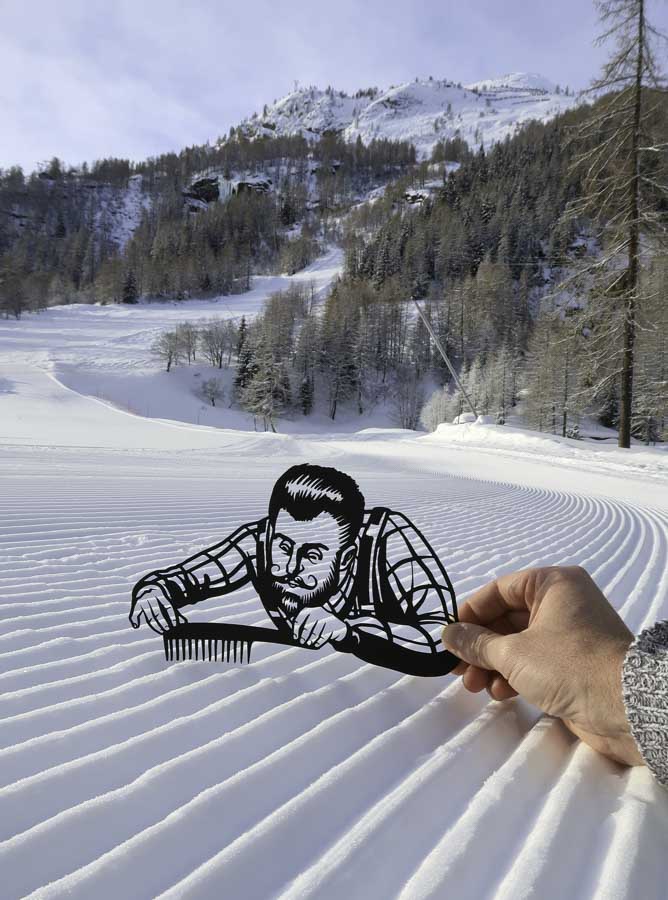 What have been your most memorable trips?
I had one in Dubai where I was working with Star Wars to promote the film that came out two years ago.
One of the concepts I had was to go up on the helipad of the Burj Al Arab, the famous seven-star hotel, and do a cut-out of the Millennium Falcon landing on the roof. Disney said 'we love the idea but there's no way you'll get permission for that'.
I said 'let's give it a go, at least', so I emailed Jumeirah, who owns the Burj Al Arab. It turned out the person in charge of marketing followed me on Instagram and said, 'we'd love to have you.' They hosted me and got me and my Disney client up on the roof. Standing there, looking out over Dubai with a paper cut-out; that was a pretty surreal moment.
In terms of other experiences, every now and then I get to do workshops where I work with children, and sometimes adults as well. I tell them about what I do and we make cut-outs, or have some pre-made cut-outs, then go out in the local area and take photos.
I remember doing that in South Korea where the kids really didn't speak that much English and my Korean is zero. We had a translator and had so much fun. It was great that the language barrier didn't matter because we were playing around with creativity and photography, and that's how we communicated. It was a special moment.
What are the highlights of your career?
Working with Will Smith was unexpected. It was great but it was the most stressful 10 minutes of my life.
He was great, good fun, but I only had 10 minutes and had to film quite a few things with him. It was in Budapest. Ang Lee — the director of Gemini Man, the film we were promoting — was standing behind me and I could sense him watching.
My love is travel. Throughout my 20s most of my money was spent on travelling. I would say the fact I've been able to go to places I never thought I'd get to see is the highlight; the fact that it's let me travel. For example, I went to Easter Island because of my photography and that was always top of my bucket list ever since I'd seen a photo of moai heads.
It also lets me do something that I really love. I think I'm very lucky, in that not everyone gets to find the thing that they love.
Are you still in demand?
Certainly, my signature style is recognized because I've had a few images, like the Lego man and the Marilyn Monroe, do the rounds on the internet.
It leads into where the world of influencer marketing is going. I think the reason I've been able to be busy is that I have the audience size and also a unique style. It's a creative style that can be quite fluid and work with brands, but still not — hopefully — look like I'm selling out. None of that was planned; it's all fortuitous.
What's your approach to photography?
I've let myself become so busy with the paper stuff; which is great. I'm conscious that I need to sort of do some stuff for my own pleasure and take some risks. I think the only way you develop in any art form is by letting yourself take risks. If you get comfortable in one style it gets a bit stale.
With influencer marketing and Instagram, you've always got to be doing something a bit fresh and bit different. Maybe a year-and-a-half ago I started doing animations and stop-motion; bringing some animated elements into my photography. That helped to keep it interesting. I think I'm now at the stage where I need to find the next thing and I'm playing around. So, in the background, I think it's important to be pursuing pure photography and experiment to see where I can take it.
What photography kit do you use?
I like to keep it minimal. I'm not a technical photographer. I know what I need to do with a camera to get the results I want and I'm always willing to learn new things.
I've got a Panasonic Lumix S1R, which is a really powerful camera, and a 24-105mm lens, which pretty much stays on it. I've also got a Canon wide-angle and an adaptor that I use. Because I travel, I like to keep my kit light. I also have a travel tripod and a notepad full of cut-outs.
What tends to be the biggest challenges when you have your cut-out ready?
It gets a bit dorky here but there are a lot of little challenges. One of them is shadows. If I was to take a photo of a building there's so much darkness already in the background; if I hold up a black cut-out it won't necessarily stand out. I've got to develop ideas or designs that work around any potential black background. That's why you'll see the sky as the background in lots of my photos.
I've found that, if you're patient, the wind isn't constant. There's a moment where it won't be blowing. I think photography, in general, teaches patience.
Again, I'd never paid that much attention to the weather until I was a photographer. It's amazing how much difference light, sunlight and shadows make to a photo. It's one of the reasons why photography so interesting. It's not just about your camera settings.
I pre-make cut-outs before I go anywhere but always carry little craft scissors so if I ever need to tweak it on the spot it fits perfectly. Often I try and use a textured type of paper so that any light that lands on it you can see the texture; so that you know that it is a paper cut out. I try to get it so that you can see the shadows of my hands on the paper, just to prove it's all real.
What's it like turning a hobby into a profession?
What happens when you turn a hobby into a job, and how that changes the relationship, is an interesting area. It does change. I found something that I love then I would spend my evenings and weekends doing it, and no one was paying me. It was purely because I enjoyed it. I didn't even have a big audience at the time. I wasn't doing it for anyone; it was purely for me. Then in the space of a fairly short time, maybe two years, it had become a job  — something I was paid for.
I had an audience, so there was pressure. Instagrammers call it 'feeding the beast', as in having to post something at least every couple of days.
Suddenly this innocent little hobby develops into your rent and career leaning on it.
I think it's only if you really find something you love that you can keep it going for as long as I have.
There's also a slight amount of pigeonholing, which I'm comfortable with because it's my style. It does sometimes mean that I go for a meeting with a client and they'll be like 'we can't put you forward to the for this because you can't do that'. Actually, no, I think I can come up with an idea that works.
Genuinely, I still love it. I'll still run out of bed at 4.00 am to get a sunrise shot. I think that's really healthy; I've got that ambition.
The pressure of coming up with ideas. I think that's the hardest thing.
What is your creative process?
Once I've got a concept that answers a brief I relax a bit. Then it's normally the next idea that I'll want to go with. Once I've taken a bit of pressure off, I can then start to let myself come up with wacky, crazy ideas. Then it's somewhere in the grey area that I find an idea that's wacky but not too wacky; one that works.
Have you ever come up with an idea that's bombed?
If I'm working with a brand, I'll tend to make up some mock-ups before I shoot it. I've had ideas that I've put at the top of the page thinking there's no point putting anything else and they've not chosen it. Sometimes they've even chosen my backup idea.
There have definitely been some ideas where I posted it and it's not gone down as well as I thought.
I've just done some stuff in Berlin. I did a photo of David Bowie holding the television tower as if it were a microphone. I thought 'this is epic, it's the most famous landmark in Berlin, one of the most iconic people in the world'. It went down okay but it didn't go down as well as some of the more successful things.
Then there's been other images that have done really well that I never would have expected. That whole roller coaster keeps it interesting.
There are disappointments but highs as well. I think that's why it's important you love what you do. If you rely too much on whether your audience loves it or whether you're getting paid to do it, there are too many emotional extremities that you can't control. If you do love it yourself, then that's okay.
Do you have any regrets?
Sometimes cultural references and the need to fact check…my audience comes from all over the world. If I'm writing a caption about a place I'll never intentionally lie, but sometimes I haven't done the full amount of research.
Early on when I was doing this, I've been caught out by not fully diving into the history of a location. Then a couple of people quite rightly pointed out my mistake.
I went to New Zealand two years ago and was very conscious of checking any references to Maori architecture. Sometimes, as part of their culture, it's against their beliefs to climb mountains.
I'm more conscious of that and certainly don't show any of that stuff; not that I did. I never liked to use the word 'influencer' but that is the term that people use to describe me. That's something I think I need to be aware of and, in travel, I need to promote responsible tourism and awareness of cultural issues. When I started out that wasn't something I was aware of.
For which picture would you most like to be remembered?
I think the photo that I most like — at the moment, I should say that my favourite photo always changes — is the dalmatian dog one that I did in Basel in Switzerland.
It's a black and white apartment building. Then it's a cut-out of a dalmatian dog with spots as the top half. I remember having that idea and thinking 'this is stupid, this isn't going to work but I might as well draw it out and see if it'll work.' Then I went and shot it and it did work.
The joy of that process! The joy of having that initial idea, that spike and then that self-doubt moment that this will never work. Then travelling there thinking 'give it a go at least' and it working. Beyond that, it also going down really well. It was featured on the Instagram account as well. Basically, it was as successful as it could be for a photo.
That whole process, it's like a roller coaster. Also, I just love dogs and I think that idea epitomises what I do.
Where would you like to visit?
There's a lot more in Asia. Asian modern architecture is crazy. I've done a little bit in Seoul, in South Korea, but I'd like to go back because they've built some interesting stuff.
Number one on my list would be Taipei. They've got some incredible buildings. Asian culture is something I'm really interested in, especially Asian food.
A lot of my stuff is architecture. I would like to do more stuff with natural landscapes and natural landmarks. For that reason, Cape Town really appeals.
I'm wearing a Canada jumper at the moment and I'm a big fan. I'd like to do Vancouver next.
What's next for you?
Sometimes I wonder about adding a little bit of colour and the animated element. Also working with people; the Will Smith one was great.
I'm not always going to get the opportunity to work with A-listers but having someone in the frame interacting with the paper — that actually isn't there when they film it. There's something really interesting and exciting about that, and quite clever.
If I can come up with an idea that I go 'that's really cool' then that's really exciting to me.
Further information
To see more of Rich's photography, follow his Paperboyo feed on Instagram and the Paperboyo Facebook account.
The photographs in the body of this post have been supplied courtesy of Rich McCor. The portraits of Rich McCor are by Why Eye Photography.
If you enjoyed this post why not sign up for the free Go Eat Do newsletter? It's a hassle-free way of getting links to posts on a monthly basis.
'Like' the Go Eat Do Facebook page to see more photos and content.