Only in Edinburgh is the latest in Duncan J.D. Smith's informative and pleasantly quirky series of guidebooks to major European cities.
The cover of this guidebook to the Scottish capital bears an image of the staircase at Hub on Castlehill, the headquarters of the Edinburgh International Festival. With 103 chapters, arranged geographically, Only in Edinburgh will undoubtedly be a useful acquisition for anyone planning on spending three weeks in the city during that popular August event.
Unusual and useful recommendations
Rather than attempting to cover the most fashionable places to dine and stay — ever changing subject matter that is covered in so many guidebooks and online listings — this guidebook paints a detailed picture of the city and its past.
The opening times of Edinburgh's attractions are, however, listed between pages 225 and 228 of this book. Additionally, Smith lists postcodes at the beginning of each chapter, so that smartphone users can zoom in on maps to locate points of interest.
As the strap line on the cover states, Only in Edinburgh is 'a guide to unique locations, hidden corners and unusual objects'.
That said, not everything is off the beaten track. Popular attractions such as Edinburgh Zoo (chapter 86) and the Royal Yacht Britannia (chapter 78) feature in this book.
Packed with fascinating factoids
Smith is clearly an erudite author. He conveys aspects of Edinburgh's history in an easily accessible fashion and with admirable passion. While browsing this book you might pause to wonder how many tomes Smith pored over while undertaking research.
Did you know Edinburgh and Canongate, at either end of the Royal Mile, were long regarded as separate burghs, meaning towns licensed to trade, until 1856? Smith drops that into the introduction.
If you enjoy gleaning factoids to impress and possibly out-geek travel companions, you'll find hundreds to harvest from the 232 pages of Only in Edinburgh. Not all are meaty historical details.
Smith also lets us know that Joseph Bell, a surgeon who lived between 1787 and 1848, is buried within Canongate Kirkyard. What's that got to do with the price of whisky, you might wonder? Bell was a tutor of Arthur Conan Doyle, and the inspiration for the world's most famous fictional detective.

Sherlock Holmes isn't English?
In chapter 66, you'll learn that Doyle was born in Edinburgh on 22 May 1859 and that the place of his birth is now a traffic island. A bronze statue of the deerstalker wearing detective stands nearby.
Doyle studied at the Royal College of Surgeons and lived at 23 George Square. The original manuscript of The Haunted Grange of Goresthorpe, Doyle's first major piece of writing, is held in the National Library of Scotland.
Each chapter of Only in Edinburgh tends only to be two or three pages long, so ideal for whipping out while waiting for a bus or train, or supping a pint of heavy in one of the city's many pubs. If you're unsure where to go for the latter you might get ideas from chapter 62, which suggests a historic pub crawl.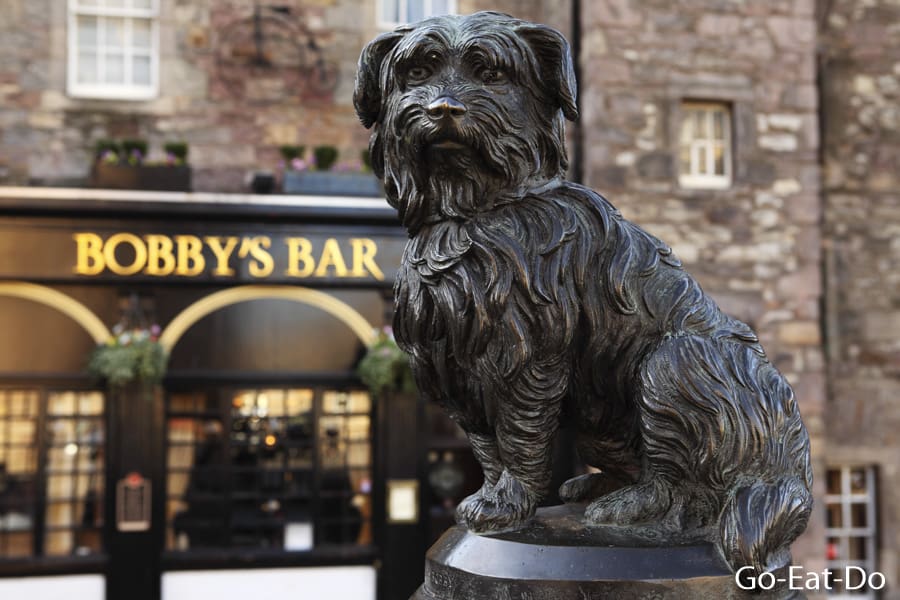 Fold-out maps in the covers
The front cover of the book unfolds to reveal a map of the city, with numbered flags tying the location of points of interest to relevant chapters. The back flap, meanwhile, shows points of interest in Edinburgh's hinterland.
The first 67 chapters of the book focus on Edinburgh while the remainder covers the suburbs, including Leith.
If you are planning a trip to Edinburgh, however long, this book is worth acquiring and taking with you. And, of course, you don't have to read it only in Edinburgh.
Further information
Only in Edinburgh, by Duncan J.D. Smith, is one of the Only in Guides series and priced at £16.95. The 232 page book displays 111 colour photographs, the majority of which are by the author.
If you enjoyed this post why not sign up for the free Go Eat Do newsletter? It's a hassle-free way of getting links to posts on a monthly basis.
'Like' the Go Eat Do Facebook page to see more photos and content.
The book is also available via Amazon: